In what will be the largest outdoor cannabis ad campaign in history, an investment management company, MedMen, plans to cover California with billboards advertising the fact that cannabis is now legal in the state. The giant red signs will be on the sides of highways in LA and even covering the outside of the legendary Whisky a Go Go music club on the Sunset Strip in Hollywood. The ads will feature slogans like: "Heal. It's legal" and "Smile. It's legal," showcasing the faces of ordinary Californians (real MedMen customers,  according to the company) in an attempt to show that cannabis is for everyone.
The point of the campaign? To announce that all adults over the age of 21 can now buy marijuana in California. The recreational market opened on Jan. 1, making it the largest in the world.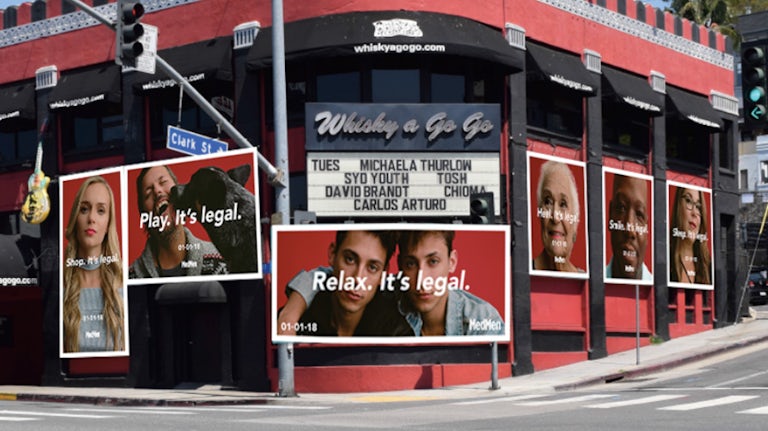 "We want everyone to see that there are plenty of uses for cannabis and CBD," B.J. Carretta, MedMen's CMO told AdWeek, "and that it's super relatable no matter who you are or where you come from."
According to ICF International, a Canadian consulting firm, California's legal market is expected to rake in up to $20 billion annually and it seems that a lot of the state is ready to showcase an industry that can bring in that kind of cash.
Most recently, TSA trays at California's airports have featured ads which read, "CANNABIS IS LEGAL," not appearing to advertise any particular product, but this time sponsored by Organa Brands whose logos can be seen across the bottom. They were able to purchase the ads because a private company, Security Point Media, has patented the plastic trays.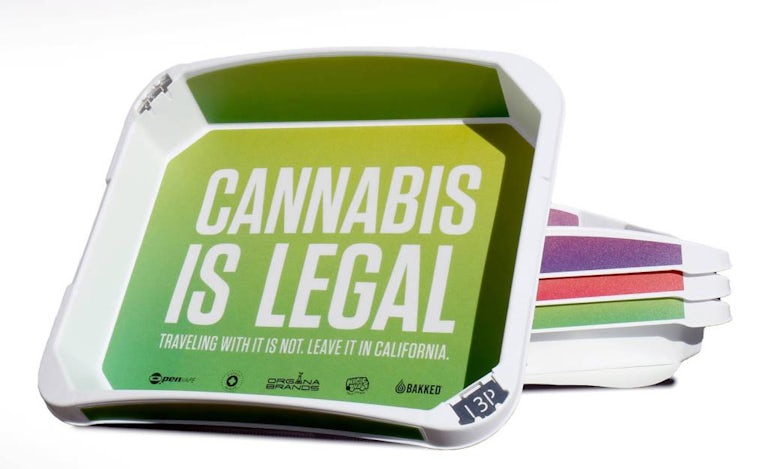 It's hard to say how MedMen's ads line up with the state's ad regulations since they suggest that cannabis can "heal" and promote marijuana at the Whisky, where it's not actually sold. But the campaign, with its fifty-foot signs, is likely to set off anyone who was against legalization or concerned about marijuana becoming normalized too quickly.
"First, it's wonderful to see a cannabis-based business run a marketing campaign like any other business would and to the scale that they are," says Jason Santos, CEO of BurnTV. "Secondly, the campaign itself is brilliant in how it's both disarming of the fears and stereotypes around both using cannabis and [people] who use cannabis."
Like any other group that's forced underground by ill-conceived laws, the cannabis industry has formed a community of businesses who are happy to see their competition thrive because it's a sign of progress.
It's something which is "beneficial for everyone in the cannabis community," says Krista Whitley, CEO of Altitude Products, a conglomerate of cannabis companies. "I could not possibly be more supportive of MedMen's efforts and I encourage all cannabis brands to adopt a similar approach."