As some of the biggest players in Canada's cannabis industry grow into international powerhouses, a pattern of mergers appears to be resulting in a shrinking variety of producers to stock the shelves of the legal market. A new report from consultancy firm EY shows that 87 percent of Licensed Producers (LPs)—the only companies licensed to grow cannabis in the country—believe that the industry will be in just a few hands within three years of legalization. EY predicts that barriers to entry, like the steep costs of building a production facility, will make it difficult for new producers to get off the ground.
The report comes on the heels of a series of takeover bids that are making the industry look like a Russian nesting doll. The highly successful medical cannabis producer Aurora made an unsuccessful bid to acquire another LP known as CanniMed last week. But then, Aurora announced that it would still go ahead with its plan to buy CanniMed. If the company succeeds, it will be the largest marijuana merger in history with an estimated value of $2 billion.
Meanwhile, CanniMed recently launched its own attempt to take over Tragically Hip-backed Newstrike Resources Ltd., owners of the LP UpCannabis, claiming that this partnership was more desirable than the Aurora deal.
In response to claims that Aurora's bid for CanniMed has become a hostile takeover, Aurora told HERB they still believe that a merger is in both companies' best interest.
"What we're hearing from CanniMed shareholders is their frustration in the company going from first to tenth in the industry," said Cam Battley, Executive Vice-President of Aurora, insisting that the idea of the merger was initiated by CanniMed's shareholders. "They came to us very concerned about the lack of execution."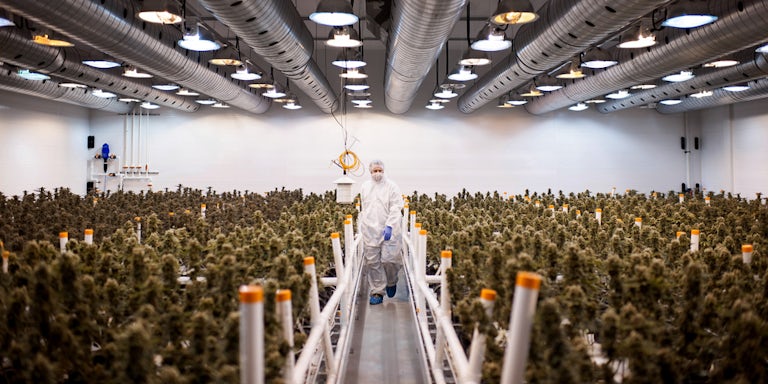 CanniMed did not respond to a request for comment and even some analysts seem to be distancing themselves from the deal. But Aurora's recent successes can't be denied; Their stock jumped 16 percent by Tuesday afternoon. So it's not difficult to see why nearly 40 percent of CanniMed's shareholders have been discussing a deal with Aurora.
Whether it's mutual or not, the situation reveals a strange case of big fish eating little fish across the industry, leaving only massive corporate sharks which could make it harder for new LPs to compete.
With much of the recreational market structure still undefined, the future of the industry remains unknown. But the companies like CanniMed which are already well established on the medical side are in the perfect position to set the standards in a way that small-time growers cannot.
EY's report noted that one of the highest barriers for newcomers is attracting the investment necessary for a start-up to take off. It cites the lack of willingness on the part of banks to provide traditional routes of investment, leaving emerging LPs in the middle of a slow government process for licensing and a hunt for the funding necessary to get off the ground. Additionally, newcomers have to compete with top of the line production facilities like Edmonton's Aurora Sky which is slated to be the world's largest production facility at 800,000 square feet producing 100,000 kilograms of cannabis per year.
"In this business you need a 125,000- to 150,000-square foot production facility at the absolute minimum," Bruce Linton, founder of Canada's largest LP Canopy Growth, said in a statement to EY. "So, over the long term, I see an industry with two or three major, relevant players and a bunch of craft producers."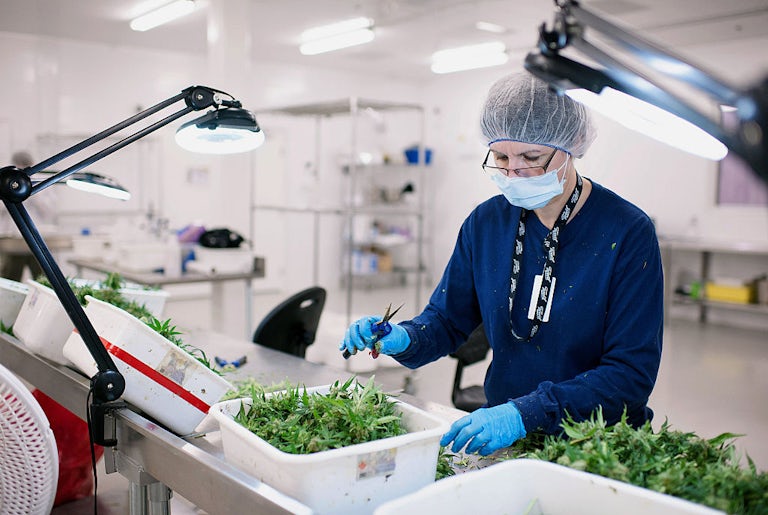 Battley, Executive Vice-President of Aurora, disagrees. He believes that the current system and future regulations announced by the provinces could make it more difficult for newcomers to enter the industry, but he's generally optimistic about the potential for variety in the market.
"I think it would be best for everyone if we ended up with a diversity of producers," says Battley, claiming that the eyes of the world are on Canada. "A good, healthy, successful and sustainable industry will have room for the little guy."
Battley sees the current alcohol market—in which craft producers exist alongside corporate giants— as the ideal model. Competition, he says, keeps Aurora "on their toes." Yet, it's questionable whether craft growers will even opt to compete with the big players in the legal market, especially if the government fails to eliminate the thriving black market that still exists. An alarming three in four LPs surveyed by EY don't believe that the legal market will be able to displace the black market. Among the issues that legalization will face is supply, which LPs believe will be difficult to keep up with given both domestic and international demand.
By 2021, the Canadian medical market alone is expected to reach over 500,000 patients, which will significantly increase demand for flower. In its own analysis of the market, the Parliamentary Budget Office estimated that upon legalization, LPs will need to supply 700,000 kilograms a year in order to achieve the government's goal of eliminating the black market. If the industry's LPs continue to merge, that task will be left to just a few companies.
What could result from this is a strange mix of a new market dominated by giants and a stubbornly resilient black market in which smaller producers can continue to thrive by filling in the gaps. This is likely not what the world had in mind when it turned its eyes to Canada.