Over the past few years, the cannabis industry has opened doors for innovators and entrepreneurs. We're seeing an opportunity to build brands and services at a scale that hasn't been seen since the Tech Boom. Bringing a product to market takes creativity, determination, and a willingness to grow along the way. I spoke to Christina Bellman, founder of LEVO, and she shared her story of passion and persistence in creating the next evolution in home infusion. It was clear that the adversity had not curbed her dedication and that LEVO, as a company, is fueled by an earnest and entrepreneurial spirit. She has myself and the HERB team excited about the infusion revolution.
The passion behind the product
HERB:
Tell us why you wanted to create the LEVO infuser.
Christina:
I love to cook and make things myself whenever possible, so I designed LEVO with home chefs and DIY enthusiasts in mind. It wasn't until I moved from New York City to Colorado that I realized I had been living, working and exploring our new home with LEVO's target demographic.

I realized when you draw a Venn diagram of organic food consumers, homeopathic and aromatherapy enthusiasts, and cannabis users, you could see a lot of overlap. Our device appeals to a wide group of consumers who have a common interest in controlling ingredients.

LEVO bridges the gap between holistic medicine, whole foods aficionados, and discerning cannabis users. Because, in the end, we are united by the benefits and natural healing ability of plants.
How LEVO meets those needs
HERB:

So your product is for more than just cannabis. What makes LEVO different?
Christina:
We live in a world where most of what we consume is prepackaged products. Those products come filled with extra ingredients and we're now surrounded by additives, from the chemicals in our furniture to the preservatives and coloring in our food. None of that is good for us. We don't need it. LEVO is for those who are passionate about ingredient control.

With LEVO, you know exactly what goes into your home and body, whether it's infusing home grown herbs in Italian olive oil for cooking or hemp into coconut oil for your skin.

LEVO is about getting back to basics. We make DIY easier, so consumers can eliminate unnecessary chemicals and products from our lives and experience the satisfaction of making more from scratch.

Other products on the market have yet to catch up with this movement. They can be difficult to clean and may even suggest the use of a chemical emulsifier to perform better! To me, that makes frequent use less accessible and defeats the purpose. We took a different approach with LEVO. LEVO means no crossover
HERB:

How did you do that? How does LEVO change the face of infusion?
Christina:
The LEVO infuser is designed so you can use it for everything, not just cannabis. You can infuse lavender into bath oils, rosemary into marinades, and cannabis into any oil or butter for discreet edibles.

This was easy once we landed on the best process for infusion because, after all, a herb is a herb (is a herb)! Just pop out the reservoir and toss it in the dishwasher; that's the only part you have to clean between batches. Infuse just about anything.
HERB:
So we can make a batch of oil for cannabis cookies, wash the reservoir, and make infuse lavender into oil for some cookies for the kids without worrying about residual cannabis in the machine?
Christina:
Exactly! LEVO isn't just a one-trick pony for cannabis. It's a whole infusion laboratory! You can infuse any carrier oil or butter, like coconut, almond, or ghee. There are simple settings for not only cannabis but other herbs like rosemary, lavender, lemongrass, clove, roots, flower petals, even fruits and nuts.

What's more, LEVO takes care of the messy filtration step for you. The only limit is your imagination. Infusions for cooking, bath and spa products, homeopathy, it all comes together with LEVO.

Infuse coconut oil with vanilla for tastier cake, almond oil with lavender for salt or sugar scrubs, butter or ghee with garlic alongside other herbs, there's no end to what you can do. In all cases, you're creating flavor complexity and depth without over-processing (which is not what you get off the shelf).
Perfection is earned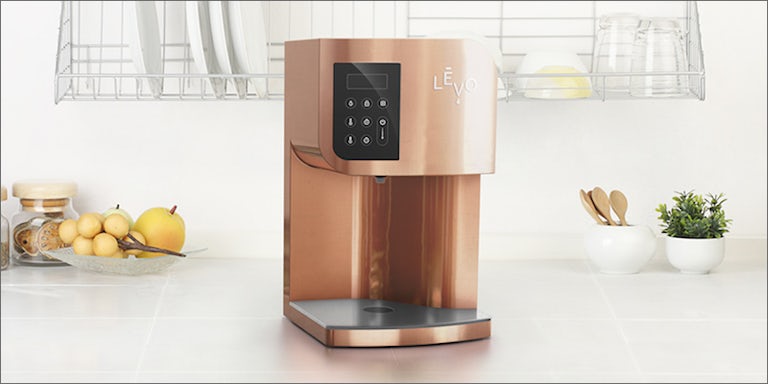 Forget the hassles of burning herbs and oil on the stove, the mess of double boilers, and for goodness sake throw away the cheesecloth.
With LEVO, you can quickly make your infusions when you need them, instead of making bulk only to see mold in a jar days later. Make your cannabis edibles with everything you want and nothing you don't.
LEVO has gone through several design stages and the final product has now arrived! You can order LEVO now and save with exclusive pre-order discounts. Put the power of your health and wellness back in your own hands. It's never been so easy to experience the fulfillment of DIY.
To find out more about LEVO, check out their website and Facebook.