Cannabis dispensaries have come a long way in terms of design. Forget walking up to some seedy-looking alley storefront. Now, high class, sophistication, and modern elegance are what cannabis shops are all about. Check out these 10 absolutely gorgeous cannabis dispensaries. You'll definitely want to pick up some herb from these trendy locations. 
1. Good Chemistry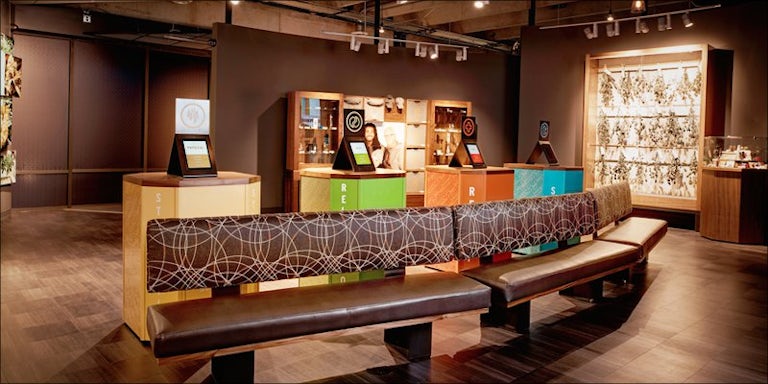 Good Chemistry has two Colorado locations, one in Denver and another in Aurora, and are planning to expand into Nevada. Their style is a mix of warm woods and sophisticated color coding to help recreational consumers find the right herb.
Their four pillars denote effects like amplify, sleep, relief, and relaxation. Consumers can browse through mounted tablets to help them find strains prior to approaching the counter.
2. Evergreen Market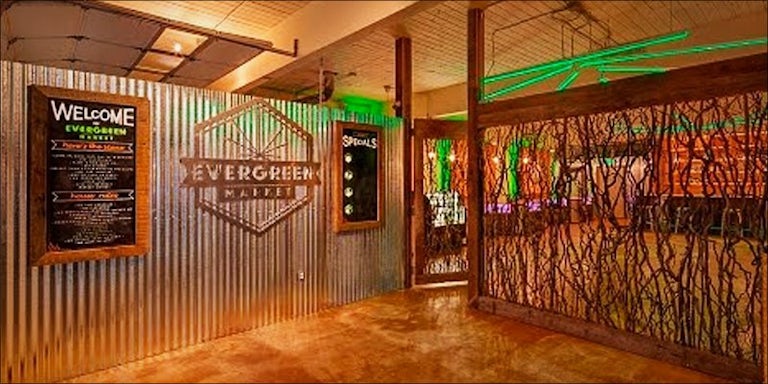 Metal stools and corrugated paneling brings a trendy outdoor, farm-style vibe to Evergreen Market. Divison walls made of branches and wooden beams amplifies the natural vibe of this Renton, Washington recreational dispensary.
It looks very similar to some popular Capital Hill (Seattle) bars and gastropubs emphasizing the region's all-around good taste when it comes to comfort, style, and approachability.
Evergreen Market has an Auburn location as well.
3. Park Range Recreationals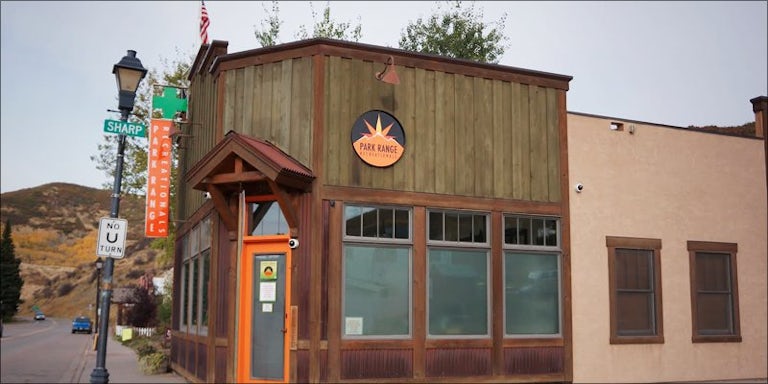 Where some ultra-fab modern dispensaries can seem a bit cold, Park Range Recreationals is the opposite. It is the first recreational dispensary in Oak Creek Colorado, and the design couldn't be more humble.
The outside of the building looks like a warm and inviting mountain cabin. Warm woods and rustic yet sleek accents make the small space friendly and relaxed.
4. Bridge City Collective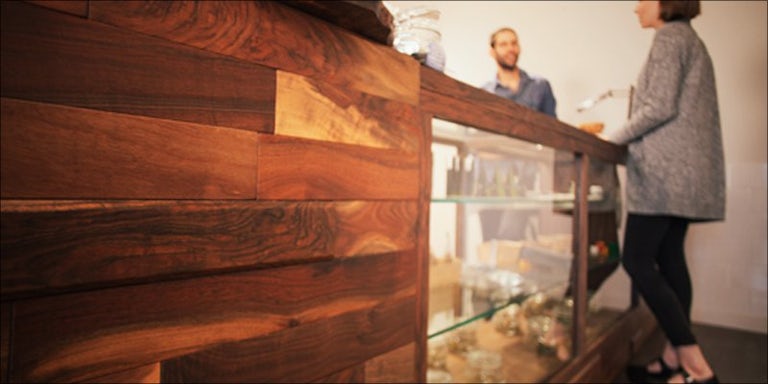 The interior of Portland, Oregon's Bridge City Collective is fresh and awake. Featuring seating with an almost Pendelton-like woven fabric, large, bright windows, and white-painted brick, Bridge City is comfortable without giving off a clinical or pub-like vibe.
There are two locations, one near the Alberta District and another closer to the East Burnside corridor.
5. Barbary Coast Collective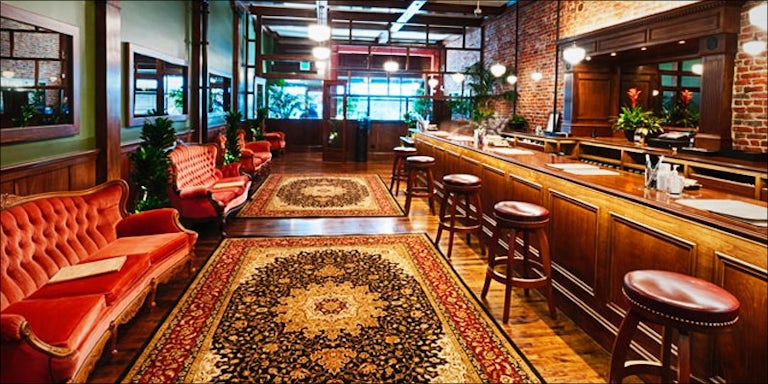 Elaborate Persian rugs, velvet sofas, and leather stools give San Francisco's Barbary Coast a similar feel to an old school whisky-tasting joint.
The decor transports you back in time to when high-class saloons were primary gathering spots for those with some extra funds. All in all, walking into Barbary is an experience in its own right.
6. Minerva Canna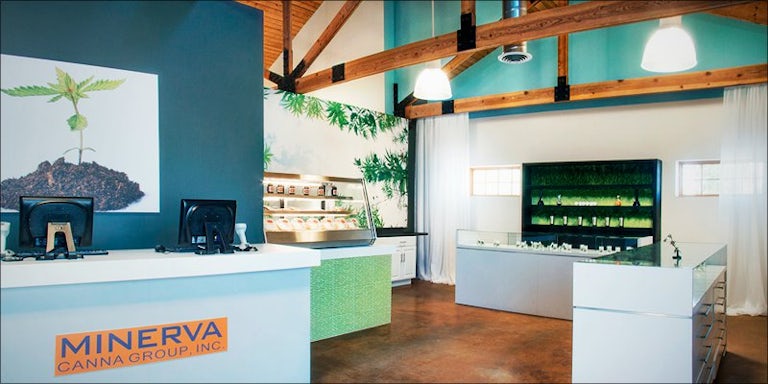 Minerva Canna of New Mexico plays up the tropical side of cannabis with plenty of simple and modern class.
White, modular displays and high ceilings makes this space seem airy and light. Yet, a fun and tasteful cannabis mural adds flair to an otherwise crisp and clean environment.
7. Grassroots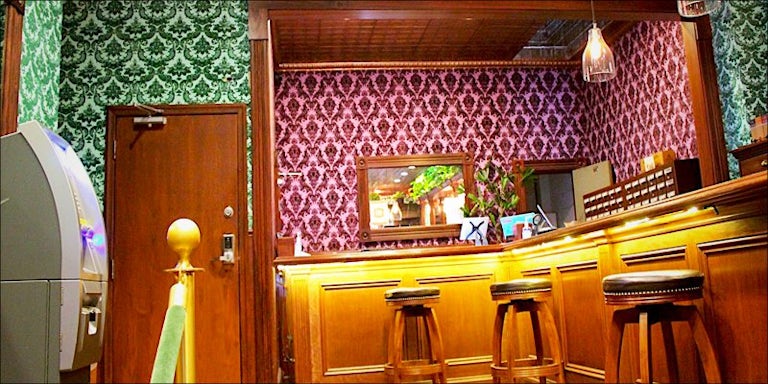 Grassroots is another elaborate San Francisco location. Barbary Coast may have had bold furnishings and plush Persian rugs, but Grassroots invites in some striking antique glamor.
Walking into the showroom provides a rich visual experience. Featuring turquoise and lavender damask wallpaper with a copper textured ceiling, visitors are transported back to a time when luxury was more impressive than minimalist design.
8. TruMed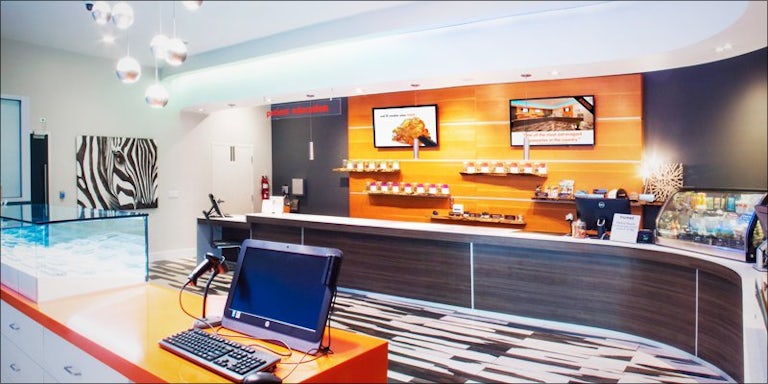 TruMed is a popular Arizona dispensary with a clinical yet inviting appearance. A medical cannabis dispensary, TruMed adds some stylistic legitimacy to the herb. Some small-scale medical cannabis shops can look a little sketchy, but TruMed is filled with ample light and pure clean lines.
Designer and owner Megan Stone was inspired by modern cupcake and bakery shops. This inspiration contributed to the shop's overall tidy and welcoming experience.
9. Native Roots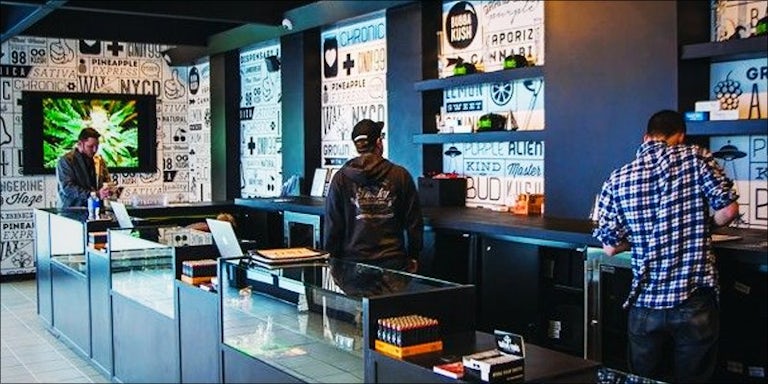 No post on dispensary design could be complete without mention of Native Roots. This Colorado chain features an impressive and bold industrial design. Native Roots is hip, stylish, and makes you feel like one of the cool kids as soon as you walk through the door.
All 14 of their locations are outfitted with minimal concrete floors, striking black steel furnishings, and their signature eye-catching black and white wallpaper.
10. Pineapple Express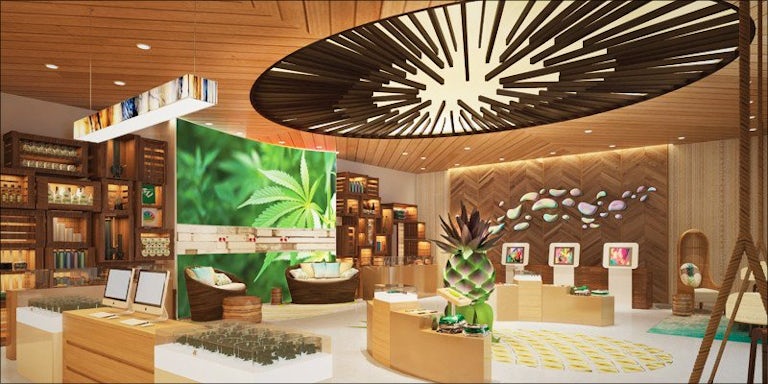 Some entrepreneurs, like the folks behind Pineapple Express, are banking on the fact that nationwide recreational cannabis will be legalized soon.
So, the developed plans for a national dispensary chain with a unified appearance. Headquartered in Los Angeles, Pineapple Express is currently collecting funds for their branded projects.