Most people don't pay their taxes in big bags full of cash. But since, marijuana is still illegal under federal law, banks—whose primary regulator is the federal government—aren't allowed to provide financial services to marijuana businesses. Since cannabis businesses (even licensed, state-approved ones) don't typically have bank accounts, they have no choice but to use cash. That includes when they pay their taxes to the federal government.
"We have a security detail with weapons that help us get to the right destination to pay our taxes," Zach Lazarus, COO of A Green Alternative dispensary in San Diego told CNN Money. "Because everything's in cash we have to drive to our local IRS offices and pay."
The volume of cash payments to the Internal Revenue Service from the legal cannabis industry in 2017 prompted the IRS to increase its capacity to count cash at offices in Denver and Seattle, reports CNBC. It's a stopgap measure which illustrates a larger problem.
Cannabis business owners across the U.S. will owe an estimated $2.8 billion in taxes to the federal government, based on numbers from New Frontier Data. Despite the fact that marijuana is federally illegal, business owners are still required to pay federal taxes under a provision in the tax code known as 280E. It explicitly spells out that drug dealers have to pay taxes—even on illegal substances.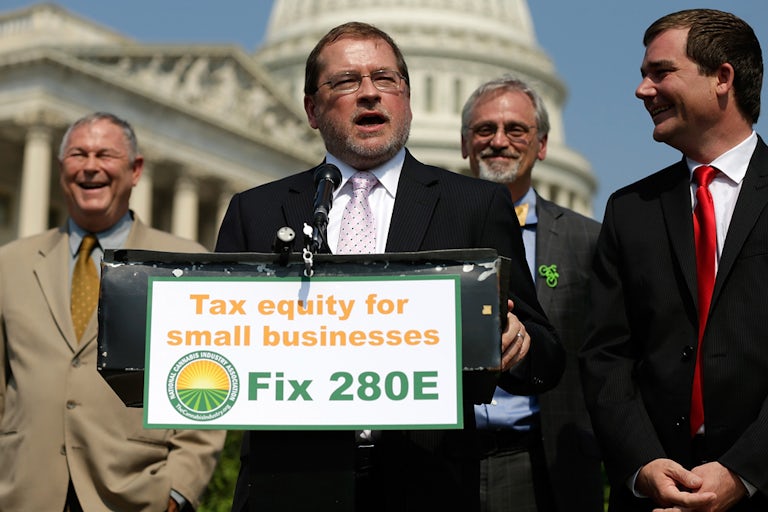 The cannabis industry is expected to balloon to $21 billion by 2021, according to the ArcView Group. If cannabis were legal coast to coast in the U.S., federal weed taxes could reach $18 billion by 2025, according to New Frontier Data. California marijuana businesses will owe about $530 million in state taxes in 2017, according to BDS Analytics. That's expected to reach $650 million this year, with legal recreational sales.
In the meantime, cannabis entrepreneurs still have to worry about what the feds might do. Ironically, the recent move by Attorney General Jeff Sessions to strip Obama-era protections from the cannabis industry could finally give Congress impetus to move forward on some sort of federal legalization plan.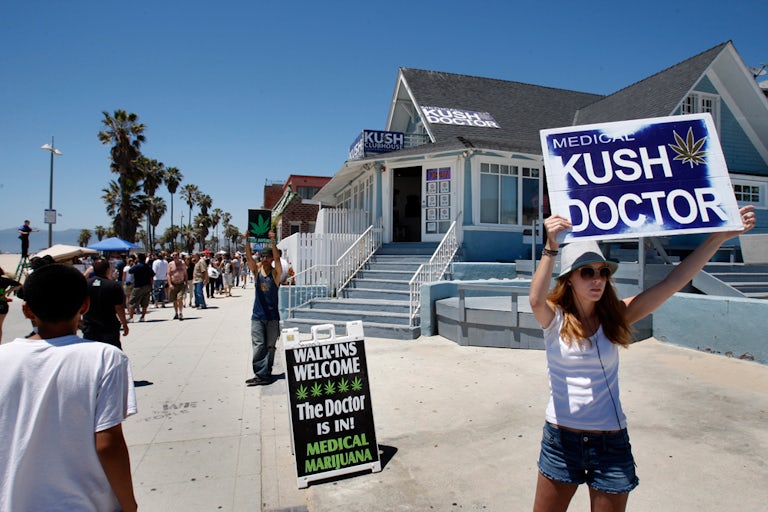 Senator Jeff Merkley of Oregon gets it. He accompanied a cannabis farmer as the farmer delivered cash to a tax office in the state capital. Oregon reaped more than $120 million in marijuana tax revenue over the past two years.
Sen. Merkley introduced a federal bill, the SAFE Banking Act of 2017, that would free up banking services for cannabis businesses. A companion bill has been introduced in the House of Representatives.
"You don't want to have this cash economy that invites money laundering and cheating and all sorts of stealing," Sen. Merkley said. "There's no downside to providing banking services to the cannabis industry. It's crazy to have this unbanked economy."
Another bill, with bipartisan support, is also working its way through Congress. The Ending Federal Marijuana Prohibition Act of 2017, H.R. 1227, sponsored by Rep. Thomas A. Garrett (R-Virginia), would eliminate criminal penalties for cannabis possession and distribution. It would also remove marijuana as a Schedule I controlled substance, effectively ending federal prohibition.
In the meantime, the lack of financial services makes it difficult for cannabis companies to get the kind of paper trail that regulators could use to help enforce compliance, according to Lance Perryman, founder and CEO of Next Harvest. "We've been banked many times, and many times those accounts have been shut down," Perryman said.