The tallies are in. In Nevada's first month of legal recreational marijuana sales, dispensaries pulled in a total of $27.1 million—an impressive inpouring of state revenue by any standards. $10.2 million of this—$6.5 million from various industry fees, and $3.68 million of direct tax revenue—will be appropriated and redistributed into state projects.
To put this into perspective, Washington, the first state (alongside Colorado) to legalize recreational marijuana, only generated $3.8 million in its first month. Oregon and Colorado were higher, at $14 million each in their first month.
If Nevada's monthly marijuana industry income were to hold steady, the state would pull in about $122.4 million in yearly state revenue. It can be hard to mentally quantify the material benefits of these large sums of money, so let's take a look at what Nevada's marijuana revenue could theoretically accomplish.
Earlier this year, Nevada approved a $346 million budget for state infrastructure projects to address its poor score on the American Society of Civil Engineers' "report card" (the state received a C-). The project includes a $36 million, 96-bed veterans home in Reno; a $4.6 million cultural center at Stewart Indian School in Carson City; and a $37 million National Guard Readiness Centre in North Las Vegas, among others.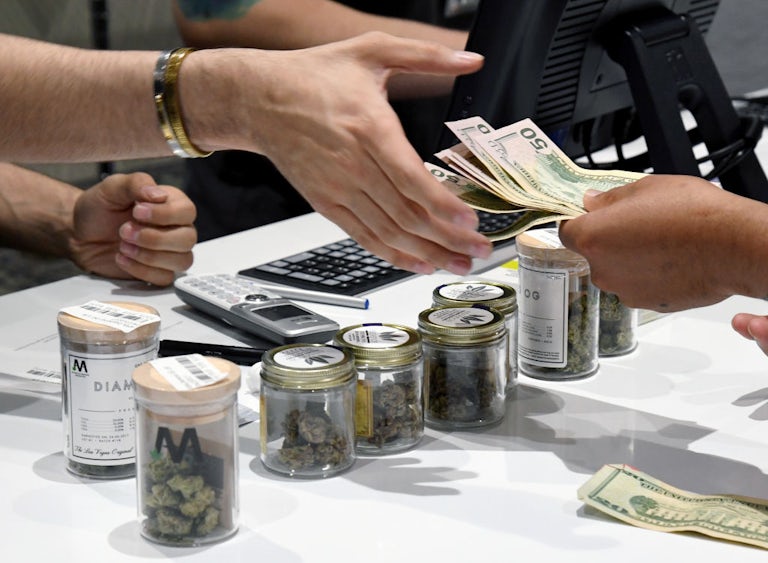 While it's impossible to know what the state's actual yearly revenue will be, if July's results are applied across an annual timeline, marijuana revenues could single-handedly fund at least two of these projects in a year. This is true even according to more conservative projections from Stephanie Klapstein, spokeswoman for the Nevada Tax Department, who told the Associated Press that revenues over a two-year cycle are expected to be around $120 million. This lower projection is probably due to the expected downward trend in revenue from one-time licensing fees, including a $5,000 application fee, and an additional $10,000 to $30,000 in fees once the permit is approved.
What the state actually plans to spend this revenue on varies depending on who you ask, but most sources say the money will either be funneled into public schools and education or simply put aside into a rainy-day fund to be used for state emergencies.
While Nevada still has a few kinks to work out in their recreational marijuana industry—just like every other state breaking into the nascent market—its immediate financial success points to a glaring irony of prohibitionist legislation. In states where marijuana is criminalized, proceeds from sales go straight into the black market; alternatively, in states where recreational marijuana is legal, that money is funneled into public schools and emergency services.
An important takeaway is that this tax benefit is unique to recreational marijuana, as medicinal marijuana is not taxed. The upshot is this: states which legalize the recreational use of marijuana will see an enormous increase in tax revenues—to be used on infrastructure, schools, natural disaster funds or elsewhere—all for properly legislating a product that is used recreationally regardless of state law.