Less than two weeks ago, Pennsylvania officially launched its new medical marijuana program, a highly anticipated event for eligible patients in the Keystone state. But the excitement quickly turned to disappointment when Pennsylvania dispensaries more or less ran out of product, after patients rushed to get their hands on the newly available medicine.
The state's website currently lists six Pennsylvania dispensaries where patients can access medical marijuana. But both dispensaries that operate in the Philadelphia region—the most populous area in the state—have virtually run out of products. The dispensary known as the "Keystone shop," a small town located just outside of Philadelphia, has closed down its shop until further notice.
"We took a shipment on Wednesday. On Thursday, we had the biggest sales day we've ever had. By this morning, all we had left were a handful of disposable vape pens," a co-owner of one dispensary, Chris Visco, tells philly.com. Visco's dispensary is named the Terra Vida Holistic Center, and is located in Sellersville, a town of roughly 4,300 located an hour outside of Philadelphia. According to Visco, the dispensary had prepared to serve a customer base of roughly 60 people a month, but was shocked when over 600 patients visited the store in just over a week.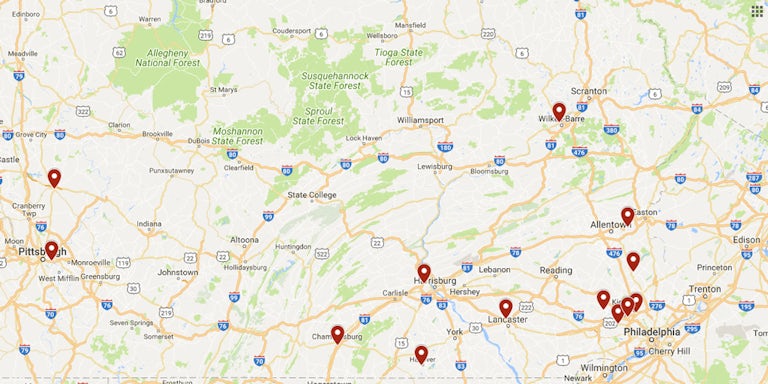 Pennsylvania's medical marijuana program includes a fairly long list of qualifying conditions, including cancer, epilepsy, Crohn's disease, HIV, chronic or intractable pain, autism, and post-traumatic stress disorder. Patients who obtain a physician's certification which demonstrates that they are afflicted with one of these listed conditions can obtain a medical marijuana card for $50.
While there are currently 12 licensed medical marijuana wholesalers in the state, only one is currently supplying Pennsylvania dispensaries with product. This wholesaler is the company Cresco-Yeltrah, which currently has a monopoly on the Pennsylvania wholesale medical marijuana market, and is, therefore, setting prices as it wishes. Many medical cannabis products are extremely expensive in the state, with medical cannabis oils costing roughly $80-$144 per gram, according to philly.com. Still, this did not prevent a surge of eager clientele from swooping in and clearing out the shelves at Pennsylvania dispensaries.

More marijuana is not expected to be available until the end of March.