What do you get when you challenge a bunch of gamers to cultivate marijuana online? The largest cannabis community on earth. For East Side Games, Vancouver-based creators of the underground Facebook game Pot Farm, there's no doubt the influence of B.C. bud played a part in their runaway success. When the beloved brand moved to mobile, 1.2 million Facebook fans followed and began playing Pot Farm: Grass Roots on Android. Combined with the recent iOS release, the games have had over 20 million unique players in total.
More Facebook players than the population of Amsterdam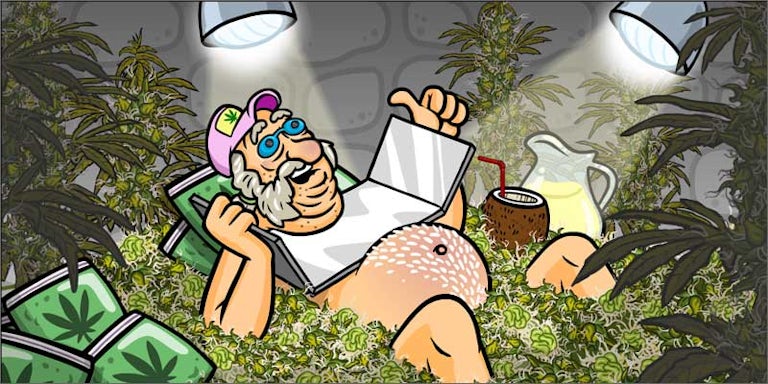 Just over a year after its April 20, 2010, launch (4/20, of course), Pot Farm had attracted more than a million players on Facebook – that's more players than there are people in Amsterdam.
The dedicated underground fanbase and high levels of engagement are a testament to the game's impressive art, contraband content and strong community engagement, all of which have followed Pot Farm to its newest Android game.
The premise is simple enough: design the ultimate grow-op and fend off spider mites as you cultivate your favorite strains of weed for eccentric buyers, including your own real-world friends! From growing various strains of kush to selling space cakes with your buds in a customizable dispensary, there are literally thousands of items to trip out on.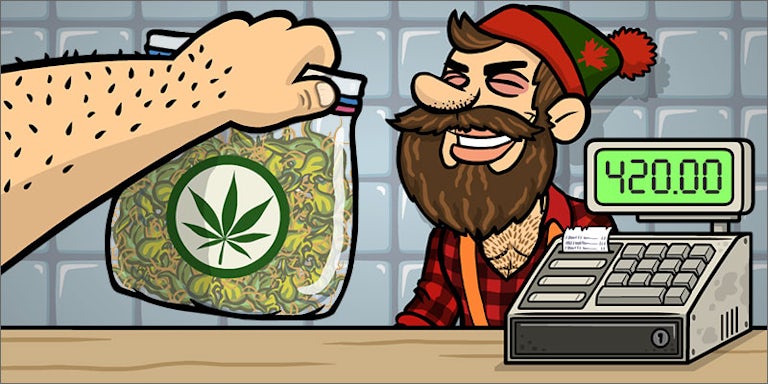 With over 10 million downloads and growing, Pot Farm: Grass Roots claims to be the most social weed game on mobile.
The team behind Pot Farm: Grass Roots crowdsources feedback and suggestions in order to deliver whatever their audience craves – in this case, quirky graphics, addictive gameplay and regular updates that keep long-time players coming back.
That rare combination of a stoner-friendly aesthetic and unique, untapped content (how many video games have kept you hooked for six years?) has helped land Pot Farm on Mashable's 11 Bizarre Facebook Apps and earned East Side Games a spot among Pocket Gamer's Top 10 Mobile Game Developers to Watch.
But the ongoing success of the Pot Farm brand relies mostly on its loyal, cult-like audience.
From social to mobile: player loyalty bridges platforms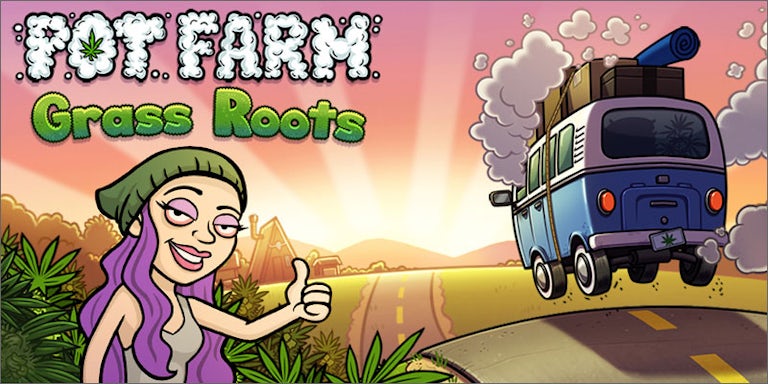 Pot Farm succeeded where most social games fail: its dedicated audience followed the game from its web-based Facebook platform to mobile with the launch of Pot Farm: Grass Roots on Android.
Most gamers will admit that they're platform-loyal. (You may be a desktop gamer or a mobile player, but you are rarely both.) So what set Pot Farm: Grass Roots apart? According to East Side Games co-founder Josh Nilson, it's the studio's focus on community,
We owe everything to our amazing fans. Pot Farm has a really unique culture – not just within the games but on our Twitch and Facebook Live channels as well. Other companies design games they want to play, but we design games our fans want, then play along with them.

As a result, we are the game that non-gamers love. We are the reason people miss bus stops or stay up an hour later, just to play a little bit more.
Whether you're a diehard gamer looking for refreshingly fun graphics or a stoner looking to spend time on a perfectly addictive app, Pot Farm: Grass Roots has more than enough to keep any digital pot farmer thoroughly entertained.
Check out the East Side Games website for more info on Pot Farm's various mobile spin-off titles. Play now on your phone! Pot Farm: Grass Roots on Android or Bud Farm: Grass Roots on iOS from our friends at LDRLY.