A culture of fear permeates the Ontario dispensary community. Since the Ontario Government announced it's version of legalization has no room for private dispensaries, the storefronts have all been put "on notice" by the Ontario Attorney General. While some in the community have elected to keep their heads down, the cannabis industry in Ontario is starting to mobilize politically.
Almost no dispensaries were willing to talk to media at all. The reasons for this are obvious: they're afraid of becoming a target in the next series of raids. However, some dispensary workers and managers who agreed to chat off the record gave other reasons. "Criminals run a lot of these places," said one manager at a downtown dispensary. The legal gray area dispensaries currently exist in invites these kinds of shady characters, according to the manager. "They don't want to do the research. They don't want to do the paperwork, and they don't take the culture seriously," he said.
The manager told me that he's worried about what police may do once legalization takes affect in Ontario, but he's skeptical the province will follow through with its fire and brimstone rhetoric. "There's only going to be 40 stores on day 1, are they actually going to shut us all down? I doubt it."
Skepticism might be reasonable. Indeed, it's expensive to raid dispensaries. The infamous "Project Claudia" raids in Toronto last summer cost taxpayers, "millions and millions of dollars," according to Jim Karygiannis, a Toronto city councilor. The Provincial government has been very clear about its intentions though. "Now that we have announced that there will be a sole legal retailer in the province, it should be clear to everyone that dispensaries are illegal and will be shut down," said Emilie Smith, a spokesperson for the Ministry of the Attorney General.
Karygiannis gives inspiring words at Cannavation
Karygiannis told this to a crowd at Cannavation, a cannabis business networking event. "Your elected leaders have failed you. We've failed you."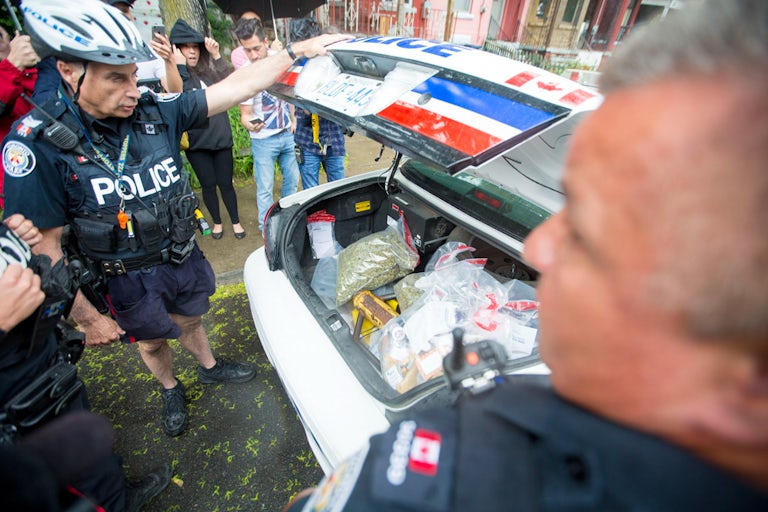 During his speech at Cannavation, Karygiannis reiterated a story cannabis professionals have always suspected to be true. While dispensary owners begged for a seat at the table at city hall, they were swept under the rug and ignored. The city government endorsed the Ontario government plan without hesitation, though the city does want more money for enforcement. After all, Toronto will need to arrest more people than any other city when it goes to shut down private dispensaries.
The situation in Toronto, and Ontario generally, looks grim. This is why most of the national cannabis collectives and lobby groups have focused their energy on other fights. In British Columbia, these efforts were successful in getting private dispensaries the right to operate. Now, in Ontario, some activists are looking to replicate that success.
Lisa Campbell is the manager of the Cannabis Friendly Business Association. Campbell is an activist who's deeply entwined with the burgeoning industry in Ontario. This has been frustrating.
What the Country is Saying about Dispensaries?
"Other provinces are open to private dispensaries. Manitoba, New Brunswick are all talking about it in public. Toronto's just been a clusterfuck," Campbell says.
In an effort to combat the clusterfuck, Campbell joined the Ontario Cannabis Consumer Retail Alliance. A main goal of the OCCRA is to import a strategy from BC. Sensible BC helped the city of Vancouver license dispensaries. 
Sensible BC conducted polls and mobilized voters in cannabis-friendly districts in order to leverage politicians. While this effort has been years in the making, the labor has started to bare fruit. 
"We've done a poll with Nanos Research, along with a poll by the Consumer Research Centre. Ontarians support private retail," says Campbell. There still more data to collect, though. Other parties have been silent as to what alternatives would be. The Conservative platform didn't even include cannabis. Ultimately, it won't be a partisan thing, whatever candidate supports us is the candidate we'll endorse."
On October 18th, the provincial government held a summit with hundreds of law enforcement from across the province. The morning after the summit, the Minister of Community Safety and Correctional Services and Attorney General released a joint statement that reads in part, "We remain committed to working with our partners to ensure that illegal cannabis retail stores, such as dispensaries, are shut down as quickly as possible."
Lobby efforts continue and have seen some minor success in Toronto. City hall agreed to revisit the issue of private retail sales, but not until 2020.
For those who work in dispensaries, the threats loom, but many are committed to doing everything they can to keep their business running. One worker, who wished to remain anonymous, told me "Fuck them. I love this place, and I love my customers. I'm staying until we're legal, or they take me out in handcuffs."