Startup incubators are a staple of the small business sector. They can make or break a young company, and some have produced more unicorns than fantasy novels. For example, a stint at Y Combinator is practically a knighthood in Silicon Valley circles.
But the marijuana industry historically lacks that kind of support. Now that governments around the world are starting to come to their senses, weed accelerators and incubators are taking off.
In California, where the weed industry is mature, a few incubators exist. Also, it doesn't hurt that many of the most influential venture capital firms and other startup infrastructure already exist in California, too. But even these incubators are only a few years old, and much of the blueprint for marijuana startup accelerators haven't been drawn up yet.
Different markets face different problems. In a city like Toronto, neither the capital nor the infrastructure exists in the same way they do in California, but there is a massive market in Canada's largest city. Leaf Forward is trying to help entrepreneurs plow through the weeds.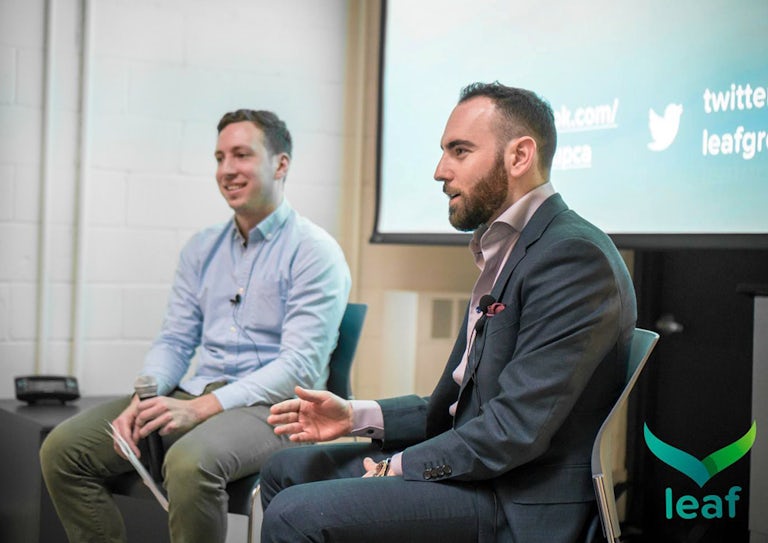 Alex Blumenstein is one of the founders of Leaf Forward and he says that as such a new organization, they have a lot in common with the entrepreneurs they look to help. "We're a startup ourselves. We don't take the same model as the bigger accelerators. We're very industry specific," he says. 
Toronto has a few startup accelerators and incubators, but none that are marijuana-specific. While the needs of marijuana startups are similar to any other, the intricacies of the weed industry are still a minefield. "It's confusing with each province coming out with different legislation," Blumstein says. 
Any startup accelerator is only as good as its mentors
Leaf Forward has assembled a who's who of the Toronto cannabis industry. 
The whole appeal of an incubator or accelerator is who they bring on to help steer a business in the right direction. Leaf Forward has some of the most well known and knowledgeable people in the cannabis industry. This includes other cannabis entrepreneurs, and experts from other related industries like public relations specialists, scientists, and lawyers. 
One of those mentors is Michael Garbuz. Garbuz is Corporate Strategy Executive with CannaRoyatly, an investment firm that specializes in the cannabis industry. Part of the need for accelerators is to build an ecosystem for small businesses. While this would be great for the businesses themselves, a healthy ecosystem is better for everyone in the industry. "My participation in Leaf Forward involves me developing and mentoring cannabis businesses that may be a strategic fit within our portfolio of value-add cannabis businesses in Canada, the U.S. and globally," says Garbuz. 
Leaf Forward is starting its first accelerator program in January. While some incubators actively invest in startups they take on, it's too early for Leaf Forward to take this step first. The program is called Sprint to the pitch. It's only six weeks and focuses heavily on getting startups ready to pitch their business to investors.
Leaf Has Already made Its first Steps In Moving Forward
While Leaf Forward is running its first accelerator program, the organization has already taken steps to help the Cannabis industry.
Earlier in the year, Leaf Forward had a special one day course for founders of marijuana companies. Mike Roberts, the founder of Sero, a company that supplies home growers with the setup they need, says the founders class helped his business and continues to do so. "A lot of the relationships with the mentors were really valuable. We ended up using a law firm we met through the program," says Roberts.
For Roberts, a six-week program focused on funding is exactly what his company needs. With legalization in Canada slated for July 2018, Roberts is in a race to get his products to market. "We need to be selling by spring," he said.
For Blumenstein and Leaf Forward, the uncertainty of the cannabis regulations are an annoyance. "It's going to be a province by province thing," he says. But even with these hurdles, the needs of these entrepreneurs is similar to any other industry. "When it really comes down to it, they're no different than any other industry." 
Leaf Forward's accelerator program starts in January 2018 and will take applications until December 6.