Weed is making money, but large private banks don't want any of it.
Seventy percent of cannabis businesses operate in all cash because they have no bank accounts, reports the Los Angeles Times. Consequently, these businesses, holding staggering amounts of money, are magnets for violence. In July, for example, a security guard was killed and three people were wounded during an attempted armed robbery at a popular dispensary in Los Angeles. Earlier this month, another dispensary in San Francisco was held up by two thieves who got away with $600,000 worth of bud. In response, San Francisco Police Department Captain Joseph McFadden said he's concerned that with the recreational marijuana market opening in California in January that these sorts of incidents could become more common if something doesn't change.
But banks in the U.S. are still largely uninterested in working with businesses in the pot industry because of the illegality of marijuana on a federal level. Despite the fact that marijuana sales totaled $6.7 billion last year (and are only predicted to grow), cannabis is still a small industry relative to the other industries that banks already do business with—as in, all of them—and it's not worth the risk of getting into trouble with the feds.
In June, PNC Bank closed the accounts of the Marijuana Policy Project, a pioneering anti-prohibition group that has been around since 1995. As an advocacy organization, they don't even work directly with cannabis and yet, as the Boston Globe reports, the bank got scared "because an audit of the organization's accounts revealed it received funding from marijuana businesses that handle the plant." A spokeswoman for PNC defended the bank's decision saying that "as a federally regulated financial institution, PNC complies with all applicable federal laws and regulations."
So what's the solution?
Indeed, most banks and credit unions are regulated at the federal level. Except, that is, for public banks.  There are currently two public state banks: the Bank of North Dakota and the Puerto Rico Government Development Bank.
But the number of state banks could be changing soon and that would be big news for the cannabis industry. U.S. News reports that places interested in opening state banks include all of Arizona and Maryland, as well as cities such as Los Angeles, Oakland, Santa Rosa, Santa Fe, and Philadelphia. Legislators in Washington state have also tried to create a state bank.
Oakland City Council member Dan Kalb told U.S. News that "it's important for local jurisdictions to do what they can to facilitate a successful cannabis industry."
Will the feds fight against these public banks?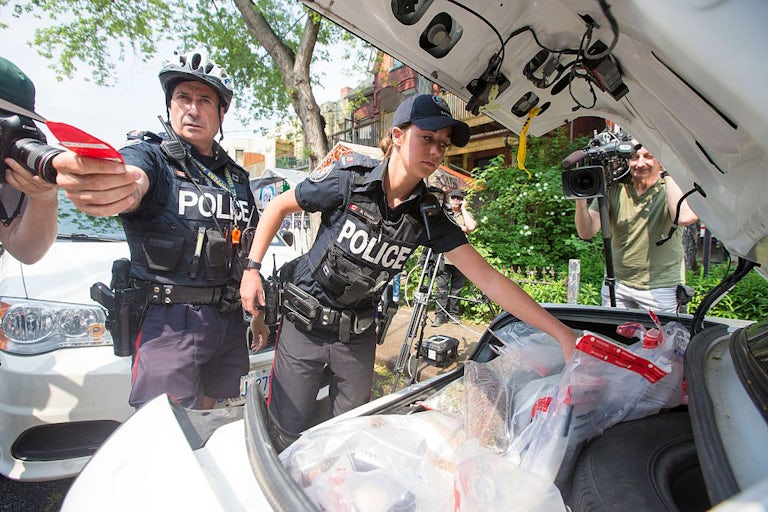 Not only would putting money in the bank help pot businesses protect themselves from regular thieves, it would also give them some recourse when it comes to civil asset forfeitures by police. As reported by HERB earlier this year, since 2008, the federal government has taken more than $3 billion dollars in cash from drug-related suspects. Eighty-one percent of those seizures did not result in a criminal or civil charge.
According to the government, these forfeitures help fight criminal activity, but they also mean that police can seize money from cannabis businesses that are totally legit under state law. If the cannabis industry could bank their profits, this would be more difficult.
When it comes to weed that is legal on the state level, police and the DA are typically ordered by courts to return the seized funds. This was the case in May after funds were seized from a San Diego cannabis distributor. Harborside Health Center, Steve DeAngelo's famous Oakland dispensary, also won against a civil forfeiture filing by federal prosecutors in 2012 and didn't have to give any of his cash up. Regardless of these successes, these sorts of trials can interrupt business and even shut down small business operations because they don't have the time and resources to fight in court.
Just this past July, Attorney General Jeff Sessions said that he wants to increase asset forfeitures, especially in cases of "drug abuse," and make sure that property is "not returned to criminals when there's a valid basis for them to be forfeited."
All of the court losses along with the growing statewide legalization of cannabis challenge the federal government's authority over the pot industry. The opening of these public banks will just be one more way in which states are asserting their power over marijuana despite federal prohibition. It's yet to be seen how—if at all—Attorney General Sessions, who has been hinting at retaliation against states that have dared to end prohibition, will respond.
"I do believe that the federal laws clearly are in effect in all 50 states," Forbes reports Sessions as saying, "And we will do our best to enforce the laws as we are required to do so."