Somewhere in an alternate reality, the hum of delivery drones fills the air above residential areas while suburban homebodies sit in awaiting delivery of the state's finest bud. Unfortunately, after California's Bureau of Cannabis Control decided to ban the delivery of cannabis by drone, that dream went up in smoke.
New Regulations Set to Impact the Delivery of Cannabis Products
As a result, any transportation made by bike, boat and – yes – drone will be considered illegal under California law.
After voters chose to give the state a legal recreational market in November, authorities were given until January 1, 2018, to come up with the necessary regulations. The New Year's Day deadline is when the state will be expected to begin issuing up to 11,500 retail licenses which means that regulators are scrambling to figure out what that market will look like.
Drone delivery brought controversy last year when footage captured a drone delivering illicit drugs to prisoners in a London jail. The major fear is that drone delivery would be co-opted by illegal dealers. A second major concern of California regulators was the crowding of airspace.
California's new transport regulations, unveiled in early September, state that deliveries can only be made in person by an enclosed vehicle, implying that even online orders and mail shipments will not be possible without a courier service. Deliveries must also be traced by GPS likely to ensure that the product does not make it out of state and into the black market.
These stringent regulations are part of a pattern. As many states regulate with reducing consumption in mind,  so too are the avenues for innovation closed. In Colorado, restrictions on cannabis cafes made the prospect of opening shop unprofitable.
The new California drone delivery legislation closes the door on an initiative that would keep drivers safe from criminals who may want to cannabis intercept deliveries. It also denies efficient access to consumers. Recently, in Nevada transport regulations caused a shortage in supply less than a week after the legal market was launched.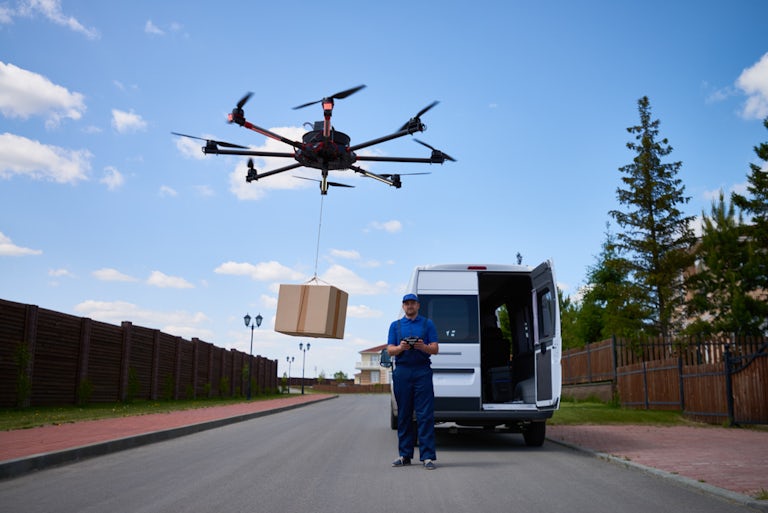 In the past, other companies like Amazon have also been denied licenses for drone delivery. FAA safety regulations prevent drones from being flown out of the pilot's line of sight.
Eaze, a cannabis delivery service expressed interest in drone delivery when they released a video demonstration earlier this year although they have since stated that they have no plan to implement the technology. "The drone reference was from a fun booth experiment we did at the Cannabis Cup." Sheena Shiravi, spokesperson for Eaze told Herb. "we're actually very much in support of regulation around legal access to marijuana."
Meanwhile, San Diego based MDelivers announced in April that they gained both federal and state approval for a drone service. That announcement turned out to be an April Fool's joke. For now, the sweet-buzz of delivery drones carrying the promise of sky-bound buds is a distant reality. But we can still dream, can't we?