While the media has shaped our understanding of stoners through personalities such as Cheech and Chong, as well as, through films like Pineapple Express and musicians like Wiz Khalifa and Snoop Dogg – it has become increasingly apparent that women are taking over the industry.
Female executives are largely underrepresented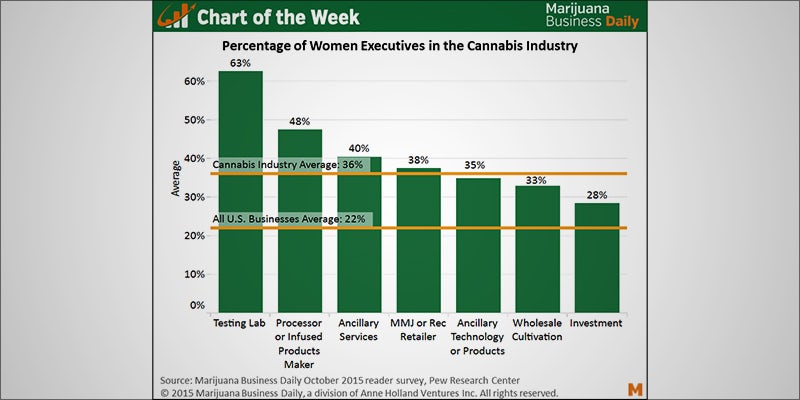 According to a study that was conducted by Marijuana Business Daily, women hold 36 percent of executive positions in the cannabis industry and staggering 63 percent of executive positions in testing labs around the country.
The high percentage of women representing executive roles in the cannabis industry is important for many reasons, however, there are two that audiences should keep in mind.
First off, when compared to other industries, female executives are far more represented than those found in other professions. The Center for American Progress found that while women hold 60 percent of undergraduate and masters degrees, they only make up 14.6 percent of executive officers, 8.1 percent of top earners, and a mere 4.6 percent of Fortune 500 CEOs.
If we take a look inside some of the most popular occupational industries, healthcare, for instance, we can see this pattern repeated, as women in healthcare professions make up 78.4 percent of the labor force yet only hold 14.6 percent of executive positions.
It is also important to recognize that women of color face an even greater difficulty when it comes to representation in leadership roles, as more than two-thirds of all Fortune 500 companies do not have women of color on their board of directors.
However, women are thriving in the cannabis industry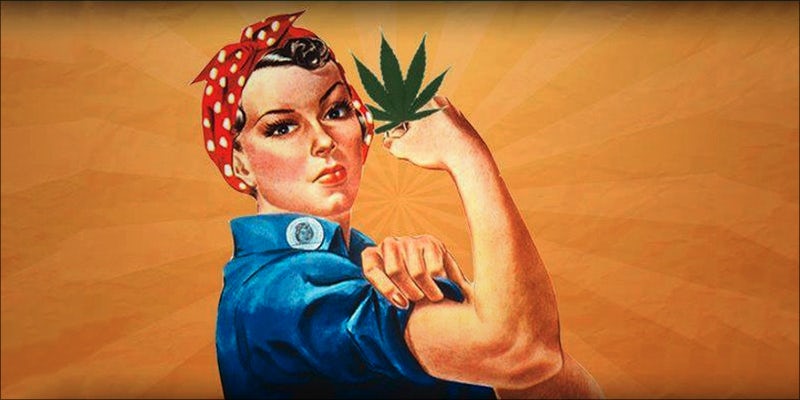 Female representation in executive positions has shown to be a huge problem within the United States, yet the cannabis industry is seeking to change that stigma.
Today, women are dominating the cannabis industry and have shown to have made a large impact in legalizing marijuana usage and developing the industry for 21-century consumers.
Women have made a huge impact in legalizing cannabis usage in states like Oregon, Colorado, Washington, and California – with women like Alison Holcomb, Betty Aldworth, Kate Brown, and Meg Collins leading the charge in their respected states.
In addition, female CEOs are incredibly prevalent in the cannabis industry and executives such as Meg Saunders of Mindful, Patricia Rosi-Santucci of Wellness Connection of Maine, Ah Warner of Cannabis Basics and Toni Savage Fox of 3D Cannabis Center have all reached high levels of success as PPRs (or producers, processors, and retailers).
In discussing women who hold leadership roles within the cannabis industry, it is important not only to list off women who are already making an impact but those who are working who elevate future leaders within the cannabis industry.
Women in cannabis are growing
In 2014, Jane West and Jasmin Hupp founded WomenGrow, a non-profit organization that connects aspiring professionals with the women who run the cannabis business.
Women Grow works to educate, inspire, and empower women about the medical benefits of cannabis usage and the impact that it can have on women worldwide.
Organizations like WomenGrow show that female representation in the cannabis industry encourages more women to become involved and introduces female consumers to the benefits cannabis usage brings to women.
Cannabis has been proven to make an impact in women's lives, whether it be regulating monthly hormones to increasing their sex drives.
The representation of women in executive positions in the cannabis industry has allowed for new perspectives to be brought to the table about how to better market this product and how it can affect consumers differently, which has ultimately benefited the community at large tremendously.
The important of diverse representation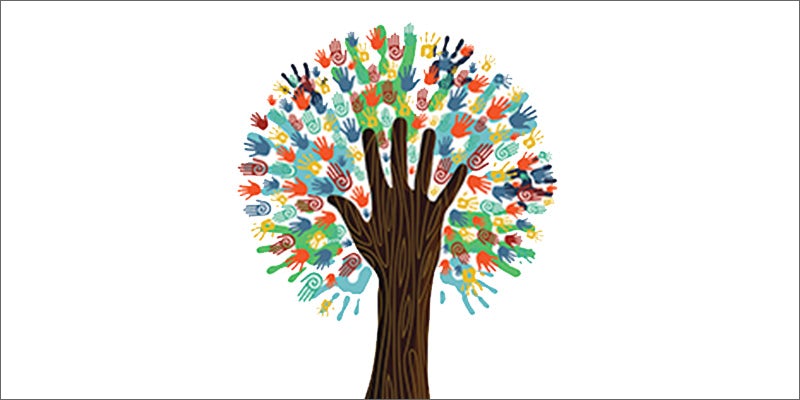 The main take away from why women thrive in cannabis is that the industry is most successful when it can accommodate to a multitude of identities.
Women bring plenty of diverse perspectives and opinions to the table in regards to the legalization and consumption of cannabis that have ultimately aided in it's growing acceptance.
Cannabis is no longer exclusive to college bros looking to take the edge off, it has evolved to serve a wide variety of medical users who can attest to its many benefits.