Of all the cannabinoids that come from the cannabis plant, CBD is by far the most accepted. In fact, you could say that CBD is changing the way people think about marijuana. That's CBD delivers the therapeutic benefits of cannabis without getting you high.
Buy Legal Meds is the world's first-ever CBD shop and is officially open for business in Vegas. Not only are they offering practically every CBD product you can imagine, but they also will act as a lounge for on-site consumption
Since 2015, Buy Legal Meds has been the #1 e-commerce site for CBD-infused products. As of January 31st, 2018, they can officially say that they also have their very own physical space which will provide convenient access to numerous CBD products, from topicals to gummies, CBD flower to CBD concentrates.
Buy Legal Meds is so much more than the world's first CBD shop. "It's an experience," says Vargas. Aside from their extensive collection of CBD-products, Buy Legal Meds will also host a lounge where you can dab CBD, smoke CBD, or just hang out and play video games, according to Cheif Executive Officer Joe Vargas. The world's first CBD shop features an infused-smoothie bar.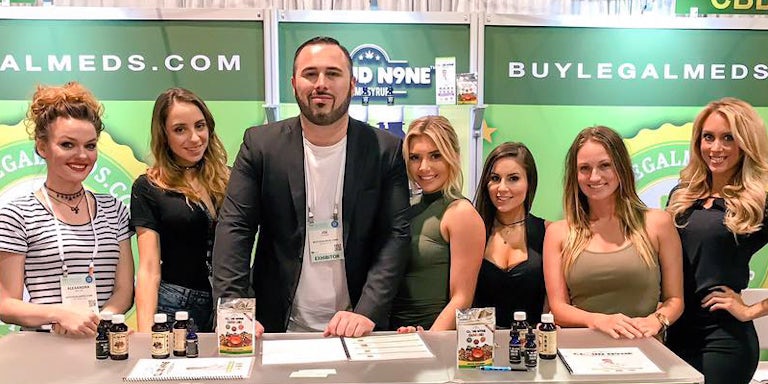 Buy Legal Meds' CBD products, which Vargas says are produced in-house at their manufacturing facility in North Las Vegas, are all derived from hemp. That means they are legal in all 50 states thanks to the 2014 Farm Bill act.
Vargas says the Vegas location will be the first of many. Soon, he hopes to also open up a shop in Los Angeles and Denver.
For Vargas, the mission to promote the therapeutic potential of cannabis is rooted in overcoming personal struggle. "I actually was in the navy for eight years. I suffered from anxiety, and I actually got out on a medical discharge because of anxiety," says Vargas. He adds that CBD "helps out with MS, fibromyalgia, anxiety, ADD, a list of ailments, and whereas the THC gives you the high—the psychoactive high."
Because CBD has anti-inflammatory properties and delivers similar benefits to traditional pharmaceuticals without the side effects, more and more Americans are incorporating it into their daily lives. According to The Hemp Business Journal, "the CBD market will grow to a $2.1 billion market in consumer sales by 2020 with $450 million of those sales coming from hemp-based sources."
In celebration of their grand opening, Buy Legal Meds will be handing out a free gram of CBD throughout the entire month.