Alison Hartson is running for Senate in California, but you wouldn't know it by looking at the headlines. Hartson, who supports nationwide legalization – and decriminalization of all drugs – has a compelling message focused on separating the influence of big donors from politics. Yet, her pro-cannabis campaign has been running on a grass-roots level that's been largely overlooked by major media and polling.
"Our campaign has been putting out press releases and sending out information to the media since November," Hartson told Herb, but the coverage has remained squarely on California's incumbent Senator Dianne Feinstein, a Democrat who's held her seat for 26 years, and opposed legalization for just as long.
Fighting against a field of 32 Senate candidates, few of Feinstein's opponents have managed to garner enough name recognition to launch a serious challenge. One of those opponents has been the President of the California State Senate, and fellow Democrat, Kevin DeLeón.
DeLeón has been the only other candidate to gain widespread media attention and is running a distant second in fundraising. Media coverage and fundraising are central components of a successful campaign and the way pollsters collect and report information have a significant effect on both.
In two widely cited polls conducted for the LA Times and the Public Polling Institute of California (PPIC), Feinstein and DeLeón emerged as the clear leaders in the race, but they were also the only names voters had to choose from with the additional option to pick 'other'.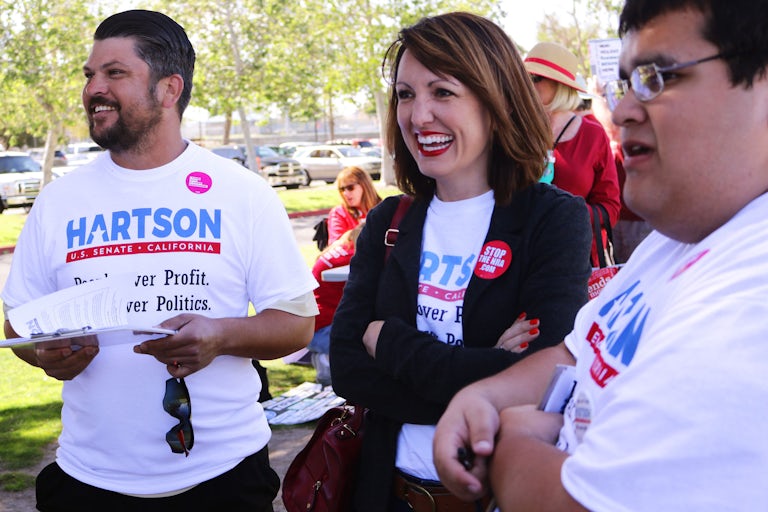 California's primary is unique in that it's essentially a free for all. In a race where the top two candidates on June 5th will appear on the ballot in November, regardless of party affiliation, voters are left with a ridiculously large number of candidates to choose from.
That crowded primary field has caused some pollsters to pick and choose between candidates they include in their polling. It's a choice that makes sense when you consider that most people would rather not be bothered by robo-calls, let alone one which lists 32 names for Senate and 27 for governor.
When reached for comment, PPIC told Herb that "only candidates with independently verifiable campaign organizations and significant resources for statewide campaigning were included." But these criteria also make it that much harder to run against corporately funded campaigns and to remove someone who already holds office.
When asked if the polling numbers worry her, Hartson says "I have my concerns, but I know what's happening with the polls and what's really happening with our data," adding that her social media outreach suggests that her campaign has been gaining steam.
It's true that skewed polling may not reflect the true feelings of voters, but the concern for candidates is that those numbers can drive voters away from the polls. For example, someone who looks at Feinstein's double-digit lead – in a poll where she was one of the only candidates listed – might wrongly believe that voting for a candidate like Hartson is a lost cause.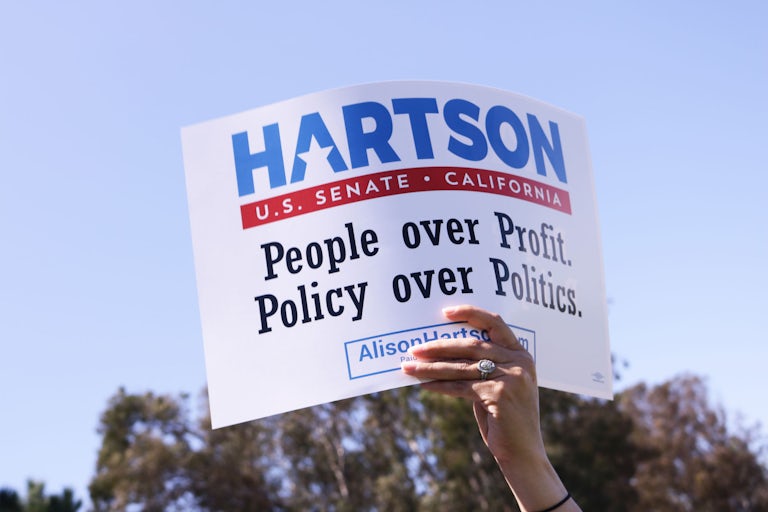 More importantly, skewed polling can also hide candidates from voters as those who are lumped into the 'other' category go ignored by the media, which in turn could leave them out of future polls.
As in Hartson's case, it can mean that voters and donors who care about cannabis policy aren't presented with the best options. Combine that skewed polling and media coverage with Feinstein's refusal to attend a debate on May 5th and the chances of making the top two begin to depend heavily on the money your campaign can raise to buy ads and cover ground. That sort of disparity is exactly what Hartson is running against.
"If our politicians are constantly surrounded by the wealthy elite," she says, "and the people who have access to them are only the people who can afford it, their perspective of what is best for the people becomes tainted."
Massively out-funded by Feinstein, Hartson is the only candidate that has raised upwards of 70 percent of her contributions through small donations, placing her in a distant third.
As a result, the Hartson campaign has taken an old-fashioned approach with nearly 1,800 volunteers knocking on doors to spread the word while her ads have been focused on social media audiences rather than California's expensive ad market.
In April, her campaign released an ad which placed the spotlight on Feinstein's decades of opposition to legalization. In the video, Feinstein is likened to Attorney General Jeff Sessions, a comparison which The Young Turks (TYT) credited for changing Feinstein's mind on cannabis.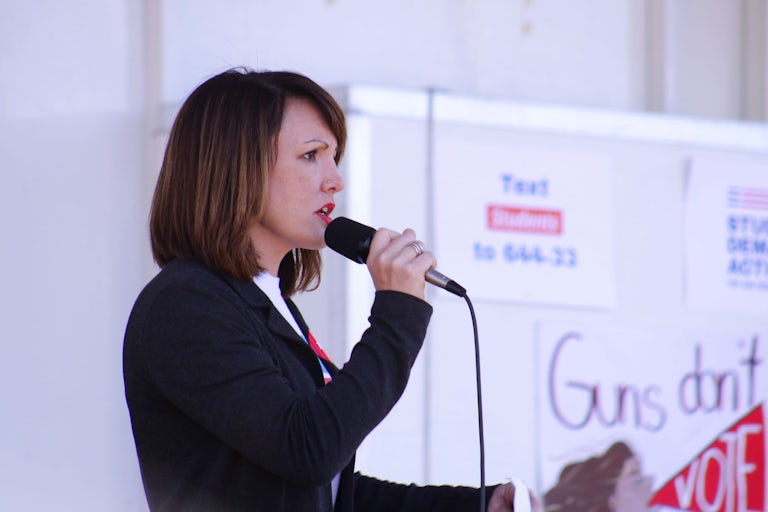 With its low view count, that opinion could be slightly biased, since Hartson was once the National Director of TYT host Cenk Uygur's Wolf PAC, an organization devoted to taking corporate money out of politics, but it's not far-fetched to think that Feinstein's opponents have had some effect.
"She's not feeling the heat from Californians," Hartson says, pointing out that Feinstein has ignored public opinion on the issue for decades, "but from candidates in the race who are holding her feet to the fire."
What's more likely is that Feinstein felt the pressure from all sides, including the change of heart from the Democrats Senate leader Chuck Schumer and the promise from President Trump to sign a law which gives states the right to legalize.
But while long-shot candidates may have the ability to push front-runners in the right direction, lop-sided campaign coverage hurts us all by obscuring the candidates who focus on the issues which also get lost in the headlines.
"Another thing that isn't talked about is what we need to do to protect our small cannabis businesses," says Hartson, pointing to a pattern which is taking shape across all legal states. "As soon as big corporations see the writing on the wall – and they're already starting to – they're going to push out small growers and sellers and monopolize the market."
With the June 5th primary just weeks away, Hartson is fighting against the odds, but fighting nonetheless.