In the United States, legal cannabis is poised to give American Indian tribes an economic injection that could prove vital to their communities. 
While the national conversation about race relations in the United States usually pivots around the economic disparities between average White and African-American communities, the median poverty rate of American Indians surpasses both groups.
In 2014, a government census found that nearly 30% of single-race American Indians and Alaska Natives were living in poverty, the highest percentage of any racial group in the country. To give an idea of just how wide the income gap is, the median household income of single-race American Indian and Alaska Native Americans was $37,227 in 2014—more than $16,000 below the median household income of the United States as a whole. Many believe that the cannabis boom could help change that. 
The laws protecting the sovereignty of American Indian tribal lands are complicated and manifold but ultimately allow for more freedom in regards to the implementation of a cannabis industry than in individual states. One of the most important laws dates back to 1976, when the Supreme Court ruled that, other than by Congressional declaration, American Indians who live on reservations could not be taxed or regulated by state governments. This ruling laid the foundation for the many casinos that have since become primary economic fixtures of many American Indian reservations.
The Department of Justice also issued a memorandum in 2014 that gave American Indian reservations the same sort of protections from law enforcement that the government afforded to states with legal recreational marijuana. The memo specifies that "each United States Attorney" should respect the wishes of the individual tribes' governments. Currently, the Department of Justice's Bureau of Indian Affairs' website reads that "…federally recognized tribes possess both the right and the authority to regulate activities on their lands independently from state government control."
Since property rights and water rights are controlled by the tribal government, cannabis businesses on tribal lands also have far fewer regulations and restrictions standing in the way. And due to Tribal businesses exemption from certain taxes, they can often offer products at a more consumer-friendly price. This allows these businesses to attract customers from the communities on the periphery of their tribal lands. (Many Americans are already used to visiting reservations to purchase more affordable tobacco products, for example.)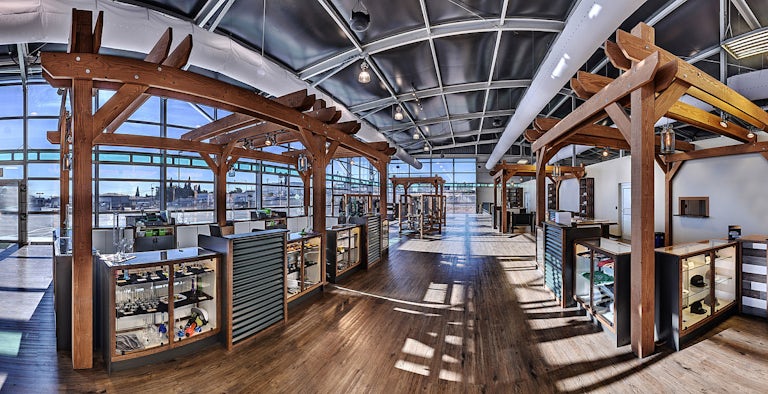 These factors give American Indian communities a unique advantage within the emerging cannabis industry. And with recreational marijuana for adult use currently legal in nine states and the District of Columbia, many American Indian tribal members have already embraced its economic potential.
In Las Vegas, for example, the Paiute Tribe has opened the largest dispensary in the United States—the NuWu Cannabis Marketplace—which the tribe hopes will become an international cannabis destination. Recently, the dispensary made history when they became the first cannabis business to partner with a professional sports team, the Las Vegas Lights.
Still, while American Indian tribes are in a position to profit from the emerging cannabis industry, like all cannabis business owners, the federal government's continued prohibition on cannabis has given many a reason to worry.
The federal government provides block grants to many tribes, for example, which some worry could be jeopardized if communities permit federally illegal businesses to operate on their lands—particularly given the Trump administration's unfavorable view on marijuana.
Again, the legal framework that separates tribal governments from state and federal governments is complex. And while in many cases American Indian tribes have sovereignty over their land, they're not completely immune from federal interference. Even during the Obama administration, federal agents occasionally raided properties belonging to federally-recognized American Indian tribes, confiscating cannabis plants in the process. 
And when Newsweek reached out to the Department of Justice to inquire about the governments' intentions to enforce federal law on tribal lands, the Department said that they have the rights to enforce federal law in Indian Country and implied that they intended to do so.
For now, at least in legal-marijuana states like Washington and Colorado, the federal government has generally allowed licensed cannabis-businesses to operate, without interference from federal law enforcement agents. But with the Trump administrations' constant flip-flopping on marijuana, how long this will last is anyone's guess.
Still, with public opinion on marijuana legalization reaching all-time highs, many see federal legalization as a question of "when" rather than "if." When that day comes—if that day comes—it could be transformative for American Indian tribes that choose to embrace it.