How times have changed. As the 2018 mid-term elections inch closer we await another round of ballot initiatives that would legalize recreational cannabis in Michigan, Missouri, Oklahoma, and Utah while Connecticut's gubernatorial race is about to give the country its first cannabis centered debate. The event will be hosted by Students for Sensible Drug Policy and the Connecticut chapter of National Organization for Reform of Marijuana Laws (NORML) on November 28, 2017.
The debate will air at 7:00 pm from Yale University. It is set to be moderated by the former candidate for state senate and cannabis advocate Attorney Aaron J. Romano who will be asking questions about legalization and criminal justice.
Four of the state's candidates have agreed to participate in the debate including Middletown Mayor Dan Drew (D), former state Senator Jonathan A. Harris (D), state Rep. Dr. Prasad Srinivasan (R), and Army veteran Micah Welintukonis (U).
The first major political debate hosted by a marijuana advocacy group
This will be the first time that NORML hosts a debate and it's a responsibility they've taken seriously, understanding that this role is not often given to such groups. As a result, they want to emphasize that this is not a platform for their agenda, but that they also won't shy away from asking the hard questions.
So what can we expect from this debate? All four candidates have a history of supporting cannabis reform and legislation to make it more accessible. Among them, Micah Welintukonis believes that cannabis needs to be treated like alcohol with his platform featuring a proposal that it be recreationally legal for those 21 and over as well as allowing for growing at home.
"I think it's better to have a regulated product out there," Welintukonis says, "rather than a street product that could potentially be mixed with other substances."
As a veteran who served in Kosovo, Iraq, and Afghanistan, he understands the struggles that veterans returning from service have dealt with and insisted that no veteran is beyond recovery. Recent research certainly backs that up, with many veterans now openly advocating for cannabis as an effective alternative to opiates which some have referred to as 'zombie drugs.'
Asked why he chose to participate in the debate, Welintukonis told HERB it's about being open and honest, "I also like to get feedback from voters," He says, "I'm just one guy, I don't know everything."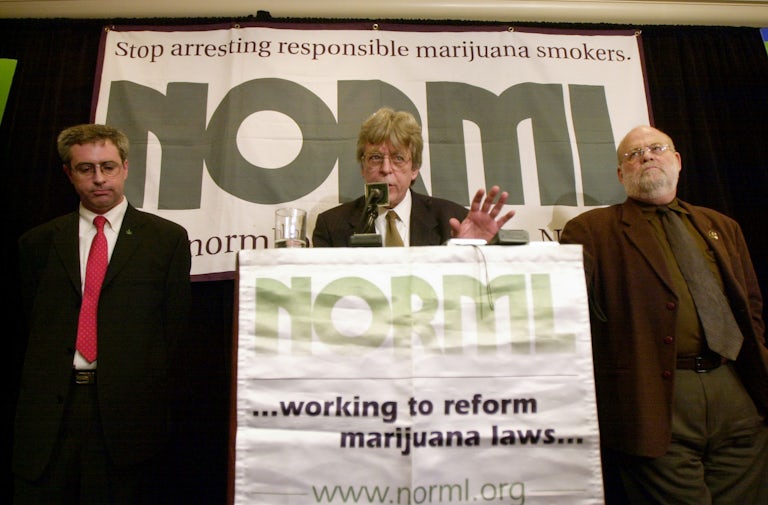 With all of the participants showing some level of support, the debate is likely to come down to the type of system each candidate would like to see. But debate organizers remain open to candidates of all political backgrounds and opinions.
"This is not just a pro-legalization debate," moderator Aaron Romano told HERB, "we are hosting the debate, so we're open to having candidates from all perspectives come and voice their opinions."
For those who have chosen to participate, the event offers an opportunity to reach a significant number of voters. There are over 20,000 patients enrolled in the state's medical system, while a recent poll from Sacred Heart University found that over 70 percent of the state's residents are in favor of legalization.
These are all voters who want their voices heard, especially since it's proven difficult for patients to obtain their medicine due to what some believe to be a lack of adequate access under the current system.
Regarding recreational use, Connecticut is unique in that it doesn't have the option to legalize through a ballot initiative. Thus far, all eight states and the District of Columbia which have legalized recreational cannabis have done so by the ballot. This leaves the issue of legalization in Connecticut to the legislature, and any state that passes such a law would be the first state to do so.
Connecticut's gubernatorial race is significant because, unlike many other states, recreational marijuana legislation would require a governor's veto.
That's why the governorship has become so important to cannabis activists: no legislation would ever become law until they have a governor who wouldn't veto it. It's something candidates like Johnathan Harris believe is inevitable, and Romano agrees.
"Politics being the way they are," Says Romano, "sometimes candidates will participate in something if they get a sense of which direction the wind is blowing." But to get any sort of legalization bill tabled, they'll need to get the conversation started, which is precisely the opportunity this debate will offer.
"The important thing is to create a dialogue so that the people can discuss these issues at the dinner table and not be afraid to talk about it," Romano insists, "The candidates have to take patients seriously, and they have to take the people who vote on these issues seriously."
The debate will be live-streamed on Tuesday, November 28th at NORML online. Updates can be found on the Facebook Event page where members of the public can also submit questions.