For decades big pharma has been an opponent of the legalization movement. Whenever initiatives to legalize a recreational market have popped up, pharma companies have been the first on the scene to dole out the cash and defeat them. All along its led the cannabis community to raise a suspicious eye toward pharma companies. But as legalization gains popularity across the country big pharma is looking less like an enemy and more like the competition.
Last ballot season began just like any other, with states looking to legalize and pharma companies lining up in opposition.
In Arizona, the largest donor, Insys Therapeutics, gave $500,000 to the anti-legalization campaign. According to the Washington Post that was the largest single contribution to an anti-cannabis campaign in American history.
In lock-step, the makers of OxyContin and Vicodin also found themselves among the largest donors to the anti-legalization cause according to a report from The Nation.
Proposition 205 meant to add Arizona to the list of states that allow the recreational sale of marijuana. Instead, it was the only state that had an unsuccessful attempt to legalize a recreational market in 2016. The rest, including California, Nevada, Massachusetts, and Maine are now in the process of implementing a regulated market.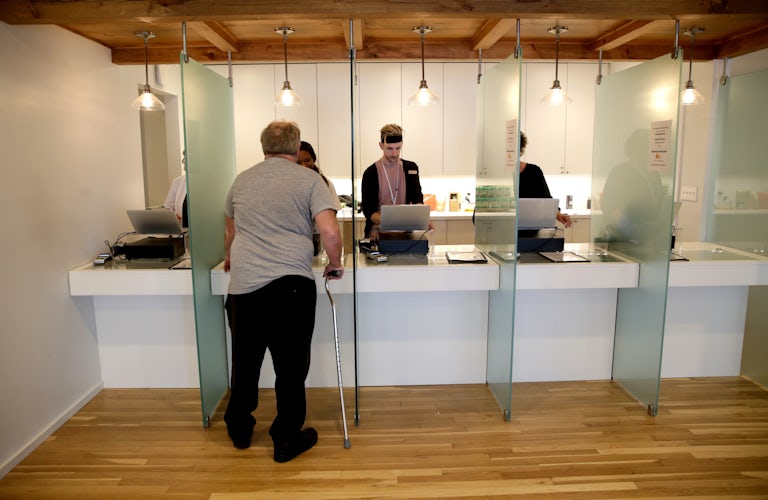 There seems to be more to these anti-legalization campaigns than simple opposition. In fact, pharmaceutical companies have shown an increasing amount of interest in the cannabis industry.
The emerging strategy Big Pharma anti-legalization donations isn't about halting legalization. It's about getting a head start.
"Unfortunately," says Morgan Fox of the Marijuana Policy Project, "as we have seen an increase in interest from these companies to develop cannabinoid medicines, we've also seen them fighting legalization efforts."
According to Viridian Cannabis Stock Index, biotech companies accounted for more than half of the investments in the cannabis industry in 2015. That same year, lawmakers made changes the Controlled Substances Act, which would allow drugs to be rescheduled three months after receiving FDA approval.
While that legal loophole could one day see cannabis rescheduled, it also removes a hurdle for companies working on synthetic cannabinoids.
What Pharmaceutical Companies are doing in reaction
Pharmaceutical Companies like Insys who are opposing the industry just as they're entering it.
On March 23rd, Insys received approval from the DEA for the rescheduling and development of its synthetic cannabinoid spray Syndros. Because of its synthetic nature, its newly approved medicinal value to chemo patients does not apply to organic cannabis.
But the approval of Syndros is troubling for another reason: Insys' history. Their last attempt at a cancer-oriented medication landed the CEO and other top officials in court when it was discovered that the company faked the medical records of their patients in order to obtain insurance coverage. For four years the company worked with doctors to prescribe their medication to patients who didn't need it.
With their top brass purged, Insys will now be allowed back into the cancer treatment market. The company insists that their latest product is different from other forms of synthetic cannabis, known as Spice or K2, which has reportedly caused overdoses. Spice did not respond to a request for comment.
Over the summer the FDA approved Syndros which will be available in the latter half of 2017 according to the company's interim CEO, Dr. Santosh Vetticaden.
It's not clear whether these drugs will be subject to the pattern of price hikes across the country since there aren't many prescription drugs that can be easily grown in your basement. In this case, dispensaries may be the toughest competition for synthetic products as well as other prescription drugs.
Studies conducted by researchers at the University of Georgia suggest that Marijuana can be used to treat addiction to prescription drugs. According to a study published by the American Medical Association states that implemented medical cannabis laws from 1999 to 2010 saw a nearly 25 percent drop in opioid overdoses.
It's a threat to profits which Insys seems to recognize. In documents filed with the Security and Exchange Commission, the company admits that legal cannabis could hurt its investment prospects.
"If our competitors develop treatments for pain management or nausea and vomiting, especially other synthetic cannabinoid derivatives or specialized opioid delivery systems, that are approved more quickly, marketed more effectively or demonstrated to be safer or more effective than our product candidates, our commercial opportunities will be reduced or eliminated." The report states.
But not all pharma companies have the reputation of Insys or are seeking to work against the cannabis community.
"It's unfortunate that there seems to be a zero-sum game here," Says Stephen Schultz of GW Pharmaceuticals, "Our objective is to provide an additional option."
GW have been working within the industry since 1998 when two doctors in the UK decided to explore the medical benefits of cannabis. These companies implement compassionate care programs that offer medicine to patients at no charge. They also provide plant-based pharmaceuticals like Sativex, a Multiple Sclerosis medication, which has been approved in 30 countries.
The company's current focus is an epilepsy treatment called Epidiolex which is largely CBD derived and is still going through the FDA approval process.
Despite their reputation among cannabis users, there are a number of reasons pharma companies could be a good choice for medical cannabis. Consistency in the product, the resources for effective research and insurance coverage are just a few.
Then there is the isolation of cannabinoids which extract the active chemicals in the plant to target specific illnesses. It's an area in which pharma companies may have a let-up But it's also a scarcely explored section of cannabis science. As Fox points out, these isolated cannabinoids could be more effective, but they also may be unable to work together to produce something called the Entourage Effect, which allows our bodies to absorb certain cannabinoids more effectively.
In any case, it's not too difficult to distinguish the do-gooders from the profiteers. After all, "These patients are not looking to get high," Says Schultz, "they're looking to get relief." There's a thin line between medication and addiction. Big Pharma appears to have drawn that line down to a pill a day. Which is an excellent way to sell pills, but medicine is teaching someone how to draw that line for themselves. And if we find some time for recreation in between, we've earned it.