A New Hampshire state court has cleared more than a dozen cannabis possession charges on the grounds that law enforcement broke the law to collect evidence. Judge Thomas Rappa of the Plymouth District Court declared evidence gathered by local law enforcement invalid because it was collected with the help of Customs and Border Patrol (CBP) agents nearly 100 miles away from the border and in violation of the state's constitution.
In a court case first reported by Slate, it was discovered that customs officers worked with local law enforcement in Woodstock, New Hampshire to set up checkpoints on a stretch of highway 90 miles away from the Canadian border. CBP officers at the checkpoints would approach vehicles with canine units that were supposedly meant to search for illegal migrants, but when drugs were discovered local police would take over to press charges.
Forty-four people were eventually flagged at the checkpoints and charged with possession, the majority of which were for small amounts of cannabis, according to court records. In a motion to dismiss the evidence brought by the ACLU on behalf of sixteen defendants, the Woodstock Police Department and CBP were accused of violating the state's constitution which prohibits warrantless canine searches of vehicles.
The team effort on behalf of state and federal law enforcement allowed CBP to conduct the searches under the special exemptions which apply to border zones before handing the cases off to local police.
At border crossings, CBP officers regularly conduct vehicle searches and do not need to apply for warrants as normal police would. What's more, federal law allows the CBP to operate within an extended border zone that stretches 100 miles from any national boundary in order to enforce immigration laws.
In some cases, that external boundary encompasses an entire state placing around two-thirds of the American population under the CBP's jurisdiction. Under these rules, the majority of Florida, Michigan, and most of New England including New Hampshire are fair game.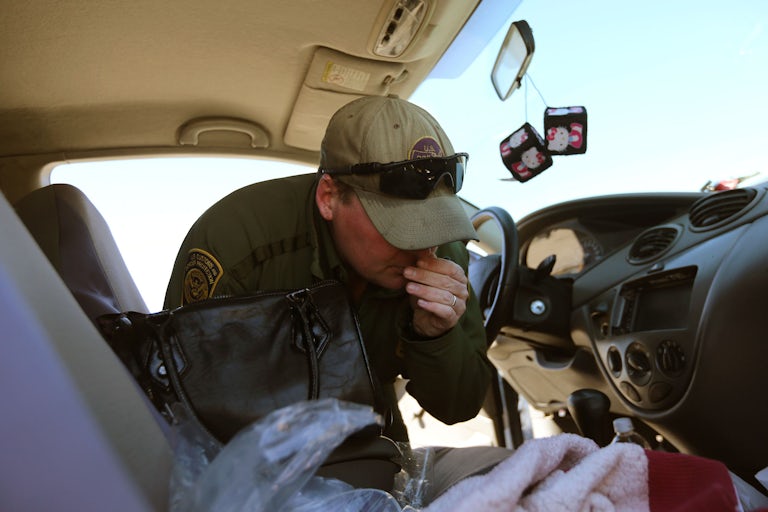 Critics have noted that these practices only began as a result of President Trump's harsher border policies which have emboldened immigration enforcement officials to make use of such practices.
But what border patrol officers were not permitted to do is conduct searches in those extended areas without probable cause related directly to immigration violations. In a decision handed down by the Supreme Court in 1976, border patrol checkpoints that are used for purposes other than immigration enforcement were deemed unconstitutional.
As a result, Judge Rappa found that the checkpoints set up by CBP and the Woodstock police not only produced inadmissible evidence but also violated the law. The judge noted that since the defendants were facing charges under state law, the state's rules against warrantless searches ought to apply since the drivers were only caught because they happened to drive through a checkpoint.
Rappa wrote: "the evidence would be inadmissible if seized by law enforcement officials because there was no articulable reasonable suspicion that any of these defendants were involved in criminal activity prior to the initial dog search."
The judge went further to say that the "the checkpoints were unconstitutional under both state and federal law" since email exchanges between CBP and local police prove that border officers acted dishonestly.
"While the stated purpose of the checkpoints in this matter was screening for immigration violations, the primary purpose of the action was detection and seizure of drugs," Rappa wrote, citing that CBP officers contacted local police ahead of time for the purpose of conducting drug busts.
Evidence against all 16 defendants has now been dismissed, while the case could still be appealed in a higher court.