A federal judge for the Eastern District of New York, Jack B. Weinstein, says that he will no longer send those under supervised release back to jail if their probation officers catch them smoking marijuana.
In a 42-page decision which came down on June 5th, Judge Weinstein admitted that he had been too harsh on marijuana users in the past and vowed to be more lenient with people who have shown improvement in every other aspect of their lives after leaving prison.
"No useful purpose is served through the continuation of supervised release for many defendants whose only illegal conduct is following the now largely socially acceptable habit of marijuana use," the 96-year-old judge wrote.
The case Weinstein was ruling on was that of 22-year-old Tyran Trotter who was sentenced to two years in prison plus three years of supervised release for trafficking heroin. When he refused to take a mandatory drug test, the Probation Department recommended he be sentenced to another four months in prison and another two years of supervised release.
But Weinstein, a judge known for his progressive rulings, thought that there was no reason to believe Trotter hadn't made attempts to better himself or that his continued use of marijuana was the result of an addiction.
After the passage of the Sentencing Reform Act of 1984, federal parole programs were abolished and replaced with supervised release. The new 'supervised release' programs were added to sentences rather than applied for by prisoners and were aimed at rehabilitating those who had been released from prison. It placed an emphasis on the transition back to a normal life and gave the power to re-sentence from parole boards to judges. But these individuals are still subjected to mandatory drug tests, which could land them back in jail if they fail or refuse to participate.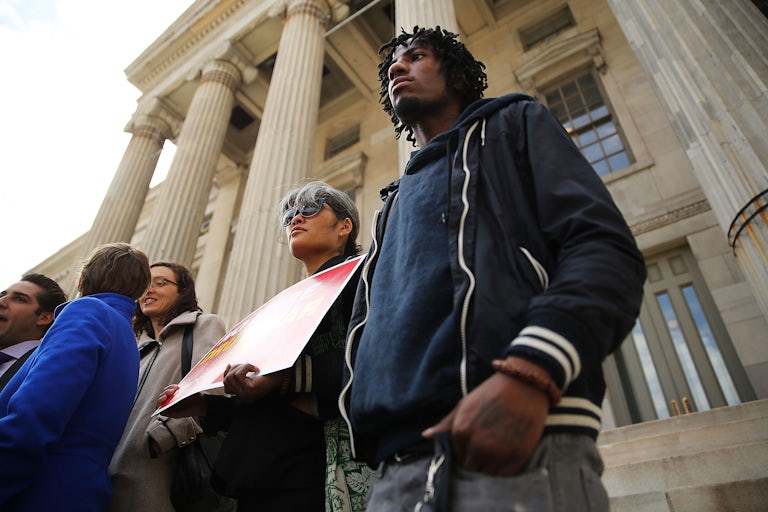 Weinstein noted in his ruling that continuing to enforce bans on cannabis consumption "can trap some defendants, particularly substances abusers, in a cycle where they oscillate between supervised release and prison."
Judge Weinstein also noted that he's not alone in his belief, citing a Pew Research Center study which found that 61 percent of Americans support legalization as well as a 2014 United States Sentencing Commission survey which found that 85 percent of federal judges believed that possession of a controlled substance was not a good enough reason to send someone back to prison. What's more, 74 percent thought that failing more than three drug tests in a year was not reason enough to send an offender back to jail.
Judge Weinstein's decision seemed to be heavily influenced by recent media coverage of cannabis issues as he cited several reports from the New York Times, among other publications, including a Times report from May which found that black New Yorkers are eight times more likely to be arrested for cannabis-related crimes than white New Yorkers.
That report was part of a series which forced the NYPD to examine its internal practices and compelled New York City Mayor Bill DeBlasio to announce that the city would no longer arrest those who were charged with simple possession or smoking cannabis in public.
In addition to changes announced by the mayor, New York City District Attorneys have pledged to stop pursuing low-level cannabis crimes, while the state's Governor Andrew Cuomo commissioned a study by the Department of Health recommending statewide legalization.
These developments were also cited by Weinstein as a mark of shifting public opinion toward cannabis.