Licensed cannabis businesses in California who are complying with the state's regulations are growing increasingly frustrated with the thriving black market. As a result, some licensed dispensaries have filed complaints with the California Bureau of Cannabis Control to try and eradicate their illegal competitors.
The competition between legal and illegal cannabis businesses has resulted in significantly lower-than-expected cannabis revenues in the state. Many blame California's exorbitant tax rates, which can cost customers up to 45% of their purchase.
Governor Jerry Brown has already moved to launch a special investigative team to eradicate California's black market cannabis businesses. Brown has allocated $14 million to the initiative. California's Bureau of Cannabis Control is also taking steps to try and minimize access to the state's illicit cannabis market.
This year, California's Bureau of Cannabis Control sent a cease-and-desist memo to Weedmaps, the online database of dispensary names, locations, and products, where many of these unlicensed businesses can be found. The bureau asked the site to stop listing unlicensed cannabis businesses and threatened to charge them with "criminal and administrative penalties." Weedmaps, for their part, essentially refused.
Some have expressed concern that it's too difficult to distinguish legally operating dispensaries from unlicensed, illegally operating stores. In some cases, unlicensed cannabis retailers are even reportedly using their lack of compliance with the state's cannabis program as a selling point, advertising that customers can purchase cheaper products at their stores, according to Marijuana Business Daily.
While legally operating cannabis businesses are struggling to compete with the black market, the state is working to offer resources to people playing by the rules. Recently, California's Senate passed a bill to help cannabis businesses gain access to bank accounts, which many have been unable to obtain due to the federal prohibition of cannabis. Without access to banks, cannabis businesses must often operate entirely in cash, making them an easier target for theft and prohibiting them from basic services like loans.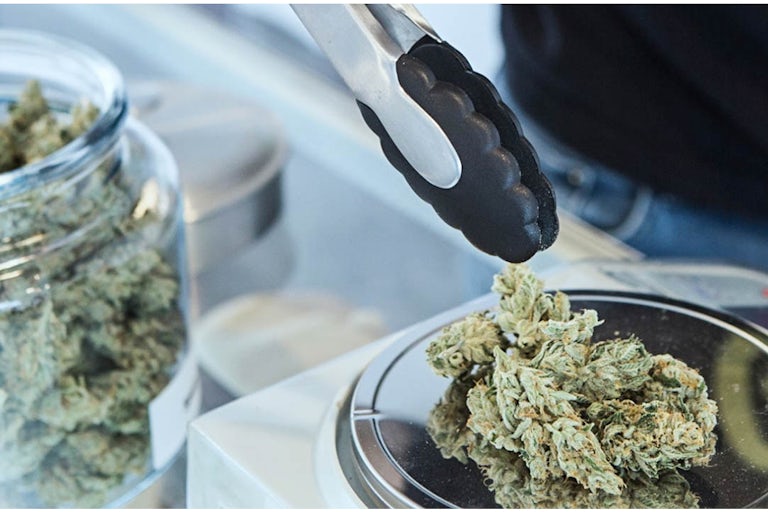 Still, cannabis operators looking to join California's legal program are often faced with setbacks of their own, such as a slower-than-expected licensing process. In Los Angeles, this slow licensing system has cost many would-be legal cannabis businesses money as they wait to turn leased spaces into functioning stores.
Currently, there are more than 5,000 cannabis operators with licenses to operate their businesses legally in California. Santa Barbara County is home to the highest number of licensed cannabis farms in the state, having already been awarded roughly 800 growing licenses. According to the Orange County Register, there are roughly 400 licensed cannabis dispensaries in California. But many more currently unlicensed cannabis businesses are still waiting to receive their permits in order to enter the state's legal system. And in many cities, cannabis operators don't even have the option to go legal yet.