Dispensaries across California are rushing to sell all of their products that will be illegal after June 30th. Starting on July 1st, cannabis retailers in the state will only be able to sell products that have been independently lab-tested, as required by the recreational marijuana law passed in 2016. This means everything they have on their shelves from the medical marijuana-only days will have to go or, according to state law, be destroyed. 
Already, retailers and cannabis services like The Green Cross dispensary in San Francisco and delivery service Sava have begun to offer discounts as large as 30 to 75 percent off cannabis flower, reports Leafly. 
After California officially began its legal sale of recreational cannabis on January 1st, the California Bureau of Cannabis Control allowed for a six-month transitional period before the new regulations kicked in. The regulations are aimed at increasing public safety by enforcing child-resistant packaging and ensuring that all products are tested for potentially dangerous contaminants.
The new regulations will also include a THC limit for edible products (including tinctures) and topicals. The limit has been set at 10 milligrams of THC per serving and 100 milligrams per package.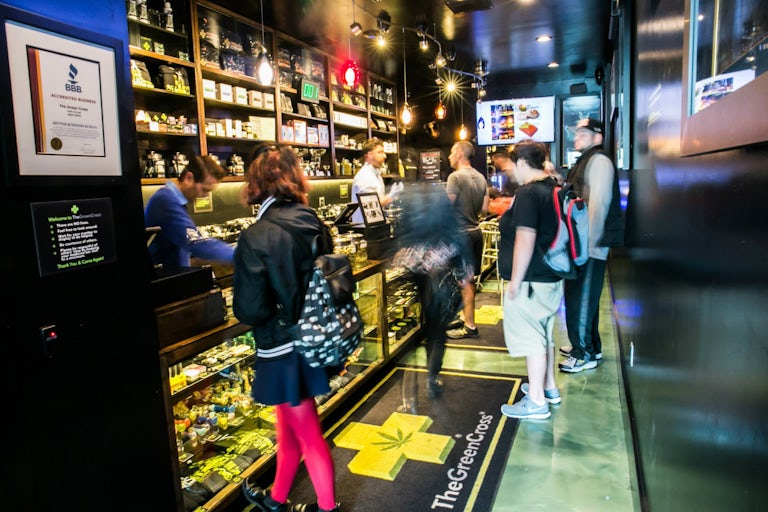 Once the sales end, many expect to see a dip in the availability of legal cannabis products at dispensaries. It's yet to be seen how California's legal cannabis industry will function with the current imbalance of dispensaries and cannabis testing facilities in the state.
While there are currently 31 laboratories that are licensed to test cannabis products in California, there are about 400 licensed dispensaries. Many are concerned that these testing labs won't be able to keep up with the volume of cannabis that needs to be tested in order to meet the consumer demand for medical and recreational cannabis in the state.
Labs in California must attain accreditation from the International Organization for Standardization (ISO) before they can test cannabis. This helps to ensure that these labs are trustworthy enough not to doctor their testing results, which many labs are believed to be doing.
The Bureau of Cannabis Control will be doing compliance checks with cannabis retailers after July 1st to make sure they're following these new regulations. Dispensaries that fail to comply will risk being fined or having their license revoked.