When California legalized recreational marijuana this past January, it earned itself a hopeful new title: the largest regulated cannabis market on Earth. But according to a new report from the California Growers Association (CalGrowers), less than one percent of the state's cannabis growers have been issued licenses to grow their crop legally. The result, according to CalGrowers, is "an emerging crisis" in one of the world's most promising new industries.
CalGrowers' recent report examines the state's cannabis policies that make it difficult for small growers to easily and affordably join California's legal market. And surprisingly, according to Hezekiah Allen, CalGrowers' Executive Director, one of the largest barriers to entry is the flat-out bans on growing, manufacturing and selling in much of the state. Proposition 64, the bill which legalized recreational marijuana in California, gives local jurisdictions the authority to decide whether they want to allow the cannabis industry in—and many have decided they don't. 

"Based on a failure to recognize state law, local bans are regressive policies that often reflect the same values as the antiquated federal laws," Allen tells Herb. 
While many view California as a liberal stronghold in the U.S., a significant portion of the state remains dedicated to conservative values—including the rejection of legal cannabis. Already, nearly half of California's 58 counties have issued cannabis bans. As a result, only an estimated 47 percent of growers in the state are now eligible for cultivation permits, according to CalGrowers.
But while these outright bans are the most tangible barrier to entry, Allen says that the reasons for cannabis growers' low participation in the legal market are nuanced and manifold. "A central theme is that the barriers being experienced are not a single wound, it is a thousand small cuts," he says. 
Another major obstacle in California's marijuana industry is the difficulty that the state's many small growers, known as "cottage cultivators," have in getting their product to market legally. 
"The problem is, if you're a cottage cultivator, you're not a capitalized business," Casey O'Neill, a CalGrowers Chairperson and expert on cottage cultivation, tells Herb. "If you're lucky you're making a small salary just over breaking even. But you're certainly not stacking away money. And because you don't have investors, and you're not a corporation…the licensing cost, the regulatory costs, are so high that most businesses cannot afford it."
O'Neill says that while cottage cultivators had long distributed their products directly to patients and dispensaries on the black market, most hoped to join the state's regulated system come January 1st when recreational sales opened. However, "for the cottage cultivators, they're no longer able to do their own self-distribution unless they get a massively expensive distribution license, and so they have to go through a distributor," says O'Neill. Unfortunately, since many cottage cultivators live and work in rural, isolated locations, it can be extremely difficult to network and form partnerships with distributors.
In general, the CalGrowers' report outlines a series of policies that allow for larger, more wealthy businesses to thrive, leaving small businesses unable to compete. One such policy outlined in the report is the state's "microbusiness" license. In theory, these licenses would give small cannabis growers the opportunity to expand their operation to other steps in the supply chain. One example of this could be a cannabis farmer who opens their own cannabis cafe. This would allow small, rural businesses to keep up with larger retailers with more capital. But despite good intentions, according to CalGrowers, these licenses have done little to help small cannabis businesses.
Instead, according to the report, the state's microbusiness licenses have allowed more monied retailers to expand their operations to other steps in the supply chain, vaulting them ahead of smaller growers. CalGrowers' report finds that only 10 of the 52 microbusiness licenses issued in California have gone to rural businesses. In other words, rather than giving smalltime cannabis growers an opportunity to expand into the retail market, these licenses have mainly allowed for wealthier urban retailers to produce their own supply.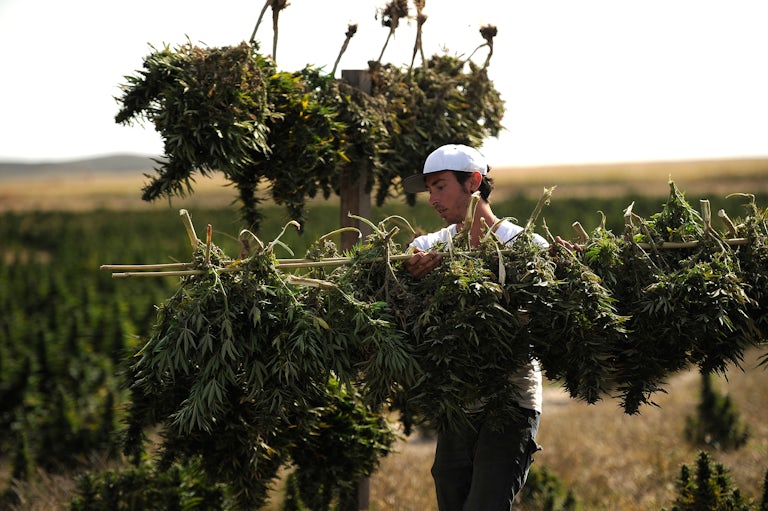 California's allocation of "small" cultivation licenses have followed a similar pattern. Since January 1st, the California Department of Food and Agriculture has issued roughly 540 temporary licenses for "small" cannabis growing operations. However, since businesses can apply for multiple licenses, certain growers have begun acquiring a disproportionate number of these licenses.
According to a Business Journal review, roughly 30 percent of all "small" growing licenses have gone to only 10 businesses. Some of these companies have acquired as many as 30 licenses. According to a data review by Cannabiz Media, which tracks marijuana licenses, by January 15th of this year, 15 companies in California had been awarded 10% of all licenses in the state. As a result, Allen believes that California's cannabis industry is turning into a highly consolidated marketplace, where a handful of large companies are able to control a significant portion of the market.
Another major barrier to entry for small cannabis growers is the significant one-time cost of renovating their properties to comply with environmental standards. According to Allen, the importance of good environmental practices is not in dispute, but rather, the problem lies with a double-standard applied to the cannabis industry.
To comply with these environmental standards, says Allen, cannabis growers are often forced to clean up the mess left behind by past timber industry operations. "It's very uncommon for folks in the agriculture industry to be asked to clean up land-use impacts that they didn't cause. And so if you buy a ranch that has bad roads from the timber industry from 40 years ago, you usually just get to move forward," says Allen. "The cannabis industry is not being treated that way." Terra Carver, Executive Director of the Humboldt County Growers Lands Alliance, tells Herb that this can cost growers anywhere from $50,000 to $750,000.
The result of these multiple barriers to entry, according to the report, is an exodus of roughly 80 to 90% of California's cannabis growers—who were previously supplying cannabis to California dispensaries—back to the black market.
Allen proposes five major changes to California's legal cannabis program to reduce these barriers to entry and allow for smaller businesses to thrive including allowing growers to engage in direct marketing, reducing taxes, and streamlining the required testing for small producers. 
The alternative, says Allen, would be bleak. "There will be significant strains to social safety nets; unemployment will rise as folks go out of business and let their employees go." As a result, he says, the black market will persist, which will deplete valuable law enforcement resources and exacerbate poor environmental practices among growers. These growers' inability to easily and profitably access the legal market means that the quality and safety of their products will also be compromised.
"In short," says Allen, if these barriers to entry remain in place, California's legal cannabis market "will probably look like the past, at least for the foreseeable future."