US Capitol Police arrested seven pro-cannabis activists who were distributing free joints on a sidewalk across from the Capitol building on Thursday – the unofficial 420 holiday for enthusiasts all over the world. Three of the activists were charged with possession with intent to distribute, while four other people were charged with possession. It is legal to possess, grow and give away small amounts of cannabis in the nation's capital, but it is illegal to do so under federal law.
Politically motivated arrests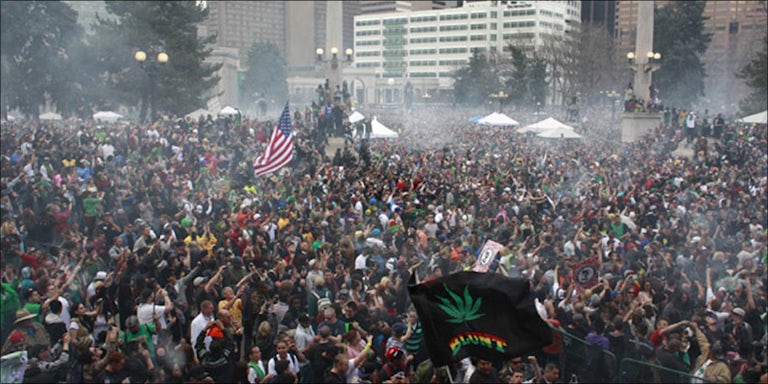 The activists, who are members of cannabis advocacy group DCMJ, had organized an event called the "Congressional Joint Session." This was to hopefully send a message to Congress to end cannabis prohibition and allow D.C. to change its current laws.
Members of the group chose the location of their demonstration – the corner of 1st Street and Constitution Avenue Northeast – because it is located near the Capitol building but is not federal land.
Capitol Police said in a statement the arrests were made under federal law, with three charged with possession with intent to distribute and four charged with possession. Adam Eidinger, a co-founder of DCMJ, told CNN while he was handcuffed and searched by police that he had not expected to get arrested at this protest.
So much for free speech
Fortunately, all charges from Thursday's arrests were dropped except those against Adam Eidinger, co-founder of DCMJ, and D.C. Cannabis Co-Op Club founder William Angolia.
Officials charged Eidinger with possession of 78 joints amounting to 2.06 ounces of cannabis and Angolia with 2.405 ounces in the form of plants and joints, according to Capitol Police documents.
It is legal to possess 2 ounces or less of cannabis in Washington D.C., but it must be consumed on private property. Angolia and Eidinger pleaded not guilty, with court dates set for May.
Under federal law, it is unlawful to possess marijuana. As of 2:30 p.m., one adult male and two adult female arrestees were charged with possession with intent to distribute. Four adult females were charged with possession. They were taken to USCP Headquarters for processing. – U.S. Capitol Police
Just like with the hundreds of 420 celebrations around the world, no one expects to be arrested and charged as a criminal for celebrating such an event. But that's exactly what happened to two of D.C.'s biggest advocates.
We didn't plan on getting arrested today, we brought 1,227 joints to represent the cannabis reform bill H.R. 1227 and gave away a few hundred to congressional staffers before Capitol Police took it all away.

This was meant to be a free speech event and was meant to influence members of Congress.