As Canada prepares to legalize cannabis by the end of summer, the country's Ministry of Health is seeing a sharp increase in the number of applicants for cultivation licenses. According to a report from Marijuana Business Daily, Health Canada has received 74 new cultivation applications since the beginning of the year, accounting for a 150 percent increase in applicants over the previous year.
In all, the government is currently considering more than 500 applications for cultivation licenses, though the country's legal cannabis market is still expected to experience a shortage in supply as just over 100 licensed producers (LPs) compete with the well-established black market. For the rest, it will take an average of just under a year for their cultivation permits to be approved by Health Canada.
Even among Canada's largest producers, some cultivation and production sites have yet to be approved to sell, including Aurora's massive new complex in Alberta, Aurora Sky. Meanwhile, Canopy Growth CEO Bruce Linton has gone on the record saying that Canada should expect a shortage.
At their current capacity, Canada's largest licensed producers grow up to 30,000 kg of cannabis a year, with Canopy's Smiths Falls facility expecting to ramp that cultivation up to 100,000 kg annually by the time legalization kicks in. Yet even that may not be enough, with estimates of demand from a number of research firms ranging from 600,000 kg to more than 900,000 kg a year. Last fall, the Parliamentary Budget Office settled on 650,000 kg—a figure which licensed producers like Canopy consulted on.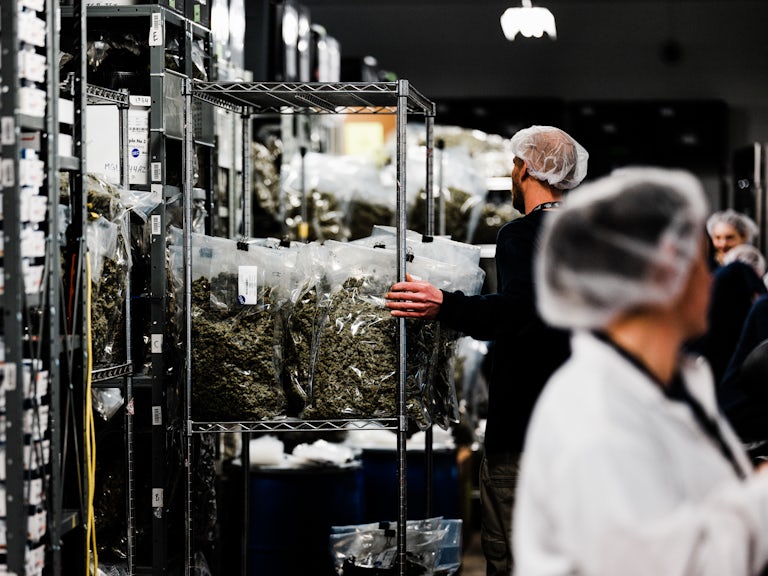 Each time the numbers are crunched, the results fall just short of optimism on the supply side and, according a report from Mackie Research Canada, that shortage could last until 2020. Still, some experts are saying that rumors of a weed shortage are overblown.
"There's a lot of talk out there about how there will be an acute shortage of legal cannabis next year, but our analysis tells us that is very unlikely," Miles Light of the Marijuana Policy Group, which was hired by to advise Health Canada, told VICE in 2017.
He believes that the issues with supply will come down to inadequate distribution, not a shortage in cultivation of flower, but what Light has based his opinion on is the fact that Canada's black market for cannabis won't be eliminated within the first year. By his estimates, it would be a victory for Canada's legal market if it could meet the demand of 40 percent of the country's consumers.
On the distribution side, things also look quite grim. As Michael Armstrong, a professor of business at Brock University recently pointed out, when the government of Ontario released its plan for a state-run retailer, the Ontario Cannabis Retail Corporation (OCRC), it noted that it did not yet have suppliers and issued a call for LPs to apply, leaving just a few weeks to establish those relationships and still meet its shipment deadline of June 1st.
Additionally, as Canada's largest province with approximately 11 million eligible consumers, Ontario will only have forty legal retail locations within the first year.