July 1st, the anniversary of Canada's independence, has always been a day of celebration and pride— and until a few days ago, Canada's upcoming birthday had been especially anticipated. Marijuana proponents nationwide had, as early as March 2016, checked off this upcoming July 1st on their calendars as the day when weed would finally be legalized. But unfortunately, according to Health Minister Ginette Petitpas Taylor, marijuana proponents will now have to wait until at least the beginning of August to celebrate.
According to Taylor, the hold up on passing Canada's legal marijuana legislation is due to the lengthy legislative process that follows the law's passing in the Senate. After the law passes, provincial and territorial governments need time, roughly eight to 12 weeks, to organize the implementation of dispensaries and legal marijuana sales within the country.
Given this lengthy timetable, the Liberal government is now projecting a launch date of August or September.
With Canada preparing to take its place as the second country on Earth to legalize marijuana for recreational use, certain lawmakers are wary of moving too fast. After all, establishing an entire industry, virtually from scratch, takes time and careful planning. Complicating matters further, each Canadian province is establishing its own marijuana regulations and methods of sale. In Ontario, for example, the provincial government will exclusively be allowed to sell marijuana, much like the sale of liquor. But in British Colombia, Canadians will be able to purchase their marijuana from private or government-run dispensaries.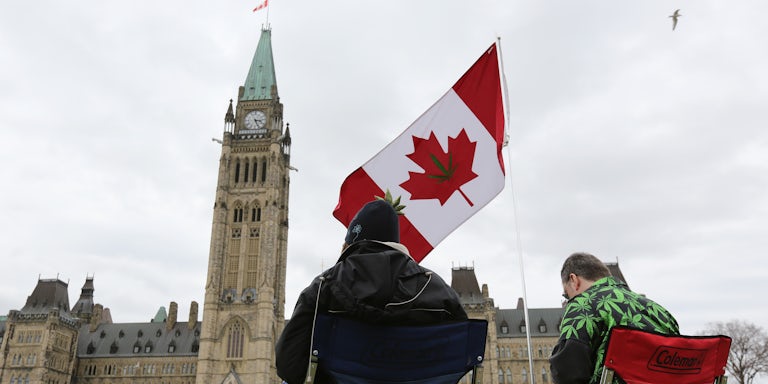 Some Canadian towns, mainly those with a majority conservative constituency, are loath to allow marijuana legalization to move forward at all. Even Richmond, British Columbia, a coastal city of roughly 220,000 people just outside of Vancouver, has expressed opposition to marijuana legalization. But despite these conflicting opinions, the Liberal government remains committed to legalizing marijuana, even if it happens a month or two later than expected.
Unfortunately, the delay has not been without consequences. After the government announced this news, Canadian marijuana stocks took a notable hit. The stocks of two of the country's major marijuana growers, Canopy Growth Corp and MedReleaf, dropped six and eight percent, respectively. Many believe these companies are already way over-evaluated, with some major producers valued at 100 or 200 times their revenue.
Some experts view the Canadian marijuana market as a bubble destined to burst. Others may see this recent dip in marijuana stocks as an opportunity to buy stocks at a lower price, which may rise again as Canada nears legalization. But whether that will be in August, September, or even another month entirely,  is now anyone's guess.