Earlier this month, two masked men walked into a dispensary in Ontario, Canada, assaulted one of the employees, and made off with merchandise and cash. Shortly thereafter, former dispensary owner and cannabis advocate Britney Guerra sent out a media release encouraging dispensaries who had been robbed to inform police.
She knew there were plenty of robberies going unreported, but the problem was even bigger than she suspected, reports The Hamilton Spectator. Within 48 hours, Guerra got calls from four different Hamilton, Ontario dispensary owners who told her they'd been robbed in the past month alone. She said criminals are banking on dispensary owners' fears.
"They're getting away with it," Guerra said. "This is a serious issue."
Dispensary workers, due to the iffy legal nature of unlicensed dispensaries, have been reluctant to call the cops, reports CBC. As a result, robberies are increasing at Canadian dispensaries, according to Guerra.
"While there is no guarantee that cops won't seize product, it is much more important to get these violent criminals off the streets," said Guerra. "If you fail to call 911, this will continue, and someone may get seriously hurt or killed. No amount of product is worth someone's life."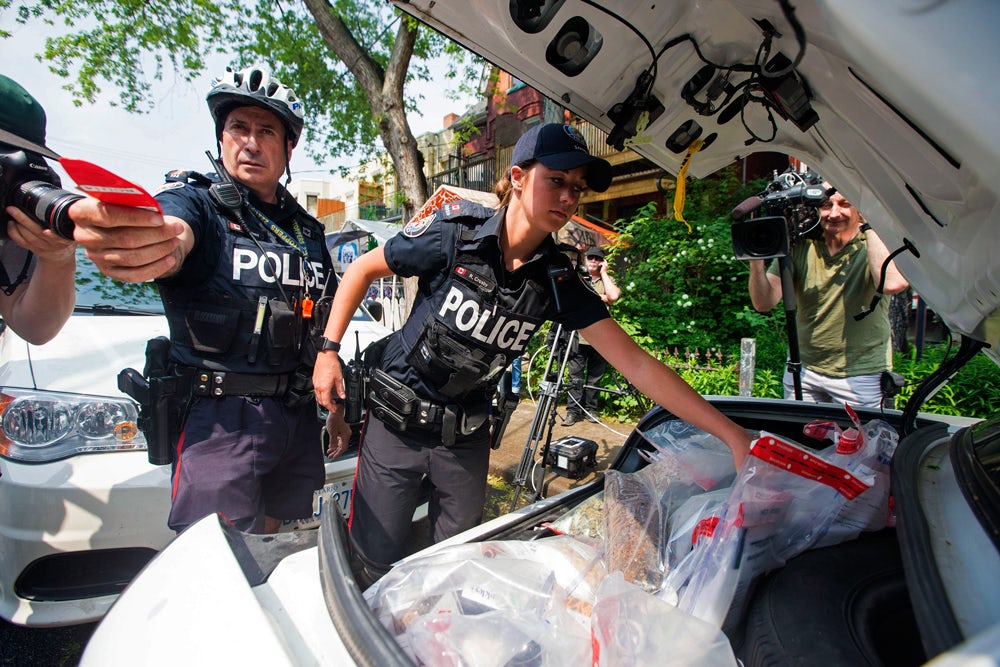 Cannabis possession will become legal in Canada by July, but police say until then, they'll continue enforcing existing laws. More than 50,000 cannabis-related arrests were made in Canada in 2016 alone. Late last year, even the city council of Hamilton urged that police crackdown on dispensaries. Hamilton cops have executed 15 drug search warrants at dispensaries in the last two years. They've also issued 27 zoning charges, 12 business licensing violation notices, seven bylaw violation notices and four property standards orders, according to the latest official report.
"The Hamilton Police Service will continue to investigate all allegations of criminal activity, including the sale and trafficking of marijuana from dispensaries," a police press release stated earlier this week.
Investigative Services Supt. Ryan Diodati reaffirmed this position saying if the cops are called to a dispensary robbery and there are "illegal drugs" there, they will hold the scene for a warrant. He said he remembered one robbery scene where dispensary staff wouldn't even let police in at first. They eventually relented.
"The first concern is the increase in illegal drug trafficking in storefronts," Diodati said. "I can't stress enough that all of these dispensaries are illegal."
Hamilton police have officially had six dispensary robberies reported since last April. That number includes five in 2017, and the Blue Ox Dispensary robbery earlier this year. Arrests have been made in four of last year's robberies.
But police know robberies are going unreported, and that is cause for concern, said Investigative Services Supt. Ryan Diodati. "We can't do our job properly if we're not made aware of these types of crimes," he said. "Any robbery and any shooting, just one, is a concern … any time you introduce firearms into the equation it's concerning for us."