By now, many have likely heard about the recent comments from leading federal government officials which inappropriately linked cannabis to the opioid epidemic and violence. However, U.S. Attorney General Jeff Sessions may have just assured senators that he won't be enforcing a cannabis crackdown. While this is great news, some senators are still skeptical.
Sessions says no cannabis crackdown, maybe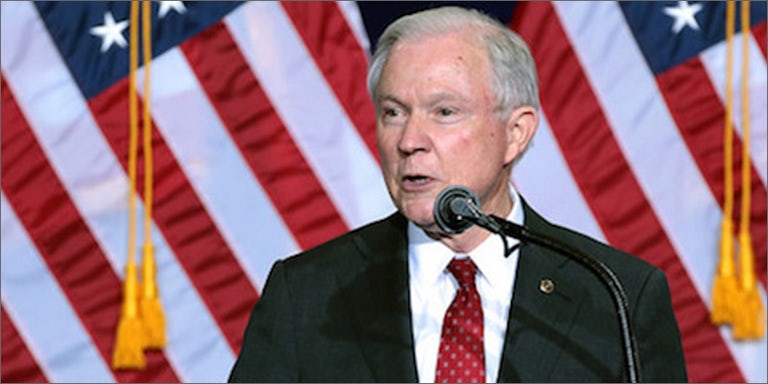 According to Politico, Senator Rand Paul (R-Ky.) told reporters that U.S. Attorney General Jeff Sessions assured him that there will be no crackdown of cannabis anytime soon.
Paul has a history of openness to cannabis policy. In fact, in 2015, Paul cosponsored the CARERS Act, The Compassionate Access, Research Expansion and Respect States Act.
The CARERS Act would protect laws in medical cannabis states and amend the Controlled Substances Act of 1970 to move cannabis from a Schedule 1 to a Schedule 2 controlled substance, making it accessible to medical researchers and patients. In 2016, Rand Paul campaigned for cannabis reform while running for the presidency.
Now, Rand recounts that prior to Attorney General Sessions expressed a pro-states' rights approach to the cannabis debate. He stated in an interview,
[Attorney General Sessions] told me he would have some respect for states' rights on these things.

And so I'll be very unhappy if the federal government decides to go into Colorado and Washington and all of these places.

And that's not the [what] my interpretation of my conversation with him was. That this wasn't his intention.
Senator Cory Gardener (R-Colo.) also suggests that Sessions and other Trump administration officials have given no sign of major policy shifts. He mentions, "Nothing at this point has changed."
Hanging by a wire
Session's support of states' rights is certainly good news. However, the industry may not be out of the weeds just yet. Sessions has made his distaste for cannabis known on several occasions in the past. Most recently, Sessions suggested that high-THC cannabis contributes to violence.
At his confirmation hearing, Sessions lightly elaborated his legal philosophy on the matter,
It's not so much the attorney general's job to decide what laws to enforce. We should do our jobs and enforce laws effectively as we're able.

The U.S. Congress made the possession of marijuana in every state – and the distribution – an illegal act.

If that's something that's not desired any longer, Congress should pass a law to change the rule.
Unfortunately, this comment gives no indication on how Sessions will prioritize cannabis "crimes" now that the Obama administration is out. While recent events certainly don't provide much comfort, the Trump administration has expressed support for states' rights in the past.
Whether or not the administration will follow up on those promises is the big question, though many cannabis-friendly senators are wiggling in their seats, with good reason, too. The present legal cannabis industry exists largely because of one Obama administration document, the Cole Memo.
The Cole Memo was written by Former Attorney General James Cole back in 2013. The memo suggests that cannabis crimes in legal states be prioritized last, focusing more Department of Justice resources on more pressing issues.
Trouble is, the Cole memo is an Obama policy, a badge which faces considerable scrutiny under the new Commander in Chief.
Concerned, a bipartisan group of senators, lead by Elizabeth Warren (D-Mass) and Senator Lisa Murkowski (R- Alaska) sent a letter to Sessions, urging him to continue with the present policies. The letter stated,
We respectfully request that you uphold DOJ's existing policy regarding states that have implemented strong and effective regulations for recreational use.

It is critical that states continue to implement these laws.
Whether or not Sessions will reject or uphold the Cole Memo is yet to be seen. However, it would certainly be nice to hear from Sessions himself, rather than his word passed down through a political grapevine.