VICTORIA, B.C.—This year, new safe injection sites and overdose prevention units have gained federal approval to operate in Toronto, Vancouver, Surrey, and Victoria. While Canada's first safe injection site, Insite, has seen well over 6,000 overdoses since their facility opened in 2003, there have been, astonishingly, zero deaths. There has been a steep decline in diseases like HIV and Hepatitis C as well.
Still, the opioid crisis persists, claiming twice as many lives this year as last year. Last year, the rate of overdoses doubled from the year before. While safe injection sites have proven effective at preventing overdoses, their facilitation of treatment options—to get users off of dangerous opioids like heroin and fentanyl—hasn't had a perceptible impact on the overall number of overdoses.
One wonders how much the type of drugs used for treatment plays into this. Currently, safe injection sites and overdose prevention units connect users to doctors and institutions that prescribe lesser opioids like Suboxone and Methadone, which are supposed to wean users off of their addictions to more dangerous substances, like heroin. But Suboxone and Methadone are opioids too, that come with their own addictive properties, potentials for abuse, long-term health impacts and eventually withdrawal symptoms.

To be sure, for all their shortcomings, Suboxone and Methadone have also, in many cases, been found to be effective drugs for treating addictions to substances like heroin. But a number of new studies suggest that cannabis is also an effective treatment method for pain, and opioid use disorder, whether used as an adjunct or in some cases replacement for the standard drugs used for treatment (e.g., Suboxone and Methadone.) The significance of cannabis as a treatment drug is its safety: there is no potential for fatal overdoses, addictive properties are lower, and withdrawal symptoms virtually non-existent compared to opioids.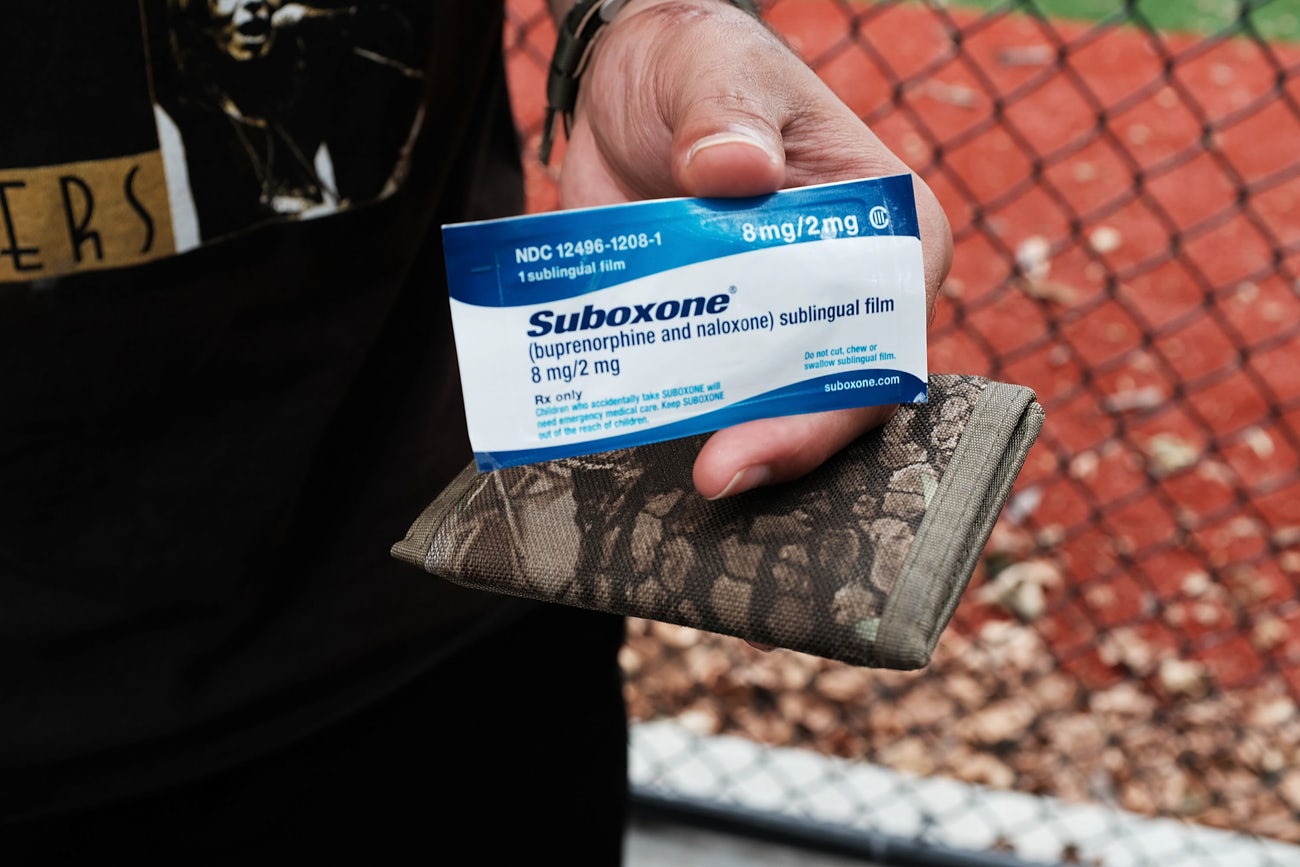 You would imagine, then, that cannabis would be added to the roster of drugs that safe injection and overdose prevention facilities recommend to treat opioid use disorder. But after calling around to every safe injection site I could find listed in the country, not a single one has integrated cannabis into treatment options.

This week I spent some time at an overdose prevention unit in Victoria—a city that is currently home to the third highest rate of overdose deaths in the province with the highest opioid-related deaths in the country—to get a perspective on whether cannabis is gaining any traction as a viable treatment option.
While Victoria is currently in the process of building an official safe injection site, slated for the spring or summer of 2018, a temporary overdose prevention unit has been operating on the grounds of the Our Place Society, which provides food and resources for the city's poor and vulnerable people. The overdose prevention unit connects users to Island Health, where they can access prescriptions for opioid use disorder treatment drugs like Suboxone and Methadone. But what about medical marijuana?
"Right now we've just been facing the crisis at hand, and it just hasn't come up yet." Says Anna, who currently runs the overdose prevention unit. Anna's perspective is that cannabis can't replace Suboxone or Methadone entirely, but she does see it as a viable treatment option. "I think it would be more something that, for people that find Suboxone makes them feel sick, or if they just cant take it because you know, it keeps them up or makes them feel weird." She also thinks it can be used for patients who suffer from a lack of appetite, or for helping to treat dope sickness.
I wanted to corroborate her opinion about cannabis' efficacy with users, who have first-hand experience with opioid use disorder.
At Our Place, I spoke to an older man named Al, who tells me he's been struggling with an ongoing opioid addiction for 25 years. Al tells me that "if you're in full-blown withdrawal, at the very best [cannabis] will take the edge off." But in his experience, "Adding weed as part of the treatment with methadone is not a bad idea. Especially with the new methadone, I'm finding that it doesn't last as long. The older stuff used to get 36, even 48 hours sometimes without a dose, and I would barely be feeling sick. Nowadays, 20 hours in I'm starting to feel the initial feelings of withdrawal. And that's the time to smoke a joint—it takes that edge off, and it gives you that little bit of extra time."
The short period of relief provided by treatment drugs is a common problem for users, according to Jonathan, one of the onsite paramedics at the overdose prevention unit. And once this relief starts to wane, many users turn to illicit drugs "I keep hearing stories with the methadone especially. You only get your 500 ml for the day, and that's only enough to get someone un-sick in the morning when they're having withdrawals, so they take that in the morning, but 12-14 hours later, at night, it's not affecting them anymore, and then their prescription's out for methadone so…they're turning to dope at the end of the day again." Says Jonathan.
Dale Robert Cardinal, who's been using opioids to treat his ankylosing spondylitis (an inflammatory disease) for the past eight years, is one such person. Cardinal tells me he's been "cut off" his usual medication (morphine), and like many others, he knows, has a difficult time affording pain medication. Without access to prescription medications, "We just have to do other drugs that are provided on the street, and some of us are dying, a lot of us are dying. I know four people, and I know them by name."
Cardinal believes that concentrated and specialized cannabis oil could be an effective alternative to traditional pharmaceuticals, and while simply smoking weed isn't effective for pain relief, it does help.
Jonathan also doesn't believe cannabis alone could provide effective relief for heavy addiction symptoms, but that it would be a useful adjunct to Suboxone or Methadone. "Especially with a lot of the side effects that can come along—the nausea and sickness and loss of hunger—I think that would be a really big benefit of it."
Grant McKenzie, Director of Communications for the Our Place Society, has a similar perspective.
"I know that a lot of the people that we work with, they're combining other drugs with their methadone." Grant tells me. "they're taking the methadone so they don't get sick, but they miss getting high, or they miss that feeling. So they're adding dangerous drugs on top of the methadone, which then leads to overdose and death. And so if there were a way to have them using certain strains of cannabis on top of the methadone, the chances of them sticking with the methadone rather than looking for crystal meth or heroin would be, in my opinion, greater."

While cannabis probably won't be a miracle cure, pretty much everyone I've spoken to at the Our Place Society's overdose prevention unit— users, paramedics, and upper-level staff alike—thinks that cannabis is useful in treating opioid use disorder. So why don't they recommend users to facilities where they can access medical marijuana?
Grant says that it "will probably explode once it becomes legalized, that I see that as a strong possibility as an alternative to what we're using now." (Though ultimately he says the decision would be up to Island Health, who neglected to comment in time for this article). But the thing is, medical marijuana is already legal. In fact, it's been legal since 2001. Nearly two decades ago! It remains widely undervalued in its medical potential.
So, in short, there isn't any good reason why cannabis isn't being promulgated as a treatment option.
As far as I can tell, the only reason for this is the stigma attached to a substance that is, until next year, recreationally illegal. Marijuana's history as a widely policed, illicit drug, makes it particularly difficult to wrap one's head around using it to combat addiction to other illicit, widely policed drugs. But this is, of course, a terrible reason: people are dying, and cannabis is a known and effective method of treatment.
To be sure, it's impossible to overstate the sheer importance of the work done by people who operate safe injection and overdose prevention units. They are saving lives. But if we have a shot at curbing the opioid crisis, it's going to require every resource at our disposal. Cannabis, as multiple studies have shown, is a particularly effective resource. Everyone I've talked to acknowledges this. But cannabis cannot continue to be praised by health workers while simultaneously sidelined as a treatment option. It's time for healthcare workers to actively push for the use of medical marijuana in treating opioid use disorders, lest we neglect a perfectly viable treatment option in favor of the status quo.