Cannabidiol, or CBD, is the hottest thing in alternative wellness. It's one of more than 400 compounds in the cannabis plant, but unlike its famous cousin, THC, CBD does not get users high. So what is a CBD store?
CBD shops and kiosks are popping up all around the U.S., selling hemp-derived CBD products, from oils and topicals to bath bombs and dog treats. They're in California, Oregon, Las Vegas, and more. And they're able to operate in places where cannabis is completely prohibited. So should you shop there?
It's all about the hemp
Unlike a cannabis dispensary, a CBD store is only permitted to sell CBD products derived from hemp plants. Hemp is different than cannabis or marijuana "drug" plants because it has a much lower THC content. By law in the U.S., legal hemp plants must have 0.3 percent THC or less.
Currently, there are tons of CBD products derived from hemp. Online, anyone can order CBD oil, capsules, edibles, vape pens, lotions, bath bombs, and even make-up, as long as they are derived from the hemp plant. A CBD store will also carry these products, and more, like "Buy Legal Meds" on the Las Vegas strip. Buy Legal Meds sells hemp CBD flower and dabs and even has a dab lounge and CBD smoothie bar.
Is a CBD store legal?
It seems so, but CBD does fall into a legal grey area. Hemp-derived CBD products are legal in the U.S. under the 2014 Farm Bill, which allowed states to start their own hemp farming programs. This has led to a boom in production of hemp in the U.S. With the rising popularity and demand for CBD, this has also led to a boom of hemp-derived CBD products.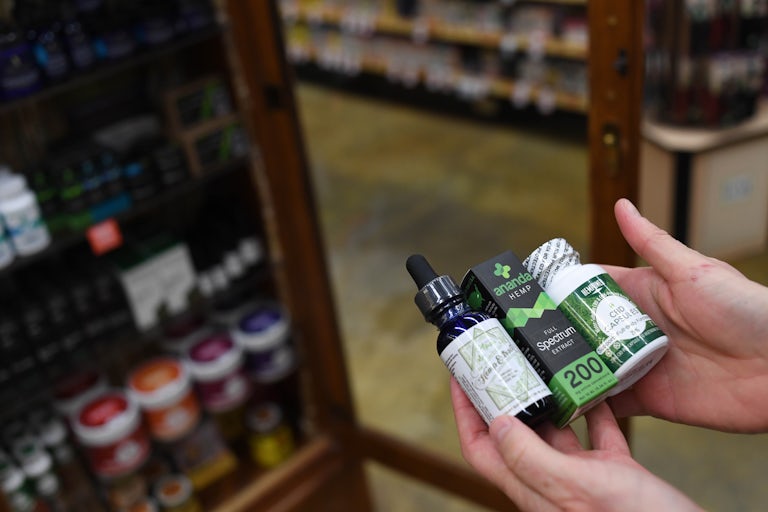 CBD stores are still raided and shut down
Regardless of hemp-CBD's legal status, it is not unheard of for a CBD store to be raided or shut down. In fact, some in the cannabis community believe CBD store owners are "playing with fire" because of the unclear legal status of CBD.
A CBD kiosk in Victorville, California was shut down by the city earlier this year, claiming the business owner violated local marijuana laws. Business owner, Lisa Carlson, was given a "notice of violation" for selling "commercial cannabis" by a city code enforcement officer.
"I was selling CBD derived from industrial hemp, which has been fully tested and included zero THC," Carlson told the Victorville Daily Press."If you shut me down, then you might as well shut down Amazon and Walmart because they sell hemp products too."
Where can I find a CBD store?
Finding a CBD store might not be as hard as you think. They exist across the U.S.
There are many popping up in California. Despite the opening of California's recreational market on January 1, many cities and counties in the golden state have banned cannabis dispensaries. Entrepreneurs in those areas have opened up CBD stores as an alternative.
In Ventura county, where cannabis dispensaries are banned, the CBD store, Mary J. Mart, opened earlier this year. Although Mary. J Mart looks like a cannabis dispensary, it only sells hemp-derived CBD products. Importantly, it does this "legally" without the proper licensing for a cannabis dispensary. In fact, hemp CBD products are not regulated by the Bureau of Cannabis Control like other cannabis products in the state of California. While that allows store like this to open without a retail cannabis license, the lack of regulations and testing worries people in the industry.
CBD products derived from the marijuana plant are tested and regulated before being sold in California dispensaries. They often have different ratios of CBD to THC, like 1:1, 3:1, or 18:1, which people often prefer for different medical ailments like pain and anxiety. Many argue CBD derived from marijuana is better because it provides patients with the "entourage effect" of the whole plant, and is safer than non-regulated hemp products.
However, many people are also intimidated by cannabis dispensaries, even in states where weed is legal. They may be afraid every product they buy there will get them "high" regardless of whether it's CBD or THC. For this kind of consumer, a CBD store is appealing. They can confidently purchase cannabis products that provide all the amazing medical benefits they've heard of, without risking the high. Because of consumers like these, the grey legal area of hemp-derived CBD, and the lack of access to cannabis dispensaries in many parts of the country, CBD stores could become the next big thing in cannabis.