U.S. health officials are urging states to regulate cannabis oil extracts after a rash of illnesses tied to synthetic cannabidiol in Utah.
The Centers for Disease Control and Prevention (CDC) recently released a report finding that synthetic products falsely labeled as cannabidiol (CBD) sickened as many as 52 people. The illnesses took place from October through January, reports The New York Times. This follows a recent rise in hospitalizations from synthetic cannabis, known as K2 or Spice.
According to the report, more than half of the 52 cases either tested positive for 4-CCB, a synthetic cannabinoid designed to mimic THC, or reported using Yolo CBD Oil. Samples of Yolo's products contained synthetic instead of authentic cannabidiol. Efforts to learn which company manufactures Yolo CBD Oil were unsuccessful, according to the CDC.
The CDC report urges states to set up systems to regulate and control such products. The agency said this should be done "to minimize the risk for recurrences of this emerging public health threat."
CBD is one of the cannabinoids naturally found in marijuana. It is non-psychoactive, which means it doesn't produce a high. It helps provide pain relief and can quell seizures, according to users.
Utah passed a new law this year that supporters say will prevent illnesses from products labeled as cannabidiol. CBD oil had previously been in a legal gray area in the state. Utah legalized cannabidiol for patients with epilepsy in 2014. But there's no regulatory system in place to ensure the oil's safety for consumers.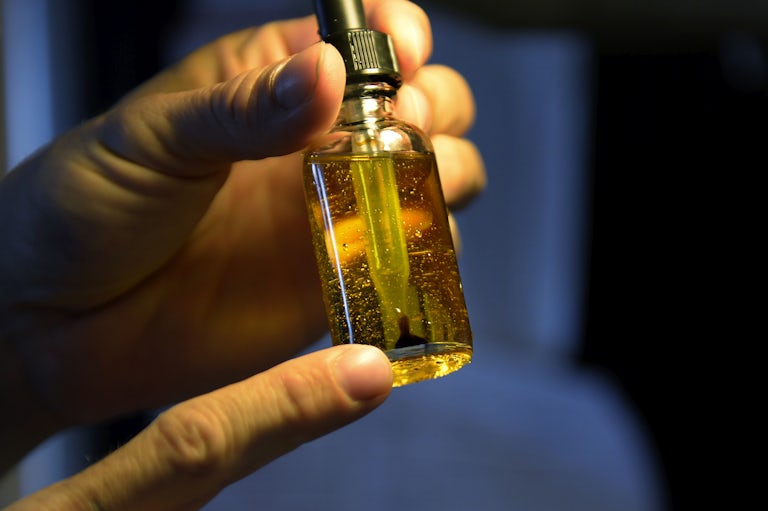 Bottles labeled as CBD have become more common in Utah health food stores and smoke shops in the past few years. While sales to the general public are technically illegal, they've been widely ignored by law enforcement.'
"It's been a little bit of a 'don't ask, don't tell' kind of a business," said spokesman Jack Wilburn of the Utah Department of Agriculture and Food. According to Wilburn, there's been no real way for consumers to know if the cannabidiol products they buy are accurately labeled.
Wilbur said Utah is currently writing the rules to allow plant-based CBD oil in the state, reports Good4Utah.com. "The CBD oils that are derived from the hemp plant or cannabis plant will be legally available," he said.
A cannabis advocacy group called TRUCE Utah—which is supporting a ballot initiative to legalize medical marijuana in Utah—said regulating black market synthetic oils will make consumers safer. The legislation, which will be on the November ballot, would allow access to products that are regulated and tested for potency and additives, according to Justin Arriola of TRUCE.
"These people having problems with CBD oil is 100 percent a side effect of prohibition," Angela Bacca, a media strategist working with TRUCE, told CBS News. According to Bacca, cannabis prohibition makes people desperate for treatment they can only find through illegal, unregulated products.