Last week, 80-year-old Michigan cannabis patient Delores Saltzman was smoking some pot on her porch—as she often does for her arthritis—when she got a nasty surprise. A sheriff's deputy, stopping by in search of Saltzman's great-granddaughter, smelled her stash and decided to investigate. The deputy discovered that Saltzman's Michigan cannabis card was expired, and hauled her off to jail over what was, according to Saltzman, less than an eighth of weed, FOX17 reports.
Saltzman has used medical cannabis for a while to help with her appetite, recover from surgeries, and treat pain from ongoing conditions like arthritis and diverticulitis. She told FOX17 that, "After I smoke I go down to a one, pain-wise. Before I smoke, I would say I'm an 8 right now." Opioids, she said, make her nauseous.
When the deputy asked about the odor, Saltzman wasn't trying to hide anything, admitting that the cannabis was indeed her's. According to court records, the deputy seized some pipes, four joints, and Saltzman's stash jar. Michigan's medical cannabis law allows her to have that much, but she had let her registration with the state's Department of Licensing and Regulatory Affairs (LARA) lapse.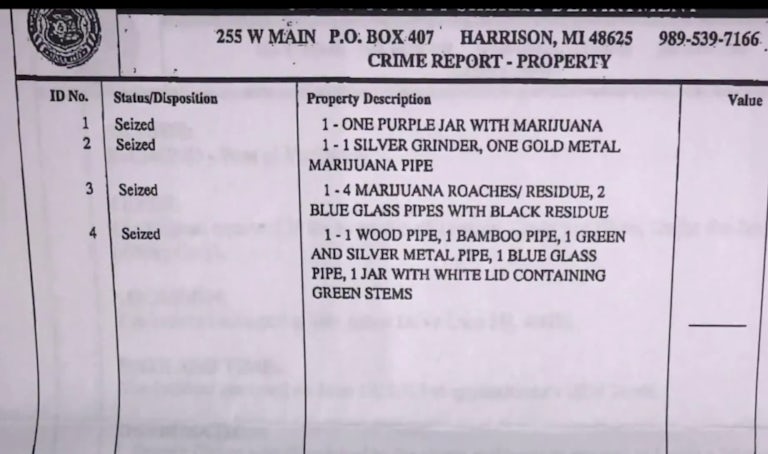 Saltzman's son Mark told FOX17 that the arrest was unfair and unnecessary. "I just thought it was absolutely ridiculous to put her through this like that: they could have given her a ticket," he said. "And just show us your card later. Reapply for your LARA card, show us this, and then drop the charges."
Instead, she was subjected to a chilly night in jail. "They don't need to make you that cold," she complained to FOX17, saying that the evening had exacerbated her arthritis. After she reapplied for her LARA card, her case was dismissed in Clare County court, but she's still frustrated that she was arrested. The Clare County sheriff's office responded to FOX17's inquiry about why they arrested her by saying that, while they agreed with the court's decision to drop all charges, "The person was illegally in possession of marijuana."
Saltzman said that her arrest has only strengthened her support for legalization. A recreational marijuana initiative will appear before voters in Michigan on November 6.