Attorney General Jeff Sessions announced Thursday (Jan. 4) that he will rescind The Cole Memo, a policy put forward by the Obama administration which protects marijuana businesses in legal states from federal prosecution. The announcement comes just days after California began recreational marijuana sales, becoming the largest legal cannabis market in the world.
In 2013, Obama's Deputy-Attorney General James Cole penned a memo which barred the federal government from interfering with state marijuana laws. The document, known as The Cole Memo, instructed US Attorneys in all 50 states not to interfere with their state's implementation of legal marijuana so long as they establish regulations to prevent issues such as sales to minors and the flow of marijuana to neighboring states.
In March of 2017, it appeared that Sessions was begrudgingly in support of the memo because of a lack of resources among law enforcement. In statements to the press, Sessions called the policy "valid," however, at a later Senate hearing the AG clarified his stance on legalization.
"The Department of Justice needs to be clear," Sessions said before the Senate Caucus on International Narcotics Control, "marijuana is not the kind of thing that ought to be legalized."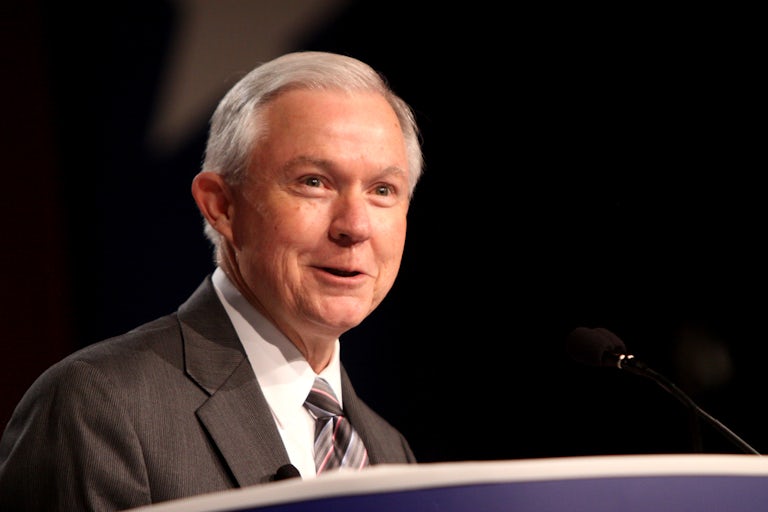 Memorandums from the Department of Justice (DOJ), or any other executive office, are considered to be authoritative guidelines rather than laws. As a result, any official who takes over that office can replace or totally remove the policies put forward in a memo.
According to a recent poll from Quinnipiac University, the overwhelming majority of Americans support legalization. An astounding 90 percent of registered Republicans agree medical marijuana should be legal, causing some to wonder why Sessions would go after cannabis at all. Thirty-seven percent of people in the GOP are in favor of recreational legalization too.
"This action flies in the face of sensible public policy and broad public opinion," said Erik Altieri, Executive Director of the cannabis advocacy group NORML. "This move by the Attorney General will prove not just to be a disaster from a policy perspective, but from a political one."
The Cole Memo is not the only thing standing in the way of federal interference with state legalization. Part of the federal budget known as the Rohrabacher-Blumenauer amendment is currently still in effect and also prevents the DOJ from spending any money to crack down on medical cannabis.
The provision has been in place as part of federal spending bills since 2014 and has received broad support from members of both parties in Congress ever since. Yet when it comes to recreational marijuana, The Cole Memo was the last barrier standing between federal law enforcement and the states.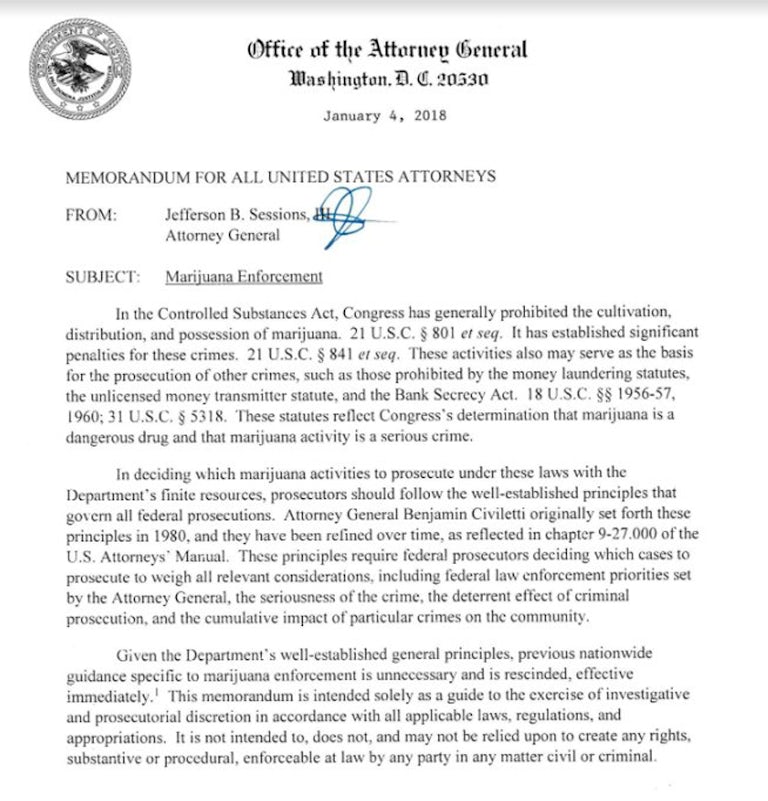 Without it, Sessions doesn't even need to order a crackdown on dispensaries. Federal authorities working for the Department of Justice in states have the authority to decide on a case by case basis if this is something they want to do. This means crackdowns could vary widely and unpredictability in different parts of the country, creating an instability that scares investors and new business owners away from the burgeoning cannabis industry.
It's also certain to create fear among dispensary owners who, in many cases, have invested their livelihoods in their businesses and could, without The Cole Memo, lose it all overnight when a DOJ letter shows up in their mailbox ordering them to shut down immediately. This is something that used to happen among California dispensaries before the passage of Prop 64 in November 2016, which allowed for recreational sales in the state.
Last spring, for example, police showed up at the door of California attorney Jessica McElfresh as part of a larger crackdown on legal cannabis producer Med-West. The case was widely believed to be motivated by the local DA's office which had a history of aggressively pursuing cannabis cases. More cases like this one have the potential to paralyze an industry which has already struggled to build relationships with professional institutions like banks. This could even fuel a black market return, which some experts already anticipate amid strict state regulations that are driving up the cost of legal cannabis.
"If the Trump administration goes through with a crackdown on states that have legalized marijuana, they will be taking billions of dollars away from regulated, state-sanctioned businesses and putting that money back into the hands of drug cartels," said NORML Political Director Justin Strekal, urging Congress to take action and protect the rights of states to choose whether they can have legal cannabis.