On the same day that recreational marijuana became legal in California, Colorado voters approved Prop 300, a ballot initiative that would allow for the country's first cannabis cafes. More than 53% of voters turned out in favor of the initiative, which would resolve long-standing issues of public consumption in the state and open the door to cannabis cafes. 
Until now, legal cannabis consumption in Colorado has been decided by county and mostly confined to private residences where landlords are able to prohibit smoking. With debate around public consumption circulating since the state legalized cannabis in 2012, the majority of Denver's citizens are in favor of some sort of solution.
Denver Prepares to Open it's Cannabis Doors
Now, Denver is set to become the first city in the country to allow  Amsterdam-style cannabis cafes and lounges to open, potentially drawing significant tourism dollars.
Other legal states like Maine, California, and Nevada have written their recreational laws in a way that opens the door for lounges in the future. Some predict Nevada will be the first state to officially take the leap as Las Vegas tourists can currently buy weed, but aren't allowed to smoke in hotels or casinos. 
Meanwhile, Alaska has been planning the launch of "tasting rooms" since 2014, but those plans have since been placed on hold as state officials have become reluctant to draw the attention of the tough-on-drugs Department of Justice under Attorney General Jeff Sessions.
Colorado is looking to beat other states to the punch, but the restrictions surrounding new provisions for cannabis cafes have made it difficult and even undesirable for business owners to operate them.
A public consumption permit would run a cafe owner $1,000 annually, and that's not even the biggest hurdle on the list. First, the option to operate a cannabis cafe would mean choosing between selling bud or booze since state laws prohibit the sale of both in the same establishment.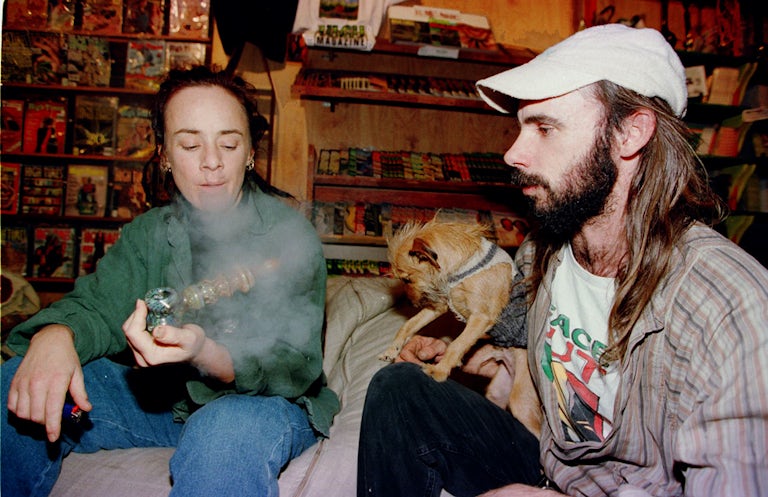 But much more restrictive is the requirement that cannabis cafes receive approval from the surrounding neighborhood and comply with Colorado's Clean Air Act which prohibits smoking indoors. In addition to these restrictions, the new business must set up shop at least 1000 feet (twice the requirement for bars) from schools as well as childcare and rehab centers.
Once all the requirements are met, patrons would also be expected to sign a waiver; yet another obstacle which may create privacy issues.
In June, the city of Denver held its final town hall meeting on the issue before it was sent to a vote. BuzzFeed News reported that much of the initial enthusiasm that drew voters to the polls had been drained away by stiff regulations.
Why has it taken Denver until now to open it's doors?
"I would say 99% of the businesses that expressed interest in these permits are no longer eligible or interested because of the burdens," one local business owner said to the crowd.
Others stood to oppose the measure saying that cannabis cafes would make the substance far too appealing to youth. Meanwhile, city officials like Ashley Kilroy, Denver's Executive Director of Marijuana Policy, insisted that the measure was never meant to offer new business opportunities.
"This is just to provide a place for like-minded people to consume marijuana, and they're hoping it will also alleviate people consuming in public. It was never [meant] to be moneymaking," she told BuzzFeed News. It's difficult to see why anyone would sign up otherwise.
Still, some business owners see potential in the new plan. Among them is Jim Norris of Mutiny Information Café in south Denver. Norris hopes to turn his bookstore and coffee shop into a place to chill out, light up and read.
In Colorado Springs, Studio A64 "the original cannabis club" launched the Original Hemp Cafe, forgoing profits from weed sales to allow local consumers a place to partake.
As of now, the restrictions haven't stopped some canna-businesses from taking this next step in America's evolving legal market, but it may still be a while before we see a cafe on every corner.