In recent months, politicians on Capitol Hill seem to have been playing catch-up with the rest of America in embracing the belief that marijuana should be legal. The wave of support from lawmakers in Congress seemed to rise like a cloud right out of 420 with Senate Minority leader Chuck Schumer voicing his support for legalization for the first time. This has since snowballed into public statements of support for cannabis reform from first-time candidates for Congress and incumbents alike. With midterm elections on the horizon and every member of Congress up for reelection, that progress needs to continue and the only way it will is if the champions of reform return to put some pressure on the holdouts. Unfortunately, some of pot's most vocal supporters in Congress, like Colorado's Jared Polis, are not running for reelection. (He's running for Governor of Colorado instead.) But here the top five cannabis lawmakers in Congress who will be seeking a return to continue the fight.
1. Ted Lieu
A member of Congress for California since 2015, Ted Lieu has been a huge supporter of cannabis reform since he stepped into the House.
"AG Jeff Sessions apparently wants to take America back to the 1920s. Prohibition didn't work then and it will not work now," Lieu wrote in response to the recession of the Cole Memo in January.
In 2015, he pushed to defund the DEA's cannabis eradication program and to curb the agency's use of civil asset forfeiture, a law enforcement tool which was first put in place to fight pirates, but is now used by police and federal agents to seize a suspect's property without filing charges.
Since the bill was passed by Congress, the DEA's funding for the cannabis eradication program has been significantly reduced. The measure cut $23 million in funding and reallocated $9 million toward programs which prevent domestic violence.
In addition to his legislative work, Congressman Lieu has also taken it upon himself to insert marijuana into nearly every Twitter debate he has and regularly invites everyone who opposes legalization to California to try its weed.
In April, for example, Lieu invited Fox News' Tucker Carlson to California when the host Tweeted angrily at the state about its high cost of living and threatened that it could one day resemble South America.
"[O]ur cannabis is awesome." Lieu wrote. "Come visit my district & I will show you."
2. Barbara Lee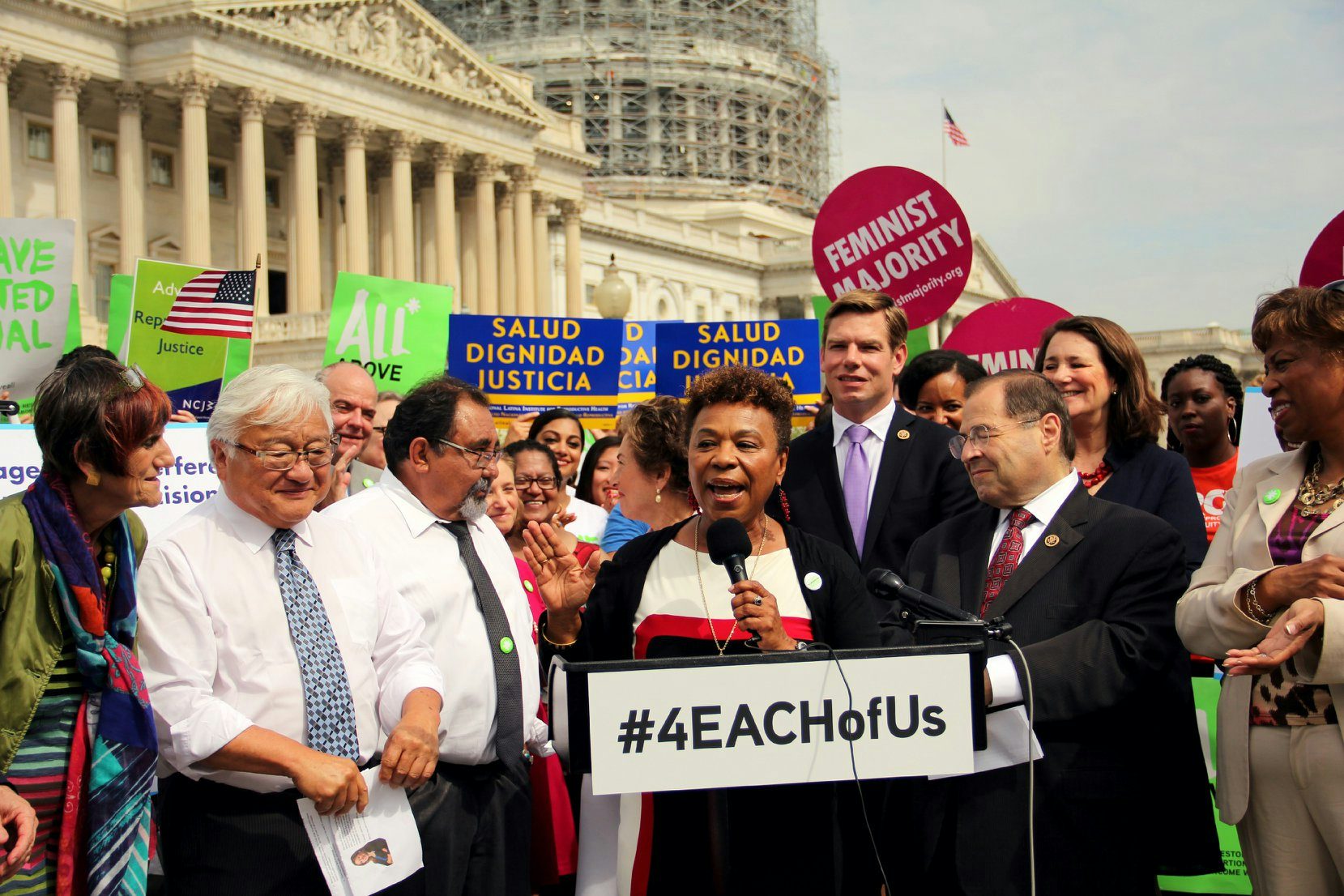 Representing California in Congress since 1998, Democratic Rep. Barbara Lee is a former Black Panther volunteer and an increasingly influential cannabis reformer. She is the main co-sponsor of the House version of the Marijuana Justice Act, a piece of legislation which aims to reschedule marijuana and expunge cannabis-related criminal records.
She is also the main sponsor of the REFER Act, which aims to prevent the Department of Justice from enforcing the federal cannabis ban on states that have chosen to legalize. And in 2012, Lee also introduced anti-forfeiture legislation in Congress after the tactic had been used to raid eight San Francisco dispensaries and seize their property.
In committee, Lee has been a passionate supporter of veterans and their right to use cannabis. In March, the congresswoman confronted former Secretary of Veterans Affairs David Shulkin asking why he hasn't allowed VA physicians in states with legal medical marijuana to recommend cannabis to their patients.
"Veterans need this," Lee said to Shulkin. "It works and it's a shame and disgrace that the VA is preventing this type of treatment that works."
In response, Shulkin was unable to cite a specific law which prevents VA physicians from recommending cannabis and even seemed unable to distinguish between prescriptions and doctor's recommendations.
3. Dana Rohrabacher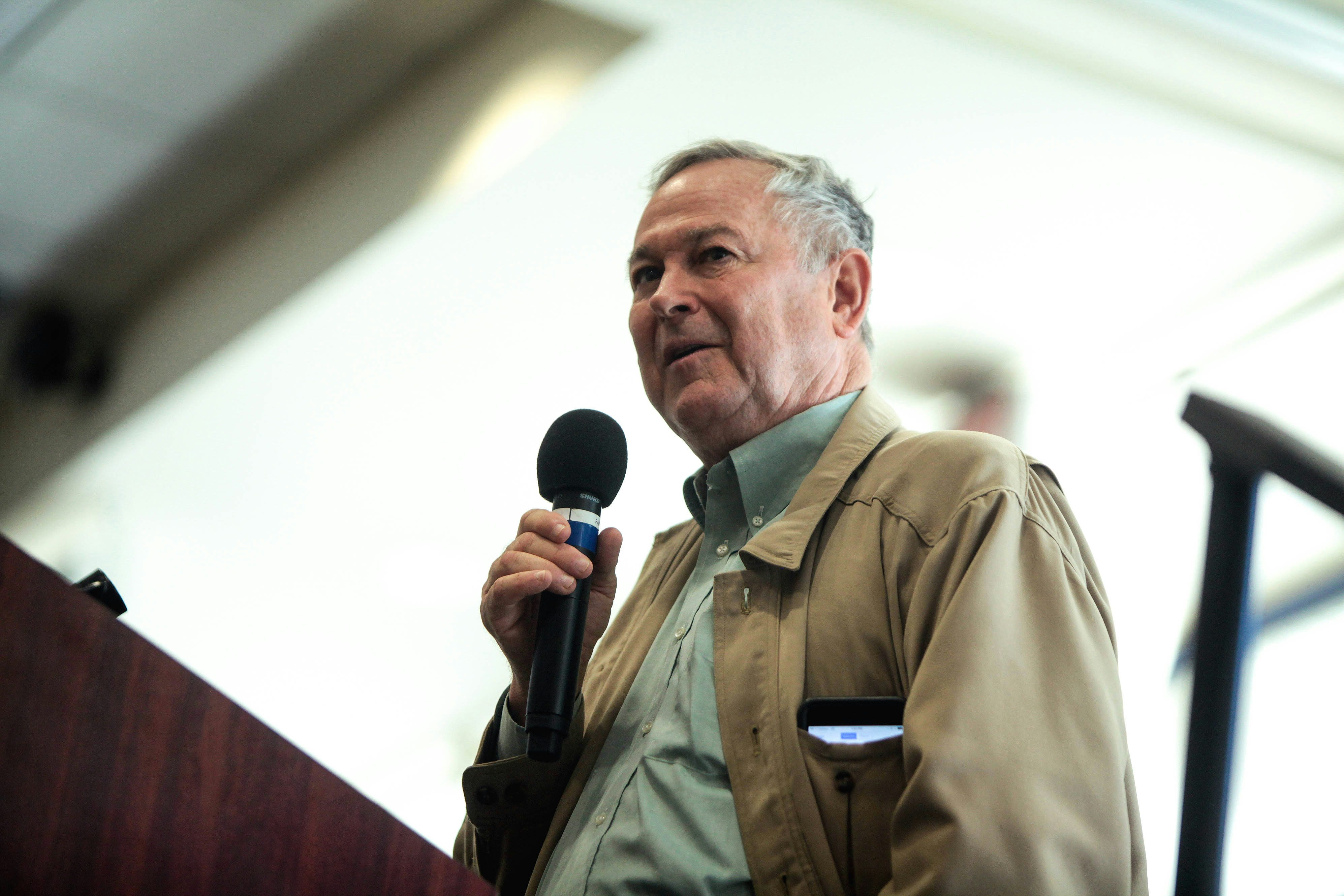 By this point it should be clear that California has a lock on pro-cannabis members of Congress. Republican Rep. Dana Rohrabacher is perhaps one of the most recognizable names in cannabis policy. A surfing libertarian from southern California, Rohrabacher has been voting in favor of drug reform since the 90s when a massive crime bill instituted mandatory minimums for drug offenses.
"I will tell you without the courage of Dana Rohrabacher," one California cannabis industry rep. told Leafly in March, "it is possible this industry could have been strangled in its grave. He is absolutely critical."
He is one-half of the Rohrabacher-Blumenauer amendment, in which Congress protected states with medical marijuana programs from federal prosecution. He was one of its original co-sponsors when it first passed in 2014 as the Rohrabacher-Farr amendment.
Unfortunately, Rohrabacher now faces a tough re-election campaign for reasons unrelated to his cannabis advocacy. While he has been quite liberal when it comes to marijuana, the congressman holds largely conservative views on other issues and is now facing criticism for his close ties to Russia.
Rohrabacher is co-founder and co-chair of the Congressional Cannabis Caucus. Along with our next congressman, Rohrabacher started the caucus in 2017 for lawmakers in Congress pushing for cannabis reform.
4. Earl Blumenauer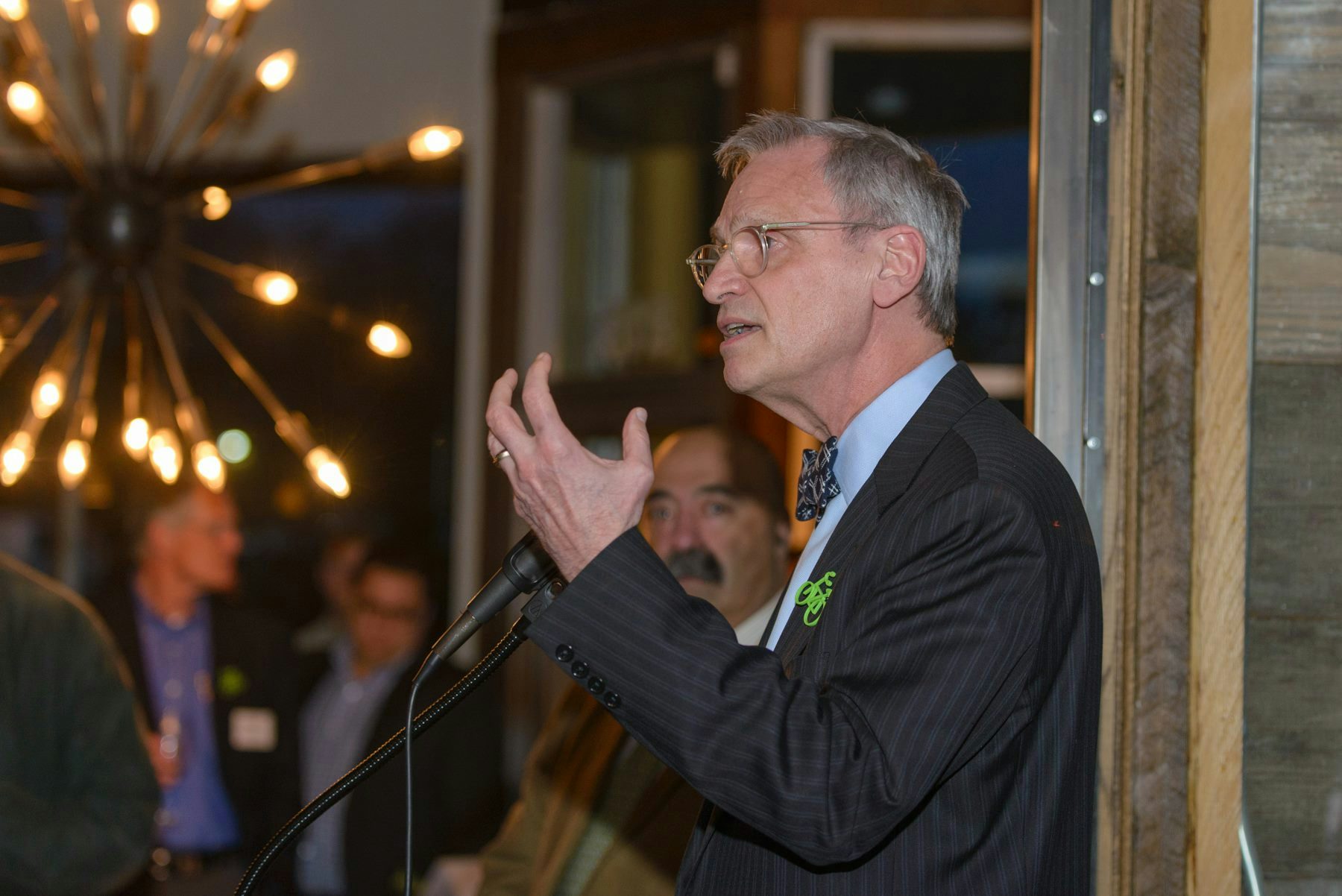 First elected in 1996 as a Democratic Congressman from Oregon, Earl Blumenauer is a bicycle-lapel-pin-wearing weed warrior. In addition to his legislative work, which includes the Rohrabacher-Blumenauer amendment, Blumenauer is famous on the hill for his heated questioning on cannabis reform in congressional committees and on the floor.
On multiple occasions, Congressman Blumenauer has made professionals and lawmakers alike look like children who've been caught out past curfew. In 2014, at a Congressional hearing with Michael Botticelli, the deputy director of the White House's Office of National Drug Control Policy, Blumenauer took issue with overdose claims Botticelli was making.
"You talked about marijuana deaths so I'm trying to be clear…" Blumenauer said, "how many marijuana deaths have there been in the past five years?"
After Botticelli couldn't answer the question Blumenauer added, "You sir, represent what's part of the problem," scolding the deputy-chair into an apology.
In 2015, he rose in front of Congress to deliver a four-minute speech on the war on drugs which he called a "spectacular failure in policy."
"In the fall of 2012, voters in the states of Washington and Colorado approved adult use of marijuana," he said, "and it should be noted that the sky didn't fall, big cracks didn't appear in the Earth and problems with marijuana didn't get worse."
And again in 2015, when Republican Rep. John Fleming stood to suggest that cannabis causes schizophrenia in veterans, Blumenauer was absolutely incensed.
"If you want to be concerned," he responded, "be concerned about the explosion of addictive drugs that are being prescribed to people who we should be giving more care."
5. David Joyce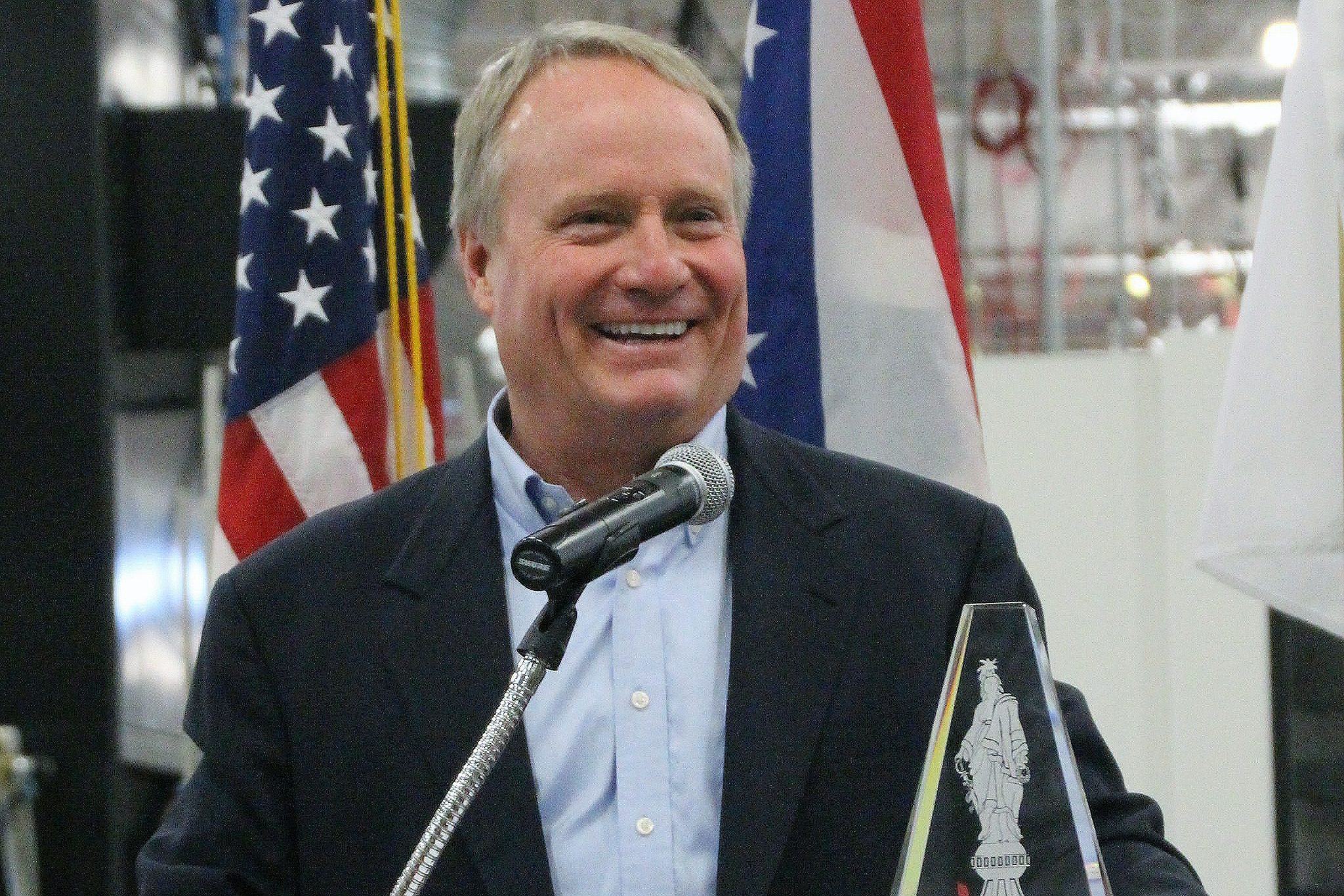 The Republican Representative from Ohio has become an important pro-cannabis voice in Congress and he is likely to become the Republican face of legalization in the coming years, especially if Dana Rohrabacher does not win re-election. Joyce is not only important because he represents Republican support for reform in Congress, but also because of the position he holds on the House Appropriations committee—a key committee in crafting any bill.
In May, Joyce proved just how effective his position on that committee can be when he successfully included the state protections known as the Rohrabacher-Blumenauer amendment as part of the 2019 budget. The amendment had previously been introduced through the House Rules Committee, where it had been blocked by notorious pot-opponent Pete Sessions (R-TX). For years, Sessions has blocked all cannabis-related amendments and the Rohrabacher-Blumenauer protections have squeezed by on a technicality which allows previously passed amendments to be included automatically in later budgets.
But Joyce's inclusion of the amendment in a committee which Sessions is not a part of avoided the inevitable showdown and allowed the measure to pass. Joyce's move has even caused some to speculate that his name will replace Rohrabacher's on the amendment in future sessions.
"States have clearly taken a lead on the access to medical marijuana for those suffering from severe pain looking for options other than opioids. I think it's time we cut through the federal red tape for those 46 states, like Ohio, who have on some level legalized the medical use of cannabis. This gives the states more freedom to provide for their suffering citizens," Joyce said in a statement on the passage of his amendment.
In addition to signing onto several pieces of cannabis legislation in Congress, Joyce is now a co-sponsor to the newly introduce STATES Act, which would allow states the right to choose whether to legalize cannabis. President Donald Trump has pledged to support it.