Let this sink in for a moment: we are currently living through the most deadly drug scourge in the history of the United States of America.
According to the Centers for Disease Control and Prevention, opioids are responsible for the deaths of roughly 145 Americans per day. As Sam Quinones reports in the book Dreamland, the number of Americans to die of drug overdoses between 2003 and 2008 in Ohio alone was 50 percent higher than the number of U.S. soldiers to die in the entire Iraq War between 2003 and the end of 2010. As Vox points out, drug overdoses in 2016 alone claimed more American lives than the entire Vietnam War.
These numbers are staggering and have left health experts, countless American families, and the federal government reeling (at least on the surface). Almost equally disturbing, though, is that researchers believe they may have found a partial solution to this crisis in cannabis, but the federal government refuses to act.
A bipartisan group of 21 Members of Congress, frustrated by this negligence, recently sent a letter to Acting Health and Human Services Secretary (HHS), Eric D. Hargan, demanding answers.
"Recent studies published by qualified academic researchers suggest that marijuana may prove to be a useful alternative treatment for chronic pain instead of harmful, addictive prescription opioids and that marijuana may reduce the overall number of opioid overdose deaths," reads the letter.
The letter cites four of these studies: 

Indeed, research into the potential of marijuana as an alternative chronic pain medication and an "exit drug" for those who struggle with opioids are promising. And surveys conducted among medical marijuana patients in North America show that a significant number of prescription opioid users will make the switch to cannabis if given the chance. One study conducted in Michigan, which the lawmakers cited, found that roughly two out of three chronic pain patients substituted cannabis for prescription opioids after the option was made available.
A response from prohibitionist government officials, when asked about the federal government's failure to implement this potential solution, has often been that more research needs to be done before cannabis can be reliably dispensed as a treatment option. However, this is a chicken-and-the-egg scenario as cannabis' federal status as an illegal Schedule I drug with "no medical use," alongside drugs like ecstasy and heroin, has presented all kinds of barriers to doing basic research. Most researchers can't even access the cannabis they need for research as there's still only one government-run facility in the entire country that's cultivating cannabis for trials and the quality is widely accepted as poor.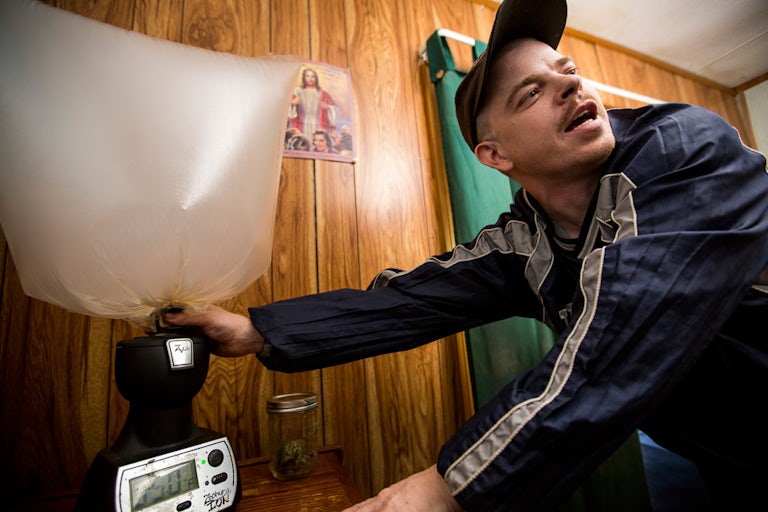 As the Members of Congress write in their letter, "The evidence that marijuana may have a positive therapeutic application warrants additional attention from the federal government. We request that you provide answers to the following questions:"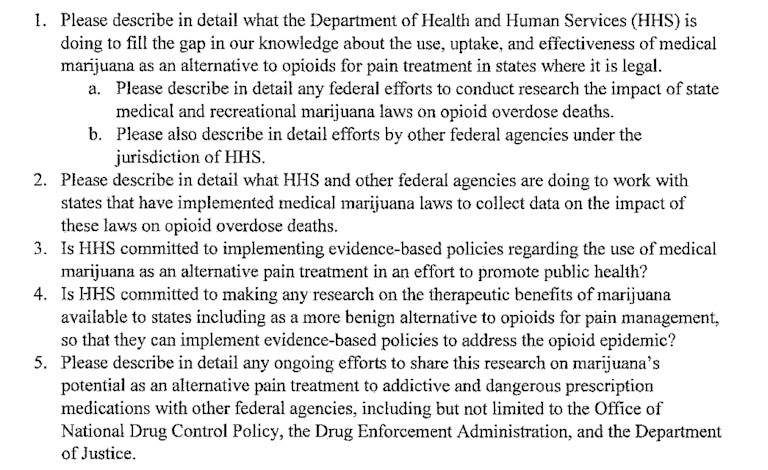 One major point that often gets lost in this debate is that even if additional research were to call cannabis' efficacy as an opioid alternative into question, there is zero risk of death when using cannabis. Therefore,  there is significantly less risk to trying cannabis than opioids as a treatment option for chronic pain. The benefits, on the other hand, are potentially groundbreaking.
As this recent letter demonstrates, more and more lawmakers—on both sides of the aisle—are tuning into this fact. If only the federal government would listen.