What hope is there for legalized weed in America? With an Attorney General who probably believes that Reefer Madness was a documentary: slim-to-none. But you can't blame a guy for trying and boy is Democrat Senator Cory Booker of New Jersey trying. The rising star and potential 2020 presidential candidate is not only advocating for cannabis, he has introduced a bill that would effectively erase the war on drugs from the record.
In late July, Senator Cory Booker introduced a bill to legalize marijuana nationwide. The bill, known as The Marijuana Justice Act, asks that weed be removed from its current classification as a Schedule 1 substance – a feature which taken alone does not make this piece of legislation unique.
When it comes to legalization, this is not the first time a bill like this has been proposed. As might be expected, Senator Bernie Sanders of Vermont proposed similar legislation in 2015. Since then, it appears that offering up some sort of plan for marijuana has become popular on Capitol Hill.
Aside from Cory Booker, many other lawmakers have also thrown their own legislation into the ring, like the bipartisan Ending Federal Marijuana Prohibition Act proposed in the House by Reps. Tom Garrett (R-Va.) and Tulsi Gabbard (D-Hawaii).
Even Republican Senator from Utah – and avowed sober Mormon – Orrin Hatch introduced his own bill this month to expand research on cannabis despite his opposition to smoking.
And those are just a few proposals on a long list of other bills that range from banking practices in legal states to better access to medical alternatives.
So, what makes Cory Booker's bill different from all the rest? It's not about the weed, it's about justice.
What Corey Booker's Have To Say About The War On Drugs?
Far from simply legalizing cannabis, Booker's plan would seek to correct the years of injustice perpetrated by the war on drugs.
"[Legalization] for me is an important step, but it is just the beginning," Booker said in a Facebook Live video announcing the bill.
Going further than any other proposal has before, this piece of legislation would retroactively expunge the offenses of thousands of individuals who have found themselves in prison for simple possession. It also aims to take federal funding away from states that choose to continue the war on drugs and gives financial incentives to states that choose to legalize.
How Legalization can boost finances for the US
"This bill is the most ambitious marijuana bill we have seen in Congress," said Queen Adesuyi, Policy Associate at the Drug Policy Alliance.
Ambitious is putting it lightly. This bill aims to erase nearly 50 years of broken history. In the unlikely event that it passes, it will tackle a reality that many lawmakers have been reluctant to acknowledge; namely, the uneven sentencing practices that see an overwhelming number of people of color imprisoned for cannabis-related offenses.
According to an ACLU report from 2013, black Americans were four times more likely to be arrested for cannabis-related crimes than white Americans. Citing these statistics during his presidential bid, Bernie Sanders compared the legalization of marijuana to reparations noting that anti-drug laws disproportionately affect minorities despite similar trends in use.
What's more, the war on drugs is far from over despite the continued legalization of recreational use in states across the country. According to the most recent crime data released by the FBI in September, more people were arrested for marijuana in 2016 than all other crimes the Bureau considers violent.
That alone is reason enough for Senator Cory Booker to think that "descheduling marijuana and applying that change retroactively…is a necessary step".
It's a step that would bring the United States closer to addressing many problems that go beyond its prison system and extend into issues of police brutality and even poverty. Under the current system, lower-income Americans are far more likely to end up in prison for marijuana offenses than those on the higher end of the spectrum. It's a policy that Booker considers to be, "the punishing of poor people."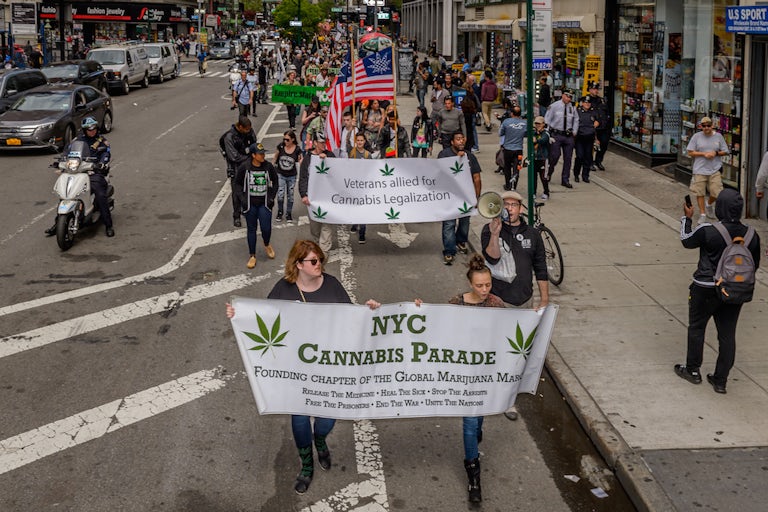 His solution is to offer social programs which aim to correct the mistakes made by past governments. Part of that correction will come from the Community Reinvestment Fund which the bill would create, receiving $500 million in annual funding. That money would "establish a grant program to reinvest in communities most affected by the war on drugs," creating job opportunities, expanding education and providing community support.
In reality, Booker's new bill is not likely to get through both houses of Congress. If it does, it will be because it was amended beyond all recognition. At a slow and steady pace, cannabis activists have been gaining ground. With more voices speaking up every day, and from both sides of the aisle, we can be sure that the battle doesn't die with Booker's bill.