I recently shared with you the plight of legalization activists in Maine. They had raised thousands of signatures to get their motion on the ballot this coming November, well over the required number. In a shocking twist, almost half of their signatures were deemed invalid, putting them less than 10,000 shy of what they needed. Now, a new ruling on the situations has put wind back in their sails.
A shady disqualification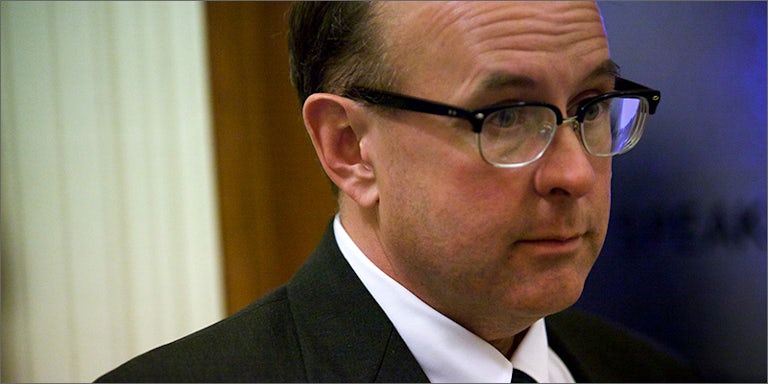 On February 1st, the Campaign to Regulate Marijuana Like Alcohol submitted 99,229 voter signatures it had collected to get their issue in front of voters. They felt supremely confident because they were only required to have 61,123. However, Secretary of State Matthew Dunlap invalidated 47,686 of those signatures in March.
Validating voter signatures is a natural part of the petition drive process, but what had activists fuming is that over 17,000 voter signatures collected by a single notary were deemed invalid not because they were fake, but because his personal signature did not precisely match the signature the state had on file for him, submitted several years ago. This rankled the feathers of many, who cite that a person's signature naturally changes over time and is subject to basic variation.
David Boyer, campaign manager for the group, this new ruling forces Dunlap's office to have to go through each signature and approve or deny it on its own merit instead of eliminating whole groups of voter signatures based on the signature of the notary.
A Judge overturns
On Friday, Superior Court Judge Michaela Murphy in Business and Consumer Court in Portland, Maine overturned the invalidation decision on those signatures.
"While the state of Maine has a compelling interest to ensure that all petitions submitted for consideration in a direct initiative are valid, requiring a notary's signature to appear identically on every petition is unreasonable and abridges the constitutional right to initiative. "The state has presented no evidence, and the court is aware of none, correlating the variability of a notary's signature with incidences of fraud in administering the circulator's oath."

"The secretary of state did not determine that the notaries whose signatures varied from the signatures on their commissions did not properly administer the circulators' oath. Instead, he claims he was unable to determine whether the notary signatures belonged to those notaries," – Murphy wrote in her 26-page ruling on the marijuana question.
Some upset individuals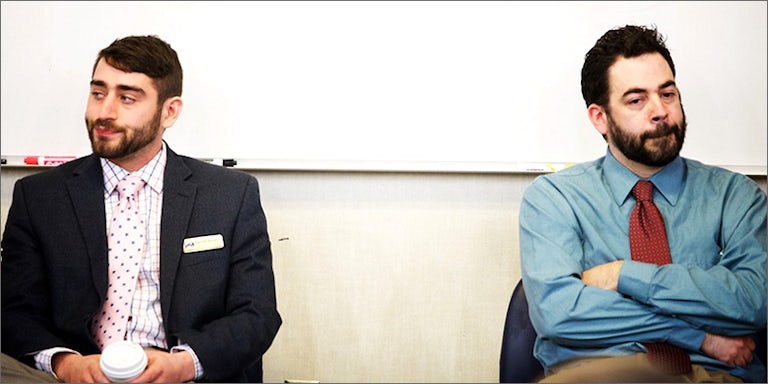 While Dunlap has 3 days to file an appeal of the decision, some prohibitionists are upset that the proposal has been given a second chance, deserved or not.
Scott Gagnon, (seen to the right in the photo above, opposite David Boyer) director of Smart Approaches to Marijuana Maine, called the ruling "disappointing and unsettling." He went on to slander the decision with implications of potential fraud.
"It will open the door to elections fraud in Maine. We will be watching closely how this unfolds as it goes back to the secretary of state," Gagnon wrote. "We will certainly be examining all options and strategies for the weeks and months ahead, and we will be prepared should this indeed find its way to the ballot in November."
Smart Approaches to Marijuana is an outspoken opponent of legalization, and had been known for various levels of public sentiment manipulation and misrepresentation of scientific facts to further their cause. It comes as no surprise that they would be actively monitoring this development.
What's at stake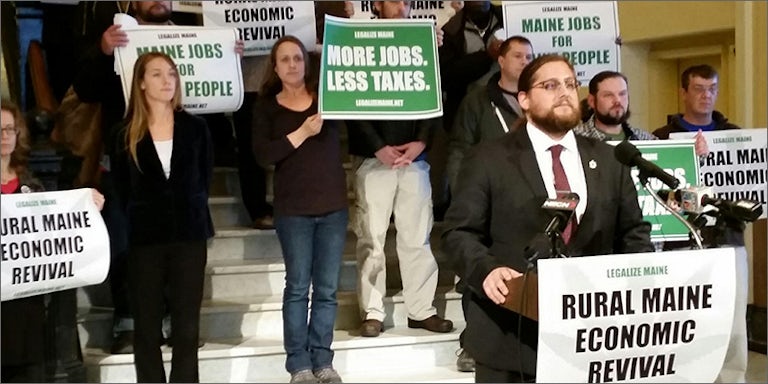 The legalization bill that hopes to see a future in Maine would allow adults to possess up to 2 1/2 ounces and cultivate a limited number of plants. Retail stores and social clubs would be allowed subject to municipal approval. A 10% percent sales tax would be put into place for retail marijuana and marijuana products. Public consumption would be a civil offense with a $100 dollar fine.
Legalization is a hot-button issue in about a dozen states this year, potentially shifting cannabis approval into a majority of states. Right now, 23 states and the District of Columbia allow medical use, and 4 of those states, including DC, also allow adult recreational use. The number of recreational states could easily double in 2016.
Do you think Maine will approve their measure this year? Let us know on social media or in the comments below.