DC cannabis advocates plan to welcome the incoming Commander in Chief, on his Inauguration Day, by passing out thousands of joints and lighting up 4 minutes and 20 seconds into his speech. While Trump remains silent on legalization, the organizers of the smoke out see it as an opportunity to make their stance on cannabis known.
Inauguration at 4.20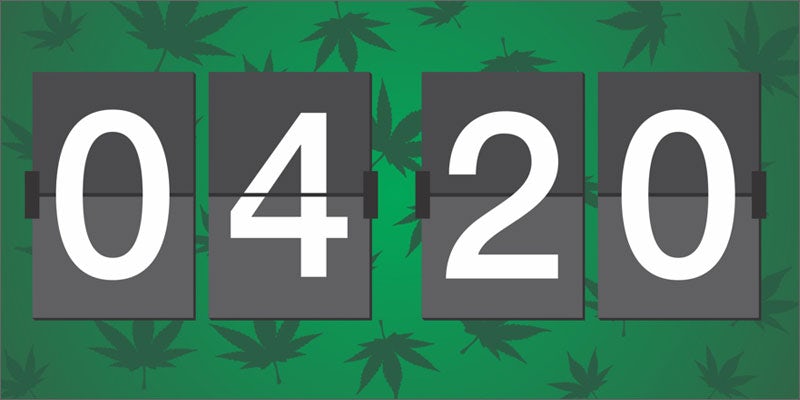 In a joint effort to get President-elect Trump's attention, DCMJ, a D.C. cannabis community group will pass out 4,200 joints at his inauguration on January 20.
The plan is to gather on the west side of D.C.'s DuPont Circle at eight o'clock in the morning, then hand out 4,200 joints of cannabis while parading down to the National Mall for the 45th president's speech.
At 4 minutes and 20 seconds into President Trump's speech, advocates will light up and let out a breath of dank air.
 …People will know when they smell it that it is a demonstration for marijuana reform. – Eidenger of DCMJ
Adam Eidinger is well-known for his role in spearheading Initiative 71 – the measure that legalized cannabis in Washington D.C.
The District of Cannabis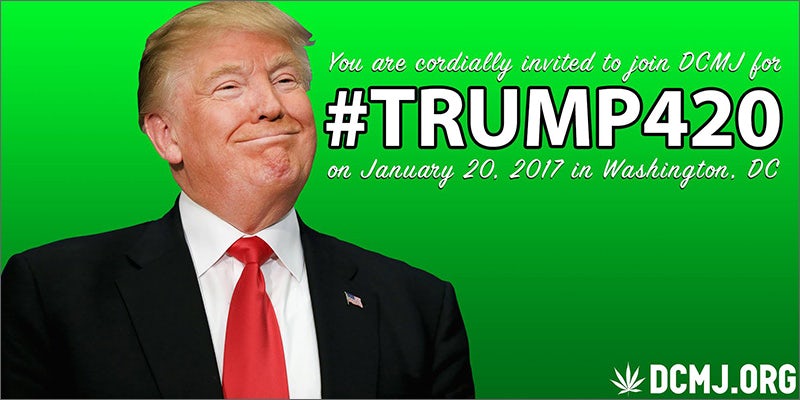 Washington D.C. has medical marijuana and legal cannabis – but no recreational sales. Instead, they have a sharing economy, encouraging residents to 'grow their own'.
Knowing the local laws is of utmost importance in a city with a gray cannabis market.
Under Initiative 71, DC residents are allowed to grow up to six cannabis plants, with three mature budding plants at once, per person. It's also legal to carry up to two ounces of cannabis and give it away to other adults in Washington D.C.
Pro tips to staying out of jail
D.C. enjoys legal cannabis, but there are many restrictions. If you plan to participate, here are some more pro tips for cannabis in D.C.:
Do not pay or 'donate' to anyone giving you cannabis as selling any amount is illegal
No smoking, eating or drinking cannabis in any public space
No holding or carrying a lighted paper or smoking equipment in any public space
Do not light up on federal land
Unfortunately, the city of D.C. is littered with parks, squares, and federal buildings which qualify as federal land.
Cannabis crusaders up to it again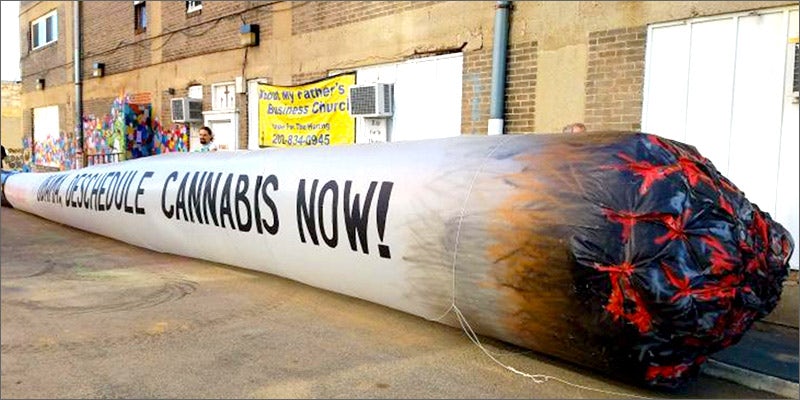 Last year, DCMJ brought this infamous  51-foot inflatable joint to the White House.
DCMJ also organized an April smoke-out. They encouraged protesters to smoke, vape, and eat the herb in front of 1600 Pennsylvania Avenue to get President Obama's attention. They were asking him to take the plant off the list of federally banned substances.
It resulted in the 'bud summit', where Eidinger and his cannabis coalition meet with White House officials to discuss the Obama administration's position on the schedule 1 drug status.