The U.S. Drug Enforcement Administration (DEA) is now reportedly looking for ways to decontaminate confiscated money which they suspect to be covered with drugs and other potentially deadly substances.
The news was first reported by The Daily Beast, who found a request for information made by the Drug Enforcement Administration in search of companies or organizations (which they call "vendors") that can clean and decontaminate "currency tainted with drugs and other unknown substances." According to the DEA, the substances found on this confiscated cash are "extremely harmful to human health."
The DEA says that they expect the majority of these substances to be controlled substances such as fentanyl, cannabis, amphetamines, LSD, PCP, and benzodiazepines. While federal agents typically wear protective gloves while handling confiscated money, the agency now sees the need to take extra precautions.
According to their request for information, the DEA would package the currency and then either deliver it to the vendor or have them pick it up. Then, the vendor would decontaminate the currency, fill out all the appropriate paperwork, and return it to the DEA.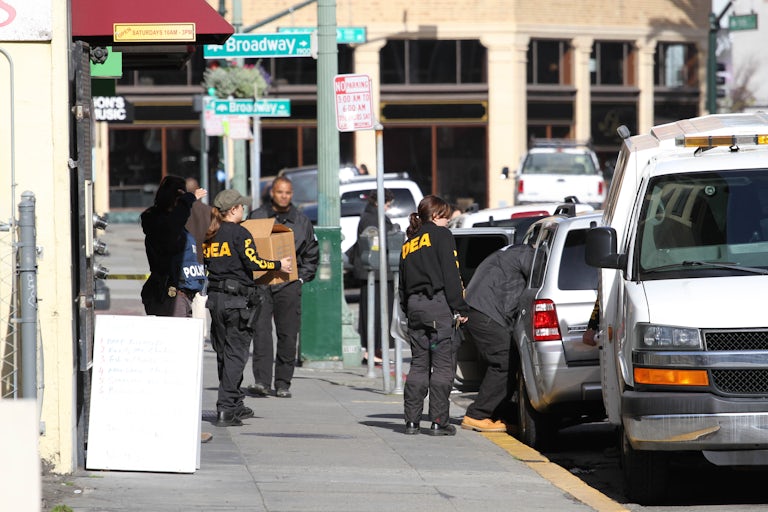 The DEA has 222 offices in 22 Divisions throughout the United States and the agency is looking for a vendor who can work with all of them.
Experts that the Daily Beast consulted with claimed that this is an unprecedented project and that new high-potency drugs like fentanyl, which is now a leading cause of death in the opioid crisis, are likely the reason for the initiative. The DEA claims that fentanyl can be absorbed through the skin. Last year, a police officer in Ohio reportedly overdosed on fentanyl after brushing it off his shirt following a drug bust.
However, many experts say it isn't true that an overdose can result simply from touching fentanyl with one's skin, but rather that it requires access to one's bloodstream to pose any serious dangers.
Regardless, the DEA claims that it is interested in at least learning about the "available capability in cleaning and decontaminating currency tainted with drugs and other unknown substances" and would like vendors to respond with an estimated cost for this type of service.
"All responsible businesses, including small businesses, are encouraged to respond to this notice," reads the DEA's request for information.