On Tuesday (June 19), New York City Mayor Bill DeBlasio and NYPD Police Commissioner James O'Neill announced their long-awaited policy shift on marijuana arrests in the city.
According to the new guidelines, the NYPD will now issue summons instead of arresting low-level drug offenders, but there's a catch. Those who are caught committing low-level crimes, such as smoking in public, will still be arrested if they have a prior criminal record, are on parole, are the subject of an active warrant, are in the driver's seat of a car or if their identity and address cannot be verified by the officer. Furthermore, officers will reportedly be able to arrest an individual if it is for a "legitimate law enforcement exception," implying that the decision to arrest will be up to the officer's discretion.
The new policy comes after a 30-day review commissioned by Mayor DeBlasio in May requiring the NYPD evaluate its cannabis enforcement procedures. DeBlasio and the NYPD have been criticized recently following a series of reports by The New York Times and others on the disproportionate rate of cannabis-related arrests among minorities in the city.
The reports found that predominantly black and Latino neighborhoods in New York experienced arrest rates that were three times higher than white neighborhoods despite similar rates of cannabis use. The NYPD initially defended their arrest practices by saying that the department typically receives more calls from minority neighborhoods.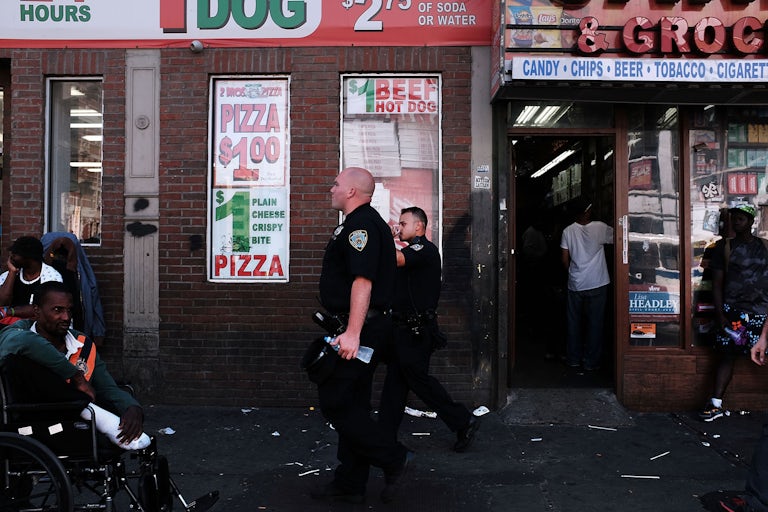 DeBlasio says he believes the new policy, which is set to take effect by the end of Summer, will reduce marijuana-related arrests in the city by 10,000. But not everyone is as optimistic as the mayor.
Critics have pointed out the exemptions will allow disproportionate arrests to continue, arguing that the requirement to provide identification will affect lower-income residents who are less likely to have government-issued ID while higher arrests rates among minorities, in general, will increase the chances that people of color will be arrested again because of a prior offense.
"The exceptions that the Mayor has laid out—arrests for people on parole or probation, people with criminal records, people with warrants or lacking ID, or for 'officer discretion'—will compound existing collateral consequences and all but guarantee the status quo of racial disparity continues," says Kassandra Frederique, director of Drug Policy Alliance New York.
It wouldn't be the first time that an attempt by DeBlasio to loosen cannabis laws falls flat. When DeBlasio was elected in 2014, he implemented reforms for marijuana possession, replacing arrests with summons. Yet arrests rates remained at around 17,500—a number which DeBlasio recently called "a normal level in the sense of what we we're trying to achieve."
Advocates of drug reform aren't the only ones who believe DeBlasio's new policy will not have its intended effect. On Sunday (June 17), the head of New York's DEA, James Hunt, told a local radio host that he, along with other federal agents, intends to continue making arrests for cannabis as long as its federally prohibited.