As part of an undercover operation which began a year ago, Denver Police raided one of the largest and most successful cannabis companies in Colorado. Sweet Leaf, one of Colorado's oldest cannabis businesses, closed its doors late last week after police obtained search and arrest warrants, raiding eight of the ten dispensaries in the city.
The company held 26 licenses to legally sell cannabis in the state of Colorado, all of which were suspended on December 14 by the city's Department of Excise and Licenses for selling more than the legal amount of one ounce per customer.
"Having reviewed an investigation completed by the Denver Police Department, Excise & Licenses has reasonable grounds and probable cause to believe the licensees have engaged in deliberate and willful violations of state and local law, therefore invoking the suspension," Dan Rowland, Director of Public Affairs in Denver's Department of Excise and Licenses, wrote to Herb.
According to court documents, police were able to buy up to 16 ounces in a single day as part of an undercover operation which began last December. Police raided eight of Sweet Leaf's locations and arrested 13 of its employees, all of whom were budtenders. Five of these budtenders face felony charges for selling more than four ounces to a single customer.
Denver police have stated that those arrested were in violation of state regulations, but it's unclear whether any of the budtenders broke the law as it is currently written. That's because the current regulations aren't clear on whether the one-ounce limit applies to single transactions or acts as a daily limit.
"On its face, these people haven't really broken the law," says Rachel Gillette, a Denver attorney who specializes in cannabis businesses, "That said, [lawmakers] have clearly determined that they want to change this rule to add more clarity."
Under its current language, Rule 402 C-3 comes with a loophole which could be interpreted as allowing customers to buy more than an ounce of cannabis as long as they don't purchase the product as part of a single transaction.
The rule reads:
"A Retail Marijuana Store and its employees are prohibited from selling more than one ounce of Retail Marijuana flower or its equivalent in Retail Marijuana Concentrate or Retail Marijuana Product during a sales transaction to a consumer."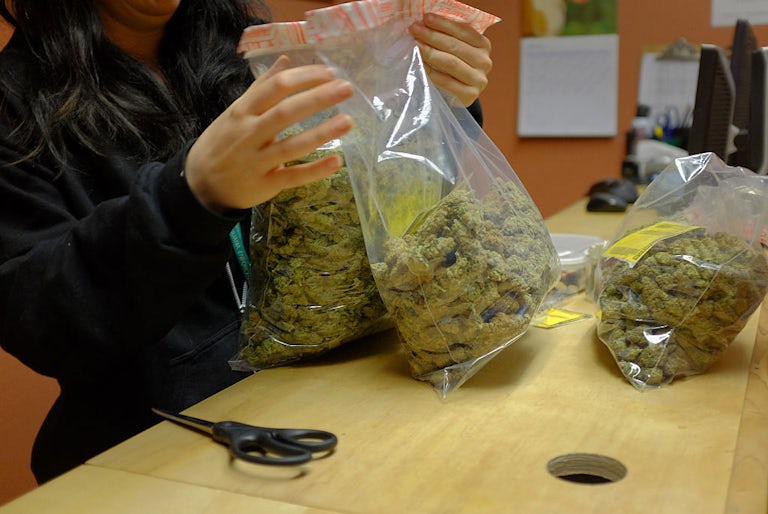 The problem for law enforcement, as they discovered first hand, is that this loophole could result in one individual possessing more than the state's constitution allows. In Colorado, state law only allows "possessing, using, displaying, purchasing, or transporting" of cannabis if it is under one ounce.
Under those rules, it's unclear whether Sweet Leaf's employees did anything wrong under the current law. But Sweet Leaf's budtenders did violate regulations which are not yet in effect.
As of January 1, a provision known as amendment 64 will clarify the regulations to specify that the ounce limit applies to the total number of purchases in a day.
"A single transaction includes multiple transfers to the same consumer during the same business day," the amended law rule 402 reads.
Sweet Leaf did not respond to a request for comment. As their employees now face charges for operating within a legal gray area, the proposed changes still leave a number of issues unaddressed. Namely, that there is no way for retailers to reasonably know what a customer is going to do with the product once they've left the store. Furthermore, the state does not expect the same strict practices to be implemented for other products such as alcohol.
In any case, the closure of one of the state's major retailers is sure to send shock-waves through cannabis dispensaries that are trying their best to abide by the law.
"There's no doubt in my mind that they are trying to send a message to the industry," says Gillette. "I'm not sure that criminally prosecuting budtenders who are merely doing what they understand to be their job is the best way to do that."