Eight Mile Road marks the northern city limit of Detroit. Once lined with vacant buildings, this stretch of highway was transformed in 2015 when the city decided that it would allow medical marijuana dispensaries in. But for the past two years, a strict zoning ordinance has been threatening to shut them down and they've merely had to wait.
In 2015, the city of Detroit had an estimated 280 dispensaries. City Councilman James Tate says he personally counted 36 in the 18 square miles that make up District 1, the Northwestern part of Detroit that he represents. He originally worked on the ordinance that allowed these businesses to open, but now he's trying to scale them back.
"For me, it was important to make sure that anyone who needed this medication had safe access to it," Tate told Herb, "What I don't want, is the city to be overrun."
In 2016, under pressure from local churches and community groups, Tate set off a massive round of closures when he passed an ordinance which required dispensaries to be located 1,000 feet from schools, public parks, arcades, churches, liquor stores and even other dispensaries.
Under those guidelines, less than ten percent of the care centers in Detroit were eligible to remain open. It's a picture that's best painted by a map of the city itself, which lays out where dispensaries are now allowed to operate—hardly anywhere.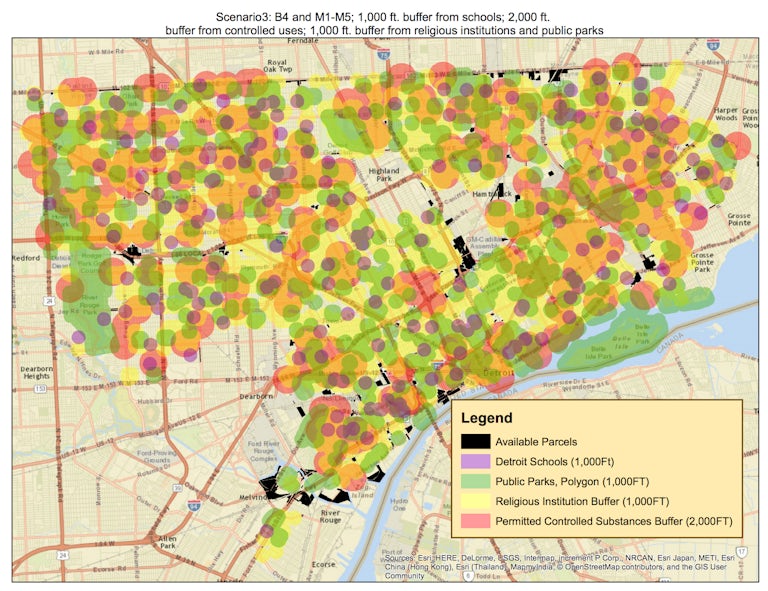 The response from cannabis activists has been to fight back against these regulations in a years' long turf war. Last November, the advocacy group Citizens for Sensible Cannabis Reform (CSCR) finally decided to pass the issue along to voters with a ballot measure which cut Tate's restrictions in half. The measure received approval from a majority of Detroit residents.
"One community group and one councilman creating an ordinance for an entire city is not going to suffice," Jonathan Barlow, spokesperson for CSCR said, referring to the community leaders who demanded the restrictions from Tate.
Detroit is just one example of a wider pattern that's taking shape across the country as states move to legalize marijuana while local municipalities do their best to restrict or shut out the industry. In California, nearly half of the states' counties have banned cannabis businesses even though the state has legalized recreational use. In Washington, applicants for state business licenses are being denied because of local ordinances. A Washington judge recently upheld the rights of local municipalities to keep the cannabis industry out. And in Massachusetts, where the recreational market has yet to open, at least 189 of the state's 351 municipalities have already decided to ban pot shops, reports The Boston Globe. Some of these bans are temporary to give local officials time to work out regulations while at least 59 are permanent or "indefinite." It's become increasingly clear that getting rid of prohibition doesn't do away with prohibitionists—and the fight for cannabis doesn't end at the ballot box.
Tate has been backed by a number of church and community groups which want to reduce or totally eliminate access to cannabis in Detroit. Among them is community organizer Marcus Cummings of the Schaefer 7-8-Lodge Community Association. In mid-February, Cummings challenged the CSCR's changes in court and, though his case was dismissed, the judge also struck down the voter initiative to loosen zoning restrictions.
Oddly enough, Cummings was also joined in the courtroom by a dispensary applicant, VK Real Estate Holdings III LLC, which sued against the changes. While an opponent of the industry and a cannabusiness might seem like an odd pair at first, it's not hard to see why applicants would be pissed off by the rule change after having to jump through a ton of hoops to get approved under Tate's ordinance.
Applying to open a dispensary in Detroit is not only a matter of finding an available parcel of land, it's also a major investment. The average cost of an application alone is nearly $3,000 with no guarantee of approval. In Michigan, medical marijuana has been legal since 2008. In November, residents will vote on statewide recreational legalization and, if voters approve the initiative, the current battle between pot shops and Detroit is anticipated to just ramp up.
For Tate, it's a matter of reasonable limits and nearly 300 dispensaries in a city of under a million, he says, is not reasonable.  "No one has been able to show that there is a need to increase that number other than for profit," says Tate.
CSCR spokesperson Jonathan Barlow disagrees. He argues that cannabusinesses reduce crime by reopening shuttered properties and applying for community safety programs that include the installation of security cameras. Additionally, he points out, the CSCR-led ballot initiative to loosen dispensary restrictions passed with 60 percent of the vote. Tate believes this is because there was some confusion among the voters as to what was being proposed.
"You have some who just went in and, you know, they like weed so they said I'm going to vote for it," Tate said, pointing out that the initiative was reversed by the court because it bypassed the city's zoning regulations. "In my election, I had 71% of the vote," he continued. "Does that mean that anything I say whether it's legal or not should go?"
But Tate's ordinance appears to have had its own legal troubles and other Detroit officials haven't been shy about pointing that out. "There are some issues in the current ordinance that are more restrictive than the state allows," says Greg Pawlowski, a member of the Detroit City Planning Commission. The intent of the petition was to make the Detroit rules consistent with those state rules, which say that dispensaries can't be within 500 feet of schools and other specified businesses versus Tate's ordinance which says 1000 feet.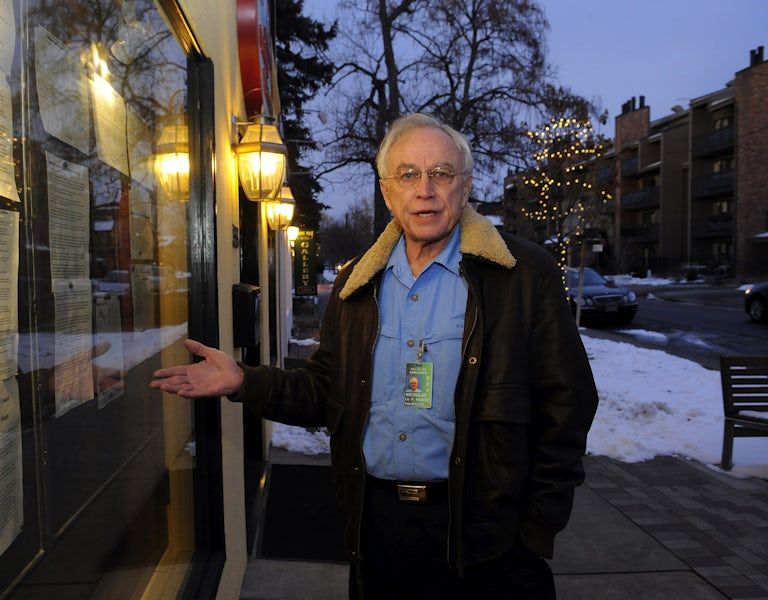 Detroit is expected to have a new finalized ordinance by June 15, 2018, and some have expressed concerns with what will be in it. Unlike in Los Angeles where the city council has made an effort to include cannabis industry stakeholders in policy drafting, Detroit is notorious for its lack of transparency. According to Pawlowski, all Tate's office has provided so far is the same version of the existing ordinance, with a different title. Tate says he's willing to work with anybody who is interested to hammer out the new guidelines, but no one on the other side seems to have gotten the memo.
"Councilman Tate's office has not responded to any of my calls or inquiries about changing any of the language," Pawlowski says, noting that his request to have a "work study group" put together to address these issues was denied.
To date, Detroit has only approved 62 dispensary locations, with a moratorium placed on new applicants until the city works out its new policy. But even that number seems suspicious to some observers.
"It's hard to know [who's approved] because the city is not at all being transparent about this," says Matt Abel, a partner at the marijuana-focused law firm Cannabis Council. He had to file a Freedom of Information Act request in an attempt to obtain the list of dispensaries that were approved.
Pawlowski says there is something off about the approval process already. In December, the city planning commission only identified about a dozen locations that were approved to operate and then, suddenly, there was a rapid spike in the number of people approved. When asked if he thinks some applicants may have skirted the application process, Pawlowski responded by saying, "I would say that where there's smoke there's fire. I would say there probably is some truth to that, but we're not exactly sure."
On top of everything, Tate feels that the city is being taken advantage of by those who don't live in it. "The great majority of [dispensary] owners are individuals who live outside of the city," says Tate. "The group of individuals who began this ballot initiative they don't live in the city…the question I have is why haven't they chosen their particular city?"
"Unfortunately," Pawlowski agrees, "in the state of Michigan not too many local municipalities wish to engage in this particular activity." Of the 250 people who applied to run dispensaries before Tate's ordinance tightened zoning restrictions, only 89 were Detroit residents.
It's something everyone in the city would like to address, but, for the time being, that issue is on the backburner while cannabusinesses wrestle with city council for a plot of land that meets their requirements. To Tate's opponents, the city has already spoken.
"There were four districts out of seven where the voters voted in favor of this issue, more than the representatives and their opponents combined," says Pawlowski.
On election day, the official numbers were 57 percent approval for a loosening of dispensary zoning rules. But when divided by voting precinct, the numbers actually show that the proposed change was approved by upwards of 90 percent of Detroit voters.
For now, the CSCR case goes to appeals while businesses remain in limbo and communities around the country fight the same local battles. With Michigan expected to legalize recreational cannabis in the fall, the turf war in Detroit is far from over.