According to the Tampa Bay Times, there's been a great migration of malpractice doctors across America seeking to reinvent themselves as weed prescribing physicians in the Sunshine State.
The Tampa Bay Times discovered that nearly one in every five of the 1,432 doctors in Florida's medical marijuana program has some kind of scar on their record. These issues include irresponsible prescription practices, falsifying records, misdiagnoses and even sexual assault of minors. In one strange case, a doctor's record showed that he had begged a prison inmate to make up medical illnesses because he had fallen in love with her.
Records indicate that the doctors prescribing weed in Florida have a sum $69.4 million in malpractice fines against them in previous lives. This isn't merely people with criminal records striving for a second shot at life—a criminal justice reform that should be part and parcel with cannabis legalization—this is a lack of oversight that puts patients at risk.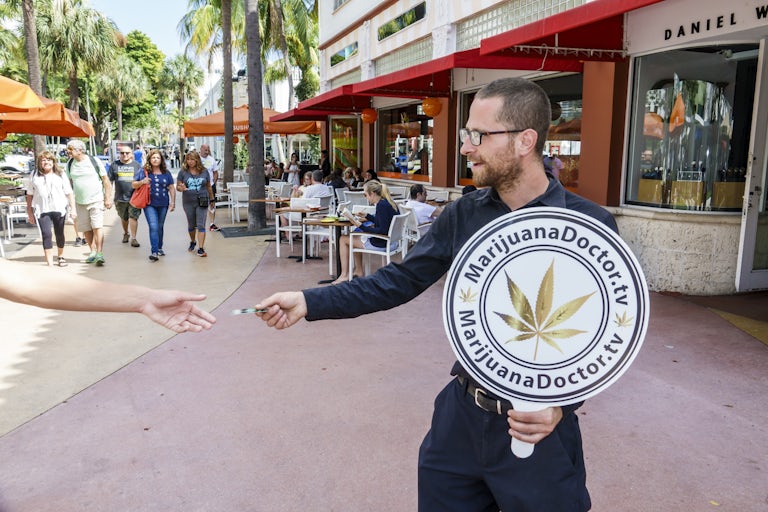 And these concerns about malpractice are not buried in the past either. There is already evidence that bad habits continue, with patients being scammed and poor record keeping that can be a liability for cannabis patients who have run-ins with police.
"Perhaps we need to go back and make sure that physicians that have these pending claims or have been adjudicated have a character fitness component," said Rep. Katie Edwards Walpole, who co-sponsored legislation in 2014. "This isn't a right for physicians to be able to do this. This really is a privilege."
Florida legalized marijuana for medical purposes in 2016. The program only applies to people suffering from a list of qualifying conditions, such as epilepsy, cancer, PTSD and HIV.
Activists say that the state's standards have slid into disrepair. Because weed remains a Schedule I drug on a federal level, some doctors are hesitant to put their name down on any pot recommendations. Florida, in an attempt to encourage more doctors into the program, has reduced the training course from eight hours to two, and the fee from $995 to just $250. Instead, these measures just attracted more malpractice doctors countrywide looking to make some quick green.