Each time the police destroy a stash they've confiscated from a grower or dealer we all die a little inside. It's a tragedy to see so much of that good flower go to waste. But if you absolutely have to destroy a ton of weed in the name of the law, then there's probably no one who does it better than the Germans.
This winter, the Munich Customs Department found a creative – yet devastating – way to keep German citizens warm when they burned around 550 kg or nearly four million joints worth of cannabis that had been confiscated a year ago.
German authorities discovered the massive stash just south of the city of Nuremberg last December in a truck registered in Serbia. They estimated its worth at $5.8 million, and the driver of the truck, who was caught at a traffic stop, is currently in police custody.
While the country has recently put in place a legal marijuana system, the kinks are still being worked out; with legal suppliers largely coming from out of the country. The allowable limit for possession varies by state, but is usually around three to five grams, in the capital Berlin the limit is 15.
Over the holidays, masked German customs officers gathered at the Geiselbullach waste incineration plant in Olching to dispose of the evidence. According to the plant manager, Thomas König, the facility was in need of more waste material to burn since very little garbage is delivered over the holidays.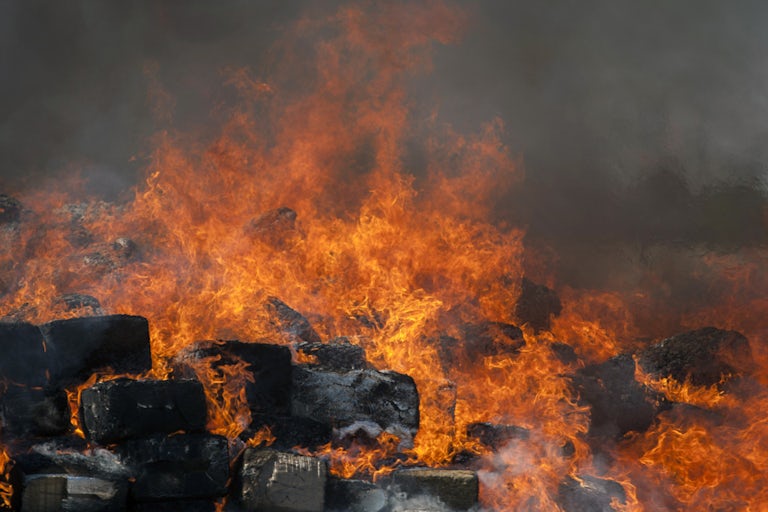 "The material is used to generate heating and electricity for the people of the region," König told the German newspaper Süddeutsche Zeitung, "It's a benefit for the general public, so to speak."
When it was first discovered in several gym bags, the marijuana was taken to the Munich Customs Laboratory for examination, but according to General Customs Directorate spokesman Christian Schüttenkopf they hardly had enough space to store it all.
Routine German Customs Checks Find Weed Potency at a Yearly High
The average THC level for 2016 fell somewhere between 10 and 12 percent, this hefty stash came in at 16.
Customs officials believe the cannabis originated in Albania, but unfortunately, they do not run tests for pesticides, strain type or any other details that might allow the product to be redistributed as medicinal marijuana.
"In order to be treated with marijuana, almost every stem must be registered," Schüttenkopf said to Süddeutsche Zeitung, speaking of Germany's medical marijuana regulations which were just implemented in 2017, "For us it's just garbage that needs to be destroyed."
Customs policy demands that everything they confiscate was destroyed. That includes drugs, cigarettes, and even bootleg products like counterfeit soccer jerseys. The only exception is alcohol and other properly branded products which are resold at auction.