Attorney General Jeff Sessions, currently in charge of the Department of Justice, shows no interest in alleviating the War on Drugs. Even in the face of the cannabis movement, he's continued to put himself at odds with Republicans and Democrats alike who want to protect states' rights to legalize and reform the criminal justice system.
On Sunday (April 22), New York Senator Kirsten Gillibrand wrote a letter to Sessions requesting that he faces her constituents who are suffering as a result of the sentencing laws he's supported.
"I am requesting a meeting with individuals and myself whose lives have been irreparably harmed because of non-violent marijuana arrests," Gillibrand wrote to Sessions.
The intention of the meeting, she said, is so that they can learn how "mistakes in [these people's] youth turned into a lifetime of barriers to finishing their education or obtaining employment."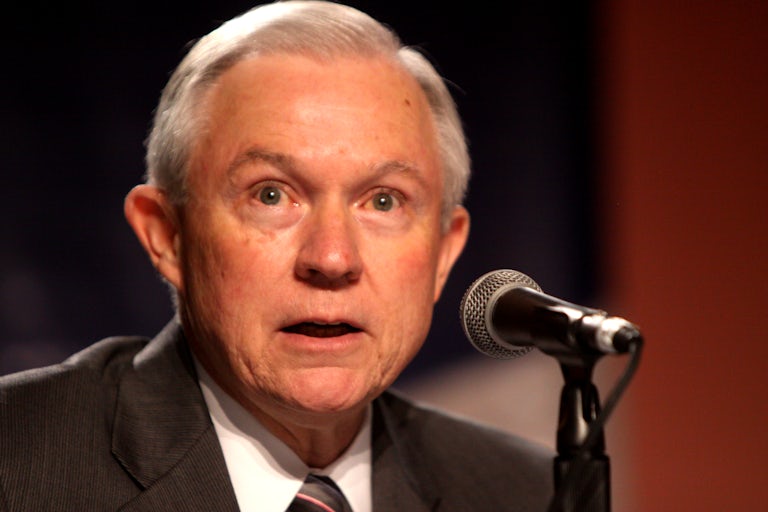 Gillibrand has recently become a prominent voice in pushing for reform on the War on Drugs and cannabis. Earlier this year, Gillibrand added her support to Cory Booker's Marijuana Justice Act, which not only seeks to decriminalize weed but seeks reparations for people who have to live with criminal records over cannabis.  
In Gillibrand's letter to Sessions, the Senator cites multiple studies on how cannabis use is consistent across Americans regardless of race, but people of color are disproportionately arrested. "I believe that our criminal justice system is broken," Gillibrand said. "Black Americans and white Americans use marijuana at just about the same rate, but black Americans are almost four times more likely to be arrested for marijuana possession than their white peers… It is time for the United States to legalize the possession of marijuana."
Cannabis policy reform is becoming an increasingly popular issue for politicians on all levels and both sides of the aisle. Recently, high profile Democratic Senator Chuck Schumer announced his own bill to decriminalize cannabis. Unlike Booker's, which gives weight to justice reform, it focuses mostly on states' rights to craft their own policy and removes marijuana from the Controlled Substances Act.