On October 22nd of last year, police arrested Scot Riley, along with his brother Kevin Riley, and friend Lee Dickinson, for possession of marijuana. Lots of marijuana.
Police raided Riley's home only to find more than 26 kilos of cannabis in vacuumed sealed bags lying amid children's toys. Yes, you read that correctly. But wait, it gets better.
"I was going to smoke the lot."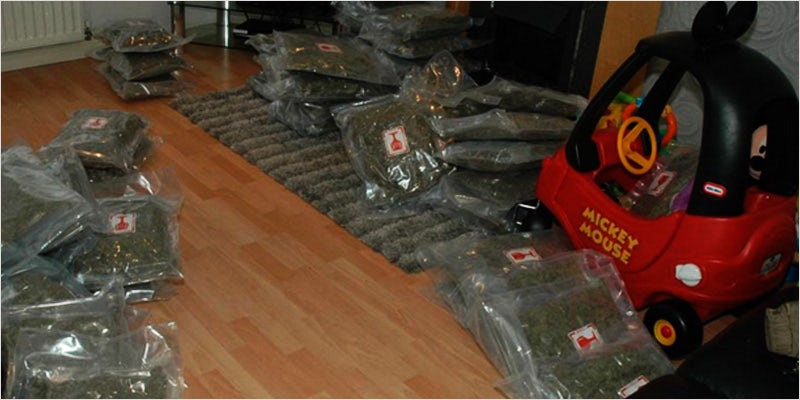 Upon being busted for what was equivalent to about £265,000 worth of cannabis, Riley told police, "I was going to smoke the lot." Ha. Who does he think he is, Snoop? Riley also mentioned to the authorities that he was just an "occasional social user." You mean to tell me that this guy buys multiple kilos at a time to smoke "occasionally?" Hmm… I don't know about that.
Only to dig a deeper hole for himself and his buddies, Riley told police that, "nothing incriminating would be on their phones." That's not suspicious or anything.
Yet, it wouldn't be long until police concluded that there was some sort of hidden agenda and that Riley was most certainly not going to smoke over 26 kilos of marijuana, either by himself or with two others.
Not so fast, Scot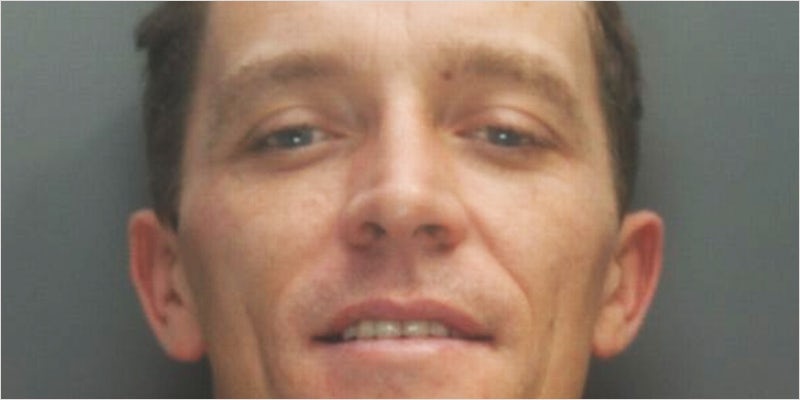 After finding Scot Riley and Dickson's fingerprints on digital scales along with their DNA on a yellow glove with signs that it had touched marijuana, Scot confessed that he had been asked by an acquaintance to hold onto the cannabis in exchange for £2,000. Come on, Scot. Stick to your story! You're only making things worse!
Scot also told police that when he met with this so-called "acquaintance," a much greater quantity was delivered to his home than he had anticipated. Well, that must have been a real treat.
No more excuses, boys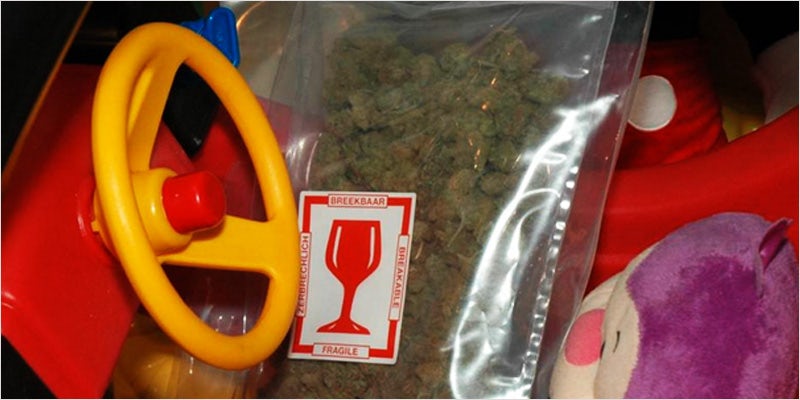 In the end, all three of the men who were charged admitted to possession of cannabis with the intent to supply it. Shocker.
Kevin Riley pleaded guilty on the basis his brother Scot offered him cash in exchange to store the 26 kilos at his flat "for a couple of hours" while Dickson stated that his only involvement was helping the brothers move the bags of cannabis inside.
The bags of cannabis, which were found on top of children's toys, turned out to be the toys of Kevin Riley's 2-year-old son. However, Kevin Riley made it clear that his girlfriend, along with his son were not home at the time and were told not to come back until the bags had been picked up. Still, dumb move.
In the end, all three men were charged, serving sentences from 20 months to two years. So if you're ever caught with that much weed, do the right thing and don't be a Scot Riley. Okay?
Would you have lied to the police about smoking over 26 kilos of marijuana? Let us know on social media or in the comments below.