The UK consumes the highest number of drugs in Europe. Cannabis is the most popular choice, and the market is estimated to be valued at over £6 billion. Recent polls suggest that over half the population wants cannabis legalized, and over 200,000 people recently signed a petition to end the war on drugs. This episode of High Society, a documentary series by VICE, explores the UK's relationship with cannabis, from politicians to growers and thieves who have a new way to target grow houses.
50 years in the making
Unfortunately, the government's actions do not echo the wishes of the people. A recent petition put forward to parliament was shut down with no discussion. However, there are a few politicians campaigning for legalization.
Tim Farron, leader of the Liberal Democrats, thinks that fear is the big concern many politicians face about bringing up the issue of legalization. However, Farrow thinks its an opportunity to tax cannabis and generate money to help the cash-strapped public health system,
Our best guess is that we could bring in over £6 billion on tax revenue every year, and our commitment would be to spend that on the national health service.
In 2016, 80-year-old Lee Harris campaigned to be Mayor of London, heading up the Cannabis is Safer than Alcohol Party. Harris has been at the forefront of the legalization movement for over 50 years.
People should not be penalized or criminalized for possession of cannabis or growing a few plants. Young people in their hundreds of thousands have had job prospects, travel prospects ruined and they have a criminal record and I think it's time that stopped.
Harris was gathering support and signatures at last years 420 celebration in London's Hyde Park. Over 5,000 people gathered in the central London landmark on a warm and sunny day in spring to peacefully protest about the legalization of cannabis in the UK.
Only 20 people were arrested, which lends more support to the common perception that the police are quietly deprioritising cannabis crimes.
The cannabis capital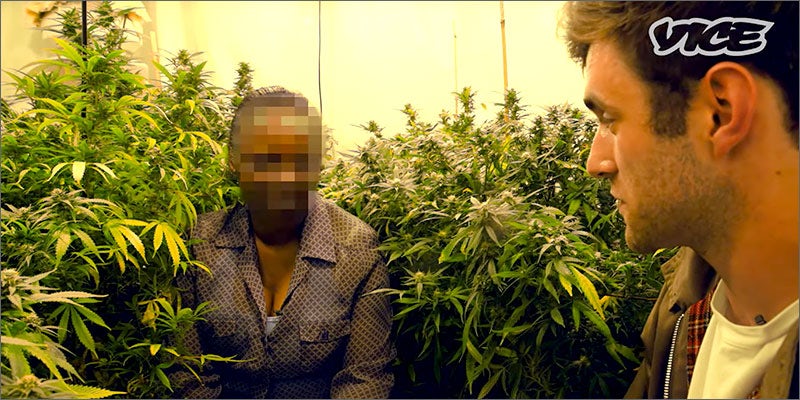 Birmingham has become known as the cannabis capital of England, and its biggest growers will surprise you. "Groppers" are grannies who grow cannabis, turning their attics and spare rooms into grow rooms and turning over a pretty penny for their effort. The best bit?
Groppers don't get caught. Groppers don't go to prison.
One Gropper admitted to growing over £400,000 a year worth of cannabis. And although she has family associated with gangs, she is left alone.
There is a new trend growing in Birmingham, thieves using high-tech heat-seeking drones to search out neighborhoods grow ops and then harvest them for themselves before the police get there.