The Illinois Legislature is a considering a proposal to legalize cannabis for adults 21 and older. Law enforcement officials, not surprisingly, took sharply different stands than did drug policy experts at a hearing on Wednesday.
Legal in 29 states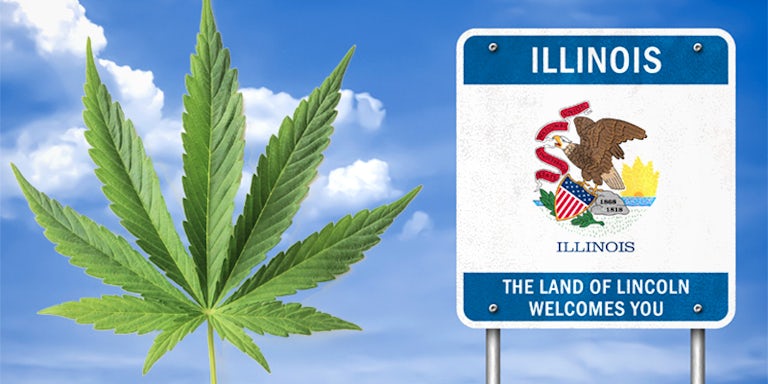 Advocates for the legislation told a joint House-Senate appropriations committee that it would allow a product that's already widely used to be safely regulated, reports the Associated Press.
Prosecutors, of course, claimed that legalizing pot would lead to broader use,  especially by teenagers, and lead to more addiction and traffic accidents. In making those claims, they were ignoring scientific studies that debunk all three.
There would be more people driving under the influence of cannabis. The community would not be better off, the state would not be better off, with legalization. – Sangamon State's Attorney John Milhiser
But the sponsors of the legislation said it is "in the interest of allowing law enforcement to focus on violent and property crimes, generating revenue for education and other public purposes, and individual freedom."
Twenty-nine states and D.C. have laws legalizing cannabis in some form. Illinois itself approved medical marijuana back in 2014. The National Conference of State Legislatures says eight states and D.C. have legalized small amounts for recreational adult use.
Illinois' plan would require marijuana to be tested and labeled for safety. Cannabis would be sold by "legitimate, taxpaying business people" in stores similar to the medical marijuana dispensaries which have existed in Illinois since 2014. Sales to anyone under 21 would be prohibited.
Right now, anyone can go to a street corner and buy it. Drug dealers don't 'card,' but you can't even get into a dispensary if you're under 21. – Rep. Kelly Cassidy
Reefer Madness is getting old
Of course, it wouldn't have been a proper legalization debate if some clueless blowhard politicians hadn't dragged out some long-debunked tales of reefer madness.
DuPage County State's Attorney Robert Berlin cited bogus statistics that he claimed show cannabis can lead to the use of stronger narcotics. (The so-called Gateway Theory has been debunked for years, and you can count on anyone who claims it's true being clueless.)
Republican Sen. Dale Righter of Mattoon said that back when he was a prosecutor, he saw many cases where cannabis didn't lead to abuse of stronger drugs. "But I never saw one on harder drugs who didn't start on marijuana," he laughably claimed.
Alcohol prohibition should have taught the U.S. a lesson about banning such a product, according to Maj. Neill Franklin, retired from the Maryland State Police. Franklin is director of Law Enforcement Action Partnership (LEAP).
You cannot regulate any activity that is prohibited. All you do is drive it underground. – Maj. Neill Franklin, LEAP