As we gear up for the new year, cannabis enthusiast and supporters of legalization continue to reveal themselves in some of the most unlikely of places. In 2018, states from the rust belt to the Rockies will choose whether to join the eight which have already legalized it recreationally. In Kentucky, the push for medical marijuana is now growing stronger.
In recent months, one of Kentucky's most outspoken advocates for legalization has been its Secretary of State Alison Lundergan Grimes. She created a taskforce for tackling legalization in the fall and its most recent meeting on December 19th featured advocates and veterans who have seen first-hand the therapeutic effects of cannabis.
It was the struggle that these veterans face with post-deployment injuries that inspired Grimes to push for legalization in her state.
"I hear veterans' stories after they come back from Iraq or Afghanistan," Grimes told the Commonwealth Journal, "They see their comrades who are suffering (being helped by) medicinal cannabis, and they wonder why Kentucky won't offer them the same opportunity."
And Grimes isn't alone when it comes to state representatives pushing for an end to prohibition. Early in 2017, Bill SB76 was brought to the Senate floor by State Senator Perry Clark and proposed the legalization a regulation of marijuana sales for adults. Unfortunately for Clark, the bill was hardly considered by his fellow senators and the legislature adjourned for its spring break before any debate took place.
Some lawmakers and law enforcement alike continue to oppose any legalization measures—medical or otherwise. In October, when Republican Governor Matt Bevin spoke to WHAS radio show he responded to a question about legalization and expanded gaming laws by saying: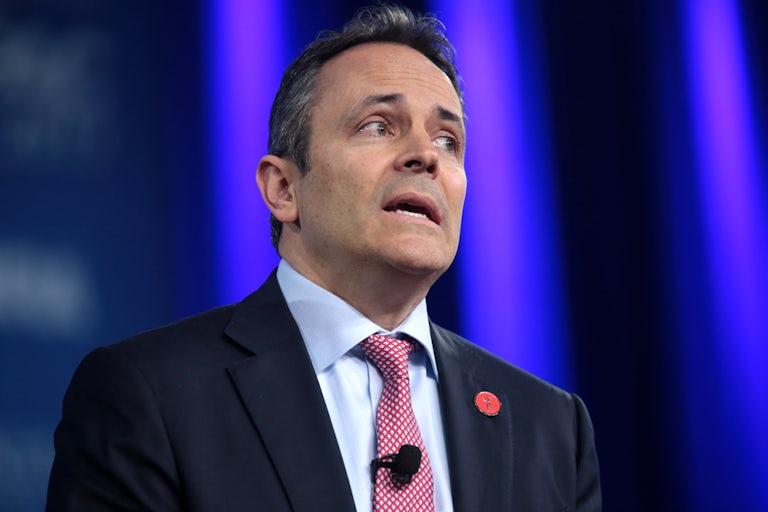 "So, a lot of toked-up people gambling, that's the solution for Kentucky? I would say no and no. Not while I'm governor. Those are sucker's bets. We're not going to legalize marijuana in this state."
To support his prohibitionist worldview, Bevin used a state that's often put forward as an example for why legal marijuana could work: Colorado. He went on to claim that the state has experienced increased emergency rooms visits and overdoses as a result.
"There are people overdosing based on ingestion of products that are edibles and things." The governor said, "You have law enforcement people in emergency rooms being overrun by problems… It has not been good for that state, and states like us would be wise to look at that and realize that's a sucker's bet."
It's an interesting set of facts the Governor seems to have access to. Data which conflicts with the DEA's most recent guide to drug abuse which claims, "no deaths from overdose of marijuana have been reported."
What the governor might be referring to is the initial spike in calls to poison control when Colorado legalized, but those numbers have since fallen while Kentucky itself has seen a steady flow of cannabis. Despite the fact that prohibition laws remain firmly in place, Kentucky was responsible for the third highest number of marijuana plant confiscations by the DEA in 2016.
Besides, it wasn't too long ago that Governor Bevin leaned in favor of medical marijuana. As the Marijuana Policy Project points out, voters chose Bevin in 2015 in part because of his more liberal stance on the issue. On the campaign trail, the governor even suggested that there is, "unequivocal medical evidence" in support of cannabis.
So the fight is still far from over in Kentucky. In November, Republican Senator Dan Seum announced that he would introduce a new legalization bill in 2018 as a way to help the state fund its pension plans for which the state needs an additional $30 million.
"I'm looking at adult use, because that's where the money is at," Seum said to local reporters in October citing Colorado as a boon for tax dollars since it legalized. Whether he'll be successful is yet to be seen, but there's no doubt that much of the state is with him.
According to a poll from the Foundation for a Healthy Kentucky, 78 percent of Kentuckians support the legalization of cannabis. In 2014, state lawmakers passed a bill allowing patients to use CBD products if prescribed by a doctor, but many patients believe the law to be too restrictive in terms of which conditions are legally treatable.